Adobe Systems (NASDAQ:ADBE) is scheduled to release its second-quarter 2013 earnings on Tuesday, June 18. Below I have highlighted this quarter's earnings expectations as well as provided a fundamental look at the company's financial position and valuation.
Profile and Estimates
Adobe is a digital marketing and digital media solutions company that has a market cap of $22.1 billion and had annual sales last year of $4.4 billion. Shares currently trade for $44.12 and are up 17.09% YTD, 49.46% above their 52-week low of $29.52. Analysts have a mean price target of $44.81 and a median price target of $46.00 on the shares.
Twenty-six analysts have an EPS estimate for this quarter of $0.34, 43% lower year over year; the EPS estimate for FY 2013 is currently $1.44 per share. Last quarter, the company's EPS of $0.35 came in $0.04 above the average analyst's estimate, which was the third time in the last four quarters that the company beat the Street's expectations. As you can see below, Adobe has outperformed the S&P 500 by 15.43% over the past 52 weeks.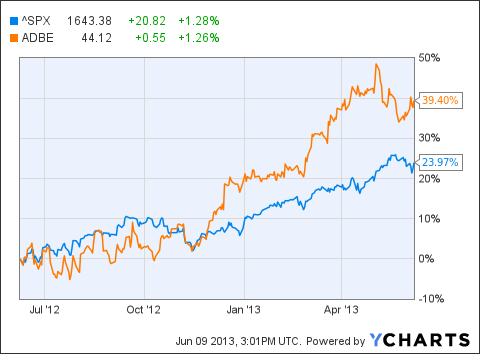 Analysis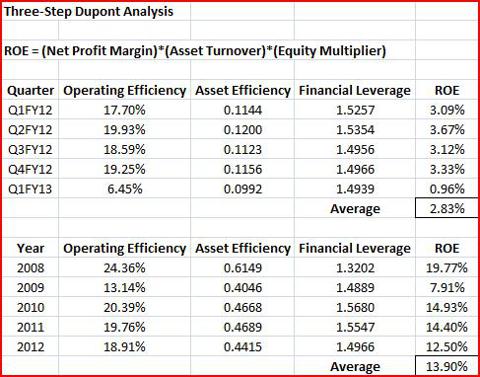 Click to enlarge
Source: Data from MorningStar.com.
From the above DuPont analysis, we can see that financial leverage has slowly come down over the last five quarters and the last five years. That is favorable because the company's ROE has held up despite a higher reliance on internally generated profits, as opposed to increased debt/leverage. Asset efficiency has slowly declined as sales growth has lagged the growth of assets, but the highest correlation to ROE appears to be Adobe's operating efficiency, which has come down significantly due to a change in the company's sales strategy.
Previously, Adobe relied on traditional retail sales of Creative Suites (Photoshop, Illustrator, InDesign, Dreamweaver, Flash Pro, Fireworks, Acrobat, Bridge, Media Encoder, etc.), but recently the company changed to a subscription based model where access to the products can only be granted through a monthly cloud-based subscription. This switch is a large contributor to the lower margin and return achieved in the first quarter of 2013 and is ultimately the biggest challenge that the company faces. By moving to cloud subscriptions, the company hopes to generate more revenues from long-term customers, entice new customers with its lower-priced subscription ($20-$40 a month as opposed to an initial investment of ~$150-$1,200), save on the tangible costs of goods sold that are eliminated by switching to the cloud, and hook customers on products that they previously did not have access to.
Bottom Line
Based on the price performance of Adobe so far this year, it appears as if, initially, investors are behind Adobe's subscription-based change. And more importantly, over the next few quarters we should get a better indication of how the change is being received by its customers. More information on the Creative Cloud desktop applications can be found here. Creative Cloud apps are scheduled to be available on the Creative Cloud site on June 17.
Disclosure: I have no positions in any stocks mentioned, and no plans to initiate any positions within the next 72 hours. I wrote this article myself, and it expresses my own opinions. I am not receiving compensation for it (other than from Seeking Alpha). I have no business relationship with any company whose stock is mentioned in this article.