Digital Realty Trust (NYSE:DLR) is a datacenter REIT with a $9B market cap. As a data center provider, some of its products include Turn-Key Flex, a modular approach to delivering data center solutions that use proprietary POD 3.0 Architecture. But as a REIT, the real business of DLR is owning, acquiring and developing real estate related to data centers, like a 62,000 square foot data center facility located in Austin Texas, acquired in mid 2012.

So, how good is DLR as an investment? In a nutshell, past performance shows DLR is not doing so well. The above graph gives an idea of how DLR is performing in the REIT industry. The result: in my group of REIT stocks, DLR is the worst performing, with a negative 14.91% return in the past 12 months.
About 3 weeks ago, an intense debate between hedge fund analyst Jon Jacobson of Highfields Capital Management and Gary Brode from Silver Arrow Investment Management about DLR caught my attention. Their views were completely opposite. This motivated me to write an article summarizing my views and also introducing an overview of the latest debate.
The Short Case (Highfields Capital Management)
Our story begins at the Ira Sohn Conference in early May, when Jonathon Jacobson of Highfields Capital Management outlined a short case against DLR, "one of the best we had ever heard," according to Gary Brode.
His stock moving pitch was named "The Illusion of Yield" and went viral almost immediately. Summarizing, he mentioned that DLR fundamentals were deteriorating fast, as it was in a "commodity business" with no barriers to entry. According to his valuation, the fair value is $20 per share, $41 below the current market price.
To get this estimate, he focused on the disparity between his capital expenditure calculations and the official numbers. Instead of assuming $22M as capital expenditures, he uses a $413M year over time figure. Considering that revenue is approximately $1B, this level of cost of maintenance capex is roughly 40%, instead of the official 2% figure. A huge difference: it implies it is only making 87 cents per share, instead of $3.12 per share.
DLR's current yield is 4.6%. Assuming a 4% yield on 87 cents, you get a $19 stock. Even worse, considering that there are no barriers to entry, competition from giants like Google (NASDAQ:GOOG) or Amazon (NASDAQ:AMZN) is increasing and that pricing power is decreasing. It makes no sense, according to Jacobson, to pay 3x book value for DLR.
So, how come is DLR paying such a high dividend?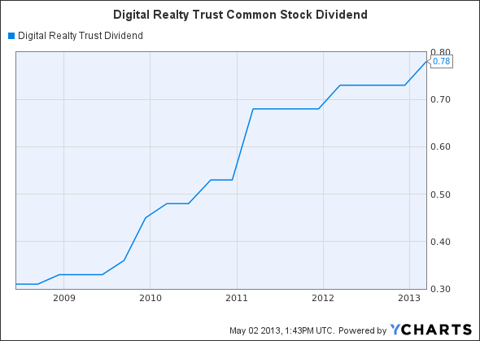 According to Jacobson, DLR is paying dividends from issuances of debt, preferred and common equity instead of from free cash flow. Jacobson avoided saying the word "Ponzi scheme" but he did mention that there was a term to describe a business that pays old investors out of money raised from new investors.
The Long Case (Silver Arrow Investment Management)
About two weeks after Jacobson's pitch, Gary Brode from Silver Arrow Investment Management provided a bold refute. He started by acknowledging that Highfields' claims were factually correct, but they had "misinterpreted the facts." For Silver Arrow, the stock represents a buying opportunity.
The crucial point here is how you interpret capital expenditures. According to Highfields, DLR is understating its recurring capital expenditures, and by doing so, it is also increasing its adjusted funds from operations ("a non-GAAP metric that REITs use in order to calculate their ability to fund dividends from their ongoing operations"). Now, DLR pays out about 80 - 85% of its adjusted funds from operations in dividends. If adjusted funds from operations are high in a non sustainable way due to understating capital expenditures, then it follows that the current stock price is way too high.
To refute this argument, Gary Brode focuses on the $413M in maintenance capital expenditures that Highfields suggests, probably by assuming a 20 year life on non-land and non-lease investments. This number (and the methodology used) is incorrect because of three reasons:
- Assuming that DLR's assets all have a 20 year life and will have no value at the end of that period is extreme:
"Many of these assets have much longer lives including the buildings, electrical cabling, raised floors, pipes, and diesel generators. In fact, we believe that only 30% - 45% of the cost of building a datacenter is for assets that need to be replaced on an 18 - 30 year cycle. "
- Highfields is ignoring $380M that DLR spent on property operating and maintenance expense in 2012. DLR run this expense through the income statement instead of capitalizing it.
- Highfields' analysis "ignores the difference between cash and accrual accounting":
"There's no question that DLR will need to replace some of its capital equipment in the future, but with relatively new datacenters, it doesn't need to spend much on that now. Not paying a dividend now because it might need to replace an HVAC unit in 20 years seems a bit extreme."
Mr. Brode also notes that all REITs are required to pay most of their income in dividends to maintain their tax-advantaged REIT status. Therefore, most REITs grow through raising capital instead of through cash flow. So if Jacobson's analysis is to be applied to all datacenter REITs, most of them would qualify as Ponzi schemes.
Now, how about increasing competition (specially, from Amazon and Google? Competition is indeed increasing, but cloud storage will never be the same as running a latency-intensive secure datacenter. Therefore, DLR will not lose all of its competitive advantages:
"Cloud storage is fine for school papers and music. The regulatory and record keeping requirements of large investment banks, high speed trading operations, pharmaceutical companies, and telecom companies call for a much more high-end solution. This is what Digital Realty does."
The Bottom Line
I personally think that Jacobson's analysis is too pessimistic. There are better ways to model assets than assuming they basically become worthless after 20 years. There may be a possibility that DLR is understating its capital expenditures: but saying that the real capex proportion is 40% of revenue, instead of the official 2% figure, sounds too unrealistic. Also notice that Jacobson's analysis lacks a real catalyst.
With no catalyst, shorting a growing and dividend paying REIT seems too risky.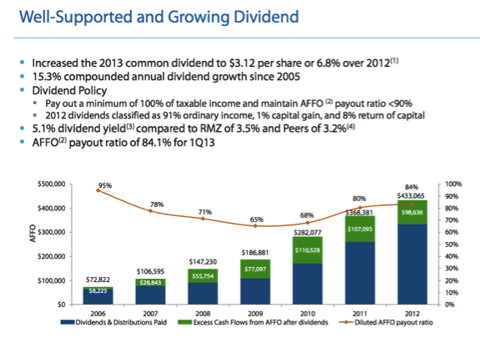 Furthermore, according to the slides given at the NAREIT's Investor Forum, DLR is the only data center REIT that is active in acquiring both investment and development properties, "completing over $5B in acquisitions since 2005 at an average cap rate of 9.0%." It has 123 properties and more than 23 million rentable square feet in America, Europe, Asia and Australia, including 2.6 million square feet of space held for development. Taking these factors under consideration, I may not be sure about the advantages of opening a long DLR position at $61 per share, but I am sure that shorting DLR is certainly not an option for the retail investor.
NOTE
DLR is heavily shorted with 17.7M of the 128M shares outstanding short as of the end of April.
Additional References
-- Seeking Alpha Premium article: Highfields Capital Is Wrong Because This Digital Cloud REIT Ain't Going Nowhere But Up, Brad Thomas.
-- DLR presentation at the REITWeek (NAREIT's Investor Forum).
Disclosure: I have no positions in any stocks mentioned, and no plans to initiate any positions within the next 72 hours. I wrote this article myself, and it expresses my own opinions. I am not receiving compensation for it (other than from Seeking Alpha). I have no business relationship with any company whose stock is mentioned in this article.