Short interest has risen once again for BlackBerry (NASDAQ:BBRY). This time though, days to cover have rocketed to new spring-loaded highs. As of May 30th, 2013, approximately 171,313,332 shares of BlackBerry have been shorted. This is an increase of about 1 million shares from 2 weeks earlier. Days to cover have increased to over 9 days, from 5.7 days. The following makes the case that this rise in short interest is at unsustainable levels, especially with the next earnings report less than 3 weeks away (a previous article estimates earnings here). We will take a look at current BlackBerry short interest, as well as other stocks in a similar situation as BlackBerry and how they have fared recently.
Large Company, Heavily Shorted
BlackBerry is currently the largest public company with over 30% of the outstanding float shorted. With a market cap of $7.3 billion, no other heavily shorted company even comes close. The next closest would be Qihoo 360 Technologies (NYSE:QIHU), a relatively unknown Chinese internet service provider with a market cap of $5.5 billion, and 45% short. This is significant because large companies are rarely subject to short squeezes, mainly for the simple reason that it is hard to garner support to bet billions against a company at one time. A short squeeze is most common with small-cap companies. Many of which have little to no institutional or big time investors. Much of the time, these companies slip under the radar and skyrocket from favorable court cases, acquisitions, or FDA approvals. BlackBerry is a unique case. When Institutional investors are involved, price fluctuations will be magnified due to closely held shares, large block covering, and widely reported media coverage.
To give a simple example of how institutional investors can skew these short figures, consider the following. Of the 524 million shares outstanding, 39 million are held by insiders and 52 million are held by Prem Watsa (Fairfax Financial Holdings). The remaining 433 million shares represent a more accurate figure to use when calculating short interest of BlackBerry, considering Watsa and Fairfax Financial Holdings clearly have no interest in selling their position anytime soon, based on previous statements. Take these numbers are taken into account and a more accurate short interest is closer to 39.2%, representing higher potential volatility and return.
Learning From The Past
Observing stocks in similar positions as BlackBerry is something we haven't seen a lot of lately. This is puzzling because it can provide great foreshadowing into what may be over the horizon for BlackBerry. What I did is I set up a stock screener and narrowed down the screener based on six factors. I narrowed down the screener based on larger companies (over $2 billion market cap) that are heavily shorted (+30%), are in a great cash position (Quick ratio over 1.5 and current ratio over 2), and have very little debt (a short term and long term debt to equity ratio of under 0.5).
The results are very interesting. Three stocks matched this criteria. BlackBerry, First Solar (NASDAQ:FSLR), and Questcor (QCOR). These two stocks are known for being very volatile, and have had large one day returns recently from positive news. From this information, we can see that there is a clear connection between large cash reserves, short interest, little debt, and potential for large one day increases. It is also interesting to point out that each of these 2 stocks have had impressive returns this year (69.44% for First Solar, and 59.04% for Questcor). One event that is worth taking a quick look at is the 44% increase in First Solar on April 9th.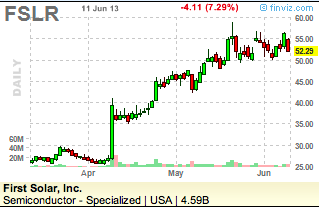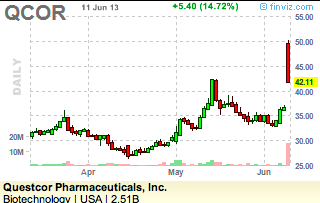 Potential Upside
Short interest for BlackBerry has peaked, strong institutional investors like Prem Watsa are on board, and fundamentals are strong. This is the perfect storm to take BlackBerry to new highs. Currently, the market is expecting BlackBerry to announce earnings of $0.03 per share on June 28th. Any significant beat could take BlackBerry between 20%-40% higher in once day. This would equate to a price per share of $17 to $23. This would essentially bring BlackBerry to 52 week highs and a potential breakout above $18.25. Any significant jump in price above this would be a huge win for investors, leading momentum and share price higher.
Bottom Line
Based on the periodic increases in short interest, institutional investors, and comparison to stocks in a similar situation, we can see that BlackBerry is spring-loaded and ready to launch come June 28th. With a strong earnings report, a 20-40% gain on the 28th is certainly not unreasonable based on the previous data. With very little news coming out of Waterloo lately, it seems investors will have to wait patiently to see fireworks before the 4th of July.
Disclosure: I have no positions in any stocks mentioned, and no plans to initiate any positions within the next 72 hours. I wrote this article myself, and it expresses my own opinions. I am not receiving compensation for it (other than from Seeking Alpha). I have no business relationship with any company whose stock is mentioned in this article.