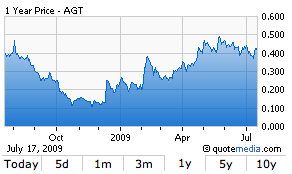 Miner Apollo Gold Corp. (AGT) recently completed a C$13-million equity financing, but Blackmont still sees the company as a risky proposition for most investors.
In the financing deal, Apollo issued 13.9 million common shares at 45 cents and 12.2 million flow-through shares at 54 cents.
The company announced it would use money from the flow-through shares for exploration expenses at its Black Fox property in Northern Ontario, while the rest will go towards ramping up production at the site.
Blackmont estimates 10,000 ounces of gold production in the second quarter of 2009, and for Black Fox to double that to 20,000 ounces in the third quarter.
However, Apollo also has a $9.3-million debt repayment due in September that will put pressure on the company.
"We continue to believe the stock offers an attractive level of return, albeit at a heightened level of risk," Richard Gray, Blackmont analyst, said in a note Friday. "It is an investment for risk tolerant investors only."
Blackmont has cut its price target to C$.95 from C$1, while also dropping earnings-per-share estimates for 2009 and 2010 to C$.02/C$.14 from C$.03/C$.16 cents. Apollo does hold on to its Outperform rating, however.