If short interest as a percent of equity float is an indicator of popularity, Blyth Inc. (NYSE:BTH) is the most hated stock on the NYSE. However, an in-depth look into the company reveals some key factors that may create an extremely positive risk reward. The market is currently offering shares at unsustainably low valuation, four times management's 2013 cash flow guidance. Pessimism toward the company is extreme with 75% of the current float short. Management is aggressively repurchasing shares of the company. 14% of the equity float has been repurchased in the last three quarters at higher stock prices than today. The company has repositioned its balance sheet resulting in nearly five years prior to its senior notes maturing. The company's largest business segment and the focus of the short sellers, appears to be turning a corner. Now may be the perfect time to become a contrarian and invest in Blyth Inc.
Blyth Inc. was founded by current Chairman and CEO, Robert B. Goergen in 1976. Mr. Goergen is the former head of the Sprout Capital Group at Donaldson, Lufkin & Jenrette where he honed his leveraged buyout skills in the 1970s. In 1976, he and a small investor group purchased Valley Candle for $1 million. Two years later, Mr. Goergen left Sprout to focus on running the company full time. The company later was renamed Blyth Inc., Mr. Goergen's mother's maiden name.
Mr. Goergen is unquestionably one of the great American business success stories. He transformed a candle company with a few million dollars in revenues into an industry behemoth with nearly $1.6 billion in sales at its peak in 2005. The success of Blyth Inc. earned Mr. Goergen a place on the Forbes 400 list multiple times. While most CEOs gradually divest their stock ownership interest during their tenure, this has not been the case for Mr. Goergen. The most recent proxy indicates that the Goergen family entities own 6.848M shares or 42.74% of Blyth Inc.'s outstanding shares as of April 3, 2013. In a move that illustrates the Goergen family's long-term commitment to Blyth Inc., Robert Goergen Jr. was promoted to President and COO in November 2012. While some outsiders are critical of the heavy influence the Goergen's hold within Blyth Inc., it is hard to argue that their interests are misaligned with shareholders given the Goergen's substantial equity stake.
Blyth Inc. operates three business segments that generated nearly $1.2 billion in sales during 2012. ViSalus, which became part of the Blyth Inc. portfolio of companies in October 2008, is a direct selling company in the health and wellness category. Co-founded by Ryan Blair, Blake Mallen and Nick Sarnicola, ViSalus has been a juggernaut in the North America MLM space during the last two years. The co-founders are the genius behind the Body by Vi Challenge 90-Day Challenge. Net sales increased a stunning 171%, to $623.5 million in 2012. PartyLite, a candles and home décor direct selling company, goes back to the early days of Blyth Inc. The PartyLite segment has experienced multiple years of declining revenues. In 2012, net sales declined 16%, to $417.3 million. The third business segment sells a broad range of household items and seasonal gifts via catalogs and the Internet. The catalog & Internet segment sales declined 9%, to $138.7 million for the year ended December 31, 2012. The direct selling business, which is the primary focus of short sellers, represents nearly 90% of 2012 sales for Blyth Inc.
Multi-level marketing companies always attract an audience with short sellers. A business model based on selling a low probability dream to folks hoping to add some extra cash in their pockets is an easy short thesis. Churn is very high in this industry as it is in any sales position, requiring an increasing number of new promoters as existing promoters drop off. This leads to a logical conclusion that pyramids ultimately collapse as MLMs eventually run out of people to market to. MLMs tend to attract management teams with "non-traditional" pedigrees. It is rare to find typical companies with founder bios that include Chapter 7 filings, arrest records and former gang affiliations. However, the MLM space has its share. In those circumstances, short sellers almost feel a divine mission to ferret out possible wrongdoing. R&D departments headed by ear, nose and throat doctors titillate the fancy of short sellers as this obvious lack of expertise in nutritional sciences prohibits any significant credibility in the products. Given the aforementioned details, MLMs are a relatively easy target for shorts intellectually.
ViSalus came to Blyth Inc. through a multi-step and multi-year acquisition process that began in 2008. The initial purchase of $14 million to acquire 43.6% of ViSalus is arguably one of Mr. Goergen's best deals. However, the complicated transaction required future revaluations based on the performance of ViSalus. As ViSalus revenues exploded, the cost of the transaction increased dramatically.
ViSalus has been on the radar of shorts because the business rocketed from roughly $30M in revenues during 2010 to $623M in 2012. ViSalus posted a $190 million revenue quarter in June 2012. Based on the deal structure, this boosted ViSalus's valuation to nearly one billion dollars. Blyth Inc. was going to be required to writing a $271 million check for the remaining 27.3% of ViSalus it didn't own. With limited available cash, an IPO was the only feasible option. Unfortunately, the IPO was pulled from the market as investors balked at the valuation and ViSalus's business began to decline precipitously. Since peaking in the June 2012 quarter at nearly two hundred million dollars, ViSalus sales have declined each quarter through March 2013 to just over one hundred million. This decline has emboldened the short sellers' belief that downside momentum in MLMs is generally irreversible.
After the ViSalus IPO was cancelled last fall, Moody's lowered Blyth Inc.'s outlook to negative. Blyth Inc. was facing a looming cash crunch. The final purchase of ViSalus for $271M was due in early 2013. In addition, Blyth Inc.'s $100 million senior unsecured notes were maturing in November 2013. With less than $200 million in available cash, Blyth Inc. was considerably short of its near-term cash needs.
With that as a backdrop, Blyth has been the ultimate short sellers dream. In the last year, Blyth's stock has declined over 60%. This compares to the S&P 500's +30% return, including dividends. Clearly, Blyth is not an S&P 500 company, so compared with other publicly traded multi-level marketing firms, Blyth Inc.'s performance looks dramatically worse. USANA Health Sciences (NYSE:USNA) has increased 68%. Nu Skin Enterprises (NYSE:NUS) has climbed 47%. Herbalife (NYSE:HLF), which has been attacked in a short-selling equivalent to nuclear war, increased almost 4%, including dividends.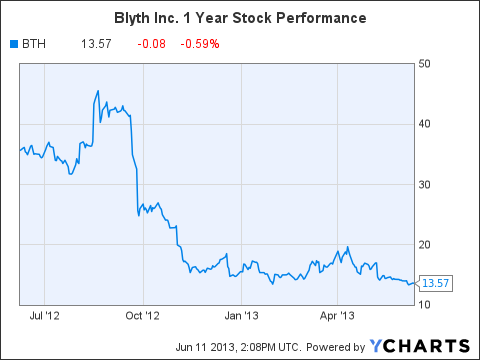 Given the weaker operational and stock performance, short interest has climbed dramatically for Blyth during the last year. As of May 15, 2013, Bloomberg reports that Blyth Inc. has the highest short interest as percentage of its float of any company trading on the NYSE, 75%.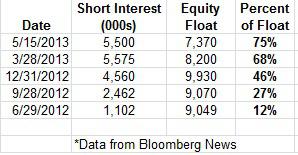 People sell stocks short for various reasons. High stock valuation tends to be the most common reason. However, when a company has 75% of its float short, short sellers generally believe the company's business model is unsustainable. Short sellers must have enormous conviction in the short thesis in order to take the liquidity risk associated with such a hefty short position. Company management teams should be very concerned when short interest expands to such a high level. The negative consequences can be quite broad in scope as excessively high short interest creates a stigma around a company.
Institutional investors will generally seek out other investment opportunities when short interest is elevated. Short sellers have a reputation for doing deep dives into companies while many institutional investors do not. The basic logic is that if short interest is very high, there is probably something negative taking place with the company that the shorts have uncovered. No reason to fish in the short sellers' pond, so they look elsewhere for long ideas.
If institutional investors do not have confidence in the investment merits as a result of the high short interest, future financing opportunities are in jeopardy for the company. Stock coverage tends to follow financing opportunities so the firm should not expect much analyst coverage if institutional investor interest is tepid.
Most management teams take the approach that they cannot control who buys or sells short their stock. While generally true, this sound approach should be reviewed in certain circumstances. Short sellers tend to take profits as stocks decline. In the case of Blyth Inc., the short interest has increased twenty percent on a year-to-date basis despite the stock's decline. This behavior indicates that short sellers in Blyth Inc. are planning to hold on for lower levels in the stock. If short sellers approached the investment case with an open mind and an absence of hubris, they might be able to lock in a profitable trade now and avoid a potential short squeeze.
Regardless of any short seller's opinion about how Blyth Inc. makes money, the fact remains that Blyth Inc. does make money. Blyth Inc. generates positive cash flow. Looking back over time, CEO Goergen has delivered "hall of fame" type results during the last few decades. Cash flows are hugely positive on an operating basis for the last twenty plus years. Here's a recent sample from Bloomberg:

Click to enlarge
While a long-term track record of cash generation is admirable, future cash flow generation is the key to the investment thesis. Management has given cash flow from operations guidance for 2013 of $75M and capital spending of $19M, which results in another year of nicely positive free cash flow. If management can achieve these figures, one must question the short thesis, especially with a $223M market capitalization.
The company reported first quarter results in May. The results showed a continuation of mediocre results and the stock declined. Since the end of the first quarter, the stock is down approximately twenty percent.
Despite the top line decline and increased spending associated with the ViSalus international expansion, Blyth Inc. has maintained profitability. As investors wonder where the ViSalus business will settle out, signs may be emerging that the business is turning the corner. The December 2012 quarter reported 76,000 year end promoters, down from the June 2012 quarter peak of 114,000. The March 2013 quarter finished with 70,000 promoters in North America. If seasonality holds in the June quarter, we should see a sequential lift in promoters as customers and promoters try to find their beach bodies for summer.
ViSalus launched the Body by Vi Challenge in the UK during the June quarter. It has been reported that 15k people have already joined the Body by Vi Challenge with 17 promoters achieving Ambassador status in the first 45 days. This incredible momentum has been accomplished prior to the pre-launch kickoff event. Given the early success of ViSalus in the UK and Blyth's history of strong operational performance in Europe, it does not take much faith to believe the rest of Europe holds exciting potential for the ViSalus brand.
While the international segments take time to develop, North America continues to be the near term key driver to results. According to the S-1 filed for ViSalus in August 2012, almost 70% of the company's revenues came from the weight loss category in the first half of 2012. The vast majority of those people have been consuming the more than 100 million ViSalus shakes served, to lose weight. Weight loss is a huge market in the US, estimated to be a $65 billion market according to Marketdata Enterprises. ViSalus is a major force in the space with over 150,000 new people joining the Body by Vi Challenge every month. Given the massive obesity problem in North America, ViSalus should be able to continue to see success in this vertical for years.
Unlike Herbalife, ViSalus has a direct relationship with all of its end users. Roughly 1.5M customers have purchased ViSalus products in an effort to lose weight. If ViSalus broadens its product portfolio category beyond weight loss, the company should be able to extract value from this deep database of former customers. Herbalife , Amway, Nu Skin Enterprises and USANA Health Sciences have all successfully targeted other product categories. It seems logical that ViSalus will consider other verticals as they reignite growth in North America. ViSalus hosts an annual extravaganza for its most engaged promoters each year called Vitality. This year's event takes place this July 19-21. If ViSalus is expanding into new product categories, launching in front of ten thousand committed ViSalians would be ideal. Additionally, by expanding beyond weight loss, promoters should be able to significantly increase their sales productivity.
PartyLite is a mature business that has been in a steady decline for a few years. Management is re-focusing its efforts on cost reduction and re-invigorating the brand. If the company can simply halt the decline, investors will be pleased as PartyLite is not a key driver to the Blyth Inc. investment thesis.
The anticipated cash constraint presented Blyth Inc. with adversity and short sellers with another leg to the short thesis. Rather than overreact to an extremely difficult situation, Mr. Goergen stuck to his playbook. He employed a management technique known as Kaizen during the last several months. Kaizen is a Japanese word that translates roughly into "continuous slow improvement." Mr. Goergen has said on several occasions that Kaizen is one of three principles that reflect his operating philosophy in life. The ability to slowly work Blyth Inc. out of this near-term turmoil is archetypal of Kaizen.
In December 2012, Mr. Goergen renegotiated the final payment with the ViSalus co-founders. Blyth Inc. purchased an additional 8.2% of ViSalus increasing its ownership to 80.9% for $60.5 million. Blyth Inc. issued 8,955,730 shares of Preferred Stock creating breathing room until December 31, 2017. The shares are redeemable for cash on December 31, 2017 at a price per share equal to $15.99 unless ViSalus IPOs or the holders convert their Preferred Stock into common shares. This transaction gives Blyth Inc. five years to continue to improve the ViSalus business in North America and establish strong footholds in international markets.
With the ViSalus anchor, no longer around Blyth Inc.'s neck, Mr. Goergen next turned to the $100 million 5.5% Senior Notes due November 1, 2013. Blyth Inc. repurchased $21.2 million of the notes in the year ended December 31, 2012 leaving $71.8 million outstanding. An additional incremental step forward took place on May 10, 2013 when Blyth Inc. sold $50 million in 6% Senior Notes due 2017. The notes plus cash on hand were earmarked to pay off the remaining $71.8 million of the notes due in November 2013. On Friday, June 7, Blyth Inc. announced that it will redeem for cash all of the outstanding notes due November 2013 on July 10, 2013. With this last small step of improvement, Mr. Goergen put the near-term liquidity constraints behind Blyth Inc. Subsequent to this transaction, the company should have roughly $100 million in cash and only $50 million in debt due December 31, 2017.
Short sellers might note that these small steps during the last several months have taken away any near-term liquidity issues for the company. Blyth Inc. now has a stronger balance sheet, robust cash flows and nearly five years to execute its strategic plan.
When a company has healthy cash flows, it has many options for capital deployment. If the stock is trading below intrinsic value, share repurchases increase value for shareholders. Warren Buffett wrote in his 2011 annual letter to Berkshire Hathaway shareholders:
Charlie and I have mixed emotions when Berkshire shares sell well below intrinsic value. We like making money for continuing shareholders, and there is no surer way to do that than by buying an asset - our own stock - that we know to be worth at least x for less than that - for .9x, .8x or even lower. (As one of our directors says, it's like shooting fish in a barrel, after the barrel has been drained and the fish have quit flopping.)
Blyth management apparently agrees with Mr. Buffett. As the stock has declined, Blyth Inc. has been increasing its share repurchases during the last three quarters. The company repurchased 283,300 shares during the third quarter of 2012 as the stock declined into the mid-twenties. This represented 3% of the prior period ending share float. Blyth Inc. increased its activity in the fourth quarter of 2012 to 411,336 shares with the stock down further into the mid-teens. This fourth quarter activity represented 5% of the prior period ending share float. In the first quarter of 2013, Blyth Inc. repurchased approximately 595,000 shares again in the mid-teens. This first quarter activity equaled 6% of the prior period ending equity float. Looking at the chart below, it's easy to see that Blyth Inc. finds the stock to be undervalued in the mid-teens. At the current rate of repurchases, the entire equity float not currently sold short will be eliminated in three quarters.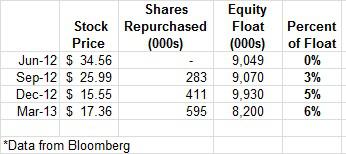 Blyth Inc. had one million shares remaining in the existing repurchase authorization as of April 1st, 2013. Given Blyth Inc. management's apparent commitment to repurchasing shares below intrinsic value, one might wonder if the entire one million share repurchase has taken place during the second quarter.
However, a different transaction may be on the horizon. In looking back through the archives of Blyth Inc. an interesting transaction took place in 2004. In June of 2004, Blyth Inc. announced the commencement of a Dutch auction tender to repurchase more than 4.0M shares. The company purchased roughly $171M in stock.
In addition to the expected $100 million in cash on hand, Blyth Inc.'s 2013 cash flow guidance of $75 million will give the company plenty of firepower to put together a robust Dutch auction tender, if it so chooses. Blyth's current equity float is 7.37 million shares according to Bloomberg. With 5.5 million shares sold short, only 1.87 million shares remain in the equity float. At the current stock price, Blyth would only need to spend $25M to remove all of those shares from the public float. This modest transaction would create price disequilibrium as the current short sellers find it nearly impossible to locate enough shares to borrow in order to maintain their short positions. While impossible to estimate the magnitude of the upward share pressure, given the massive short interest, one can logically assume a major move.
Given the current valuation, the firm's improved financial position, steady cash flows and management's obvious desire to buy shares below intrinsic value, the shorts may be overstaying their welcome. I'm sure Mr. Goergen is looking forward to saying Told U So.
Disclosure: I am long BTH. I wrote this article myself, and it expresses my own opinions. I am not receiving compensation for it. I have no business relationship with any company whose stock is mentioned in this article.