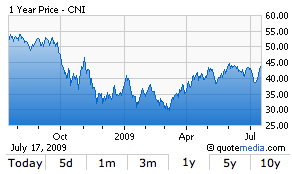 Canadian National Railway Co. (NYSE:CNI) is expected to report another tough quarter Monday when it releases it second quarter results after market close.
The country's largest railway saw its carloads fall by 24% during the quarter, and its revenue ton miles drop by about 14% due to the continued weakness of the economy. The consensus on the Street is that CN will report earnings of C$.77 a share for the second quarter, down from C$.95 a share for the same period last year, according to Bloomberg estimates.
David Newman, National Bank Financial analyst, lowered his earnings estimate CN late last week accordingly. He said he now expects earnings per share of C$.75 for the quarter, down from C$.82 previously.
But he also raised rating on the stock to an "outperform" and raised his target to C$54 a share from C$50.
"We are encouraged that volumes appear to have found a floor," he said in a note to clients.
With a business model built for recovery, when the economy turns around, we believe CN is well-positioned as the low-cost producer in the industry, with above average torque, noting that CN is likely to lead out of the recession.
UBS analyst Rick Paterson was a little less convinced that a floor has been hit ahead of the current earnings season. He noted U.S. carloads were down 16% last week, and Canadian carloads were down by 25%. He does, however, have a C$57 price target and a "buy" rating on CN.
He said in a note to clients:
Given the lingering weakness in recent carload data, we don't expect anyone to call the bottom with any conviction but any positive commentary on volumes will likely be viewed favorably by investors.