Among small cap and income buy recommendations, we project rising volume for Canadian Oil Sands Trust (OTCQX:COSWF), a stable trend for Dorchester Minerals (NASDAQ:DMLP) and natural decline for Encore Acquisition (NASDAQ:EAC), Hugoton Royalty Trust (NYSE:HGT) and Cimarex Energy (NYSE:XEC) (see charts Canadian Income Trusts, Small Cap Independent Producers, Top Line Cash Payers, and Bottom Line Cash Payers). Inevitable natural volume decline works to tighten supply and boost the price of oil and natural gas.
Because price changes are usually more important than volume changes, cash distributions turn from a declining trend for the past year to a rising trend for the next year (see charts Quarterly Distributions). The wide variation from quarter to quarter in past distributions implies that differences in the near future are difficult to pinpoint.
Longer term, there are clearer distinctions in reserve life, an indicator of volume trend, which we take into account in our estimates of present value. Meanwhile, low McDep Ratios for most of the stocks encourage continuing investment interest. Among buys, COSWF, DMLP and EAC are trading above their 200-day averages, XEC stock price is close to the 200-day mark and HGT remains below the 200-day, though recovering rapidly from its lowest price. Oil/natural gas emphasis and volume trend may be the most important distinguishing factors in recent stock market performance.
Top Line Payers and Bottom Line Payers Differentiated
We have long struggled with how much of a valuation difference there should be between stocks that derive cash flow from top line, or revenue royalties as we have called them, and those that derive cash flow from bottom line, or profits royalties. Now we introduce a separate classification that has all the top line payers in the same group. The top line cash payers have a higher median McDep Ratio than the other groups. While reserves as reported correspond to a relatively long life index at a median 10 years, the index is less than the median 11 years for all 14 stocks. Yet, reserves are stated more conservatively for top line trusts in part because the trusts are not responsible for operations and may not have full information about underlying properties. Getting paid first, off-the-top, with its obvious lower risk seems to have an enduring special appeal.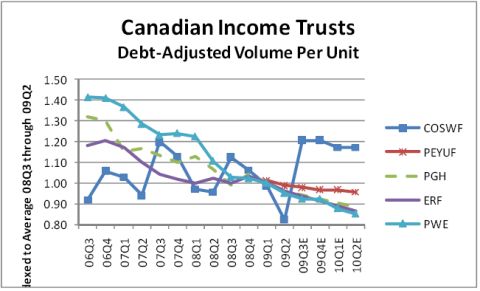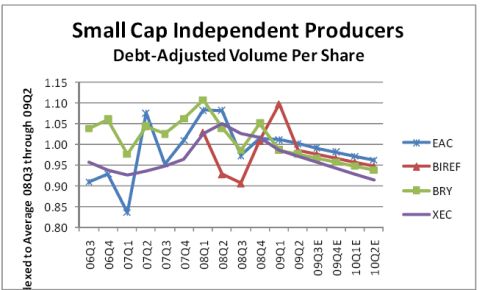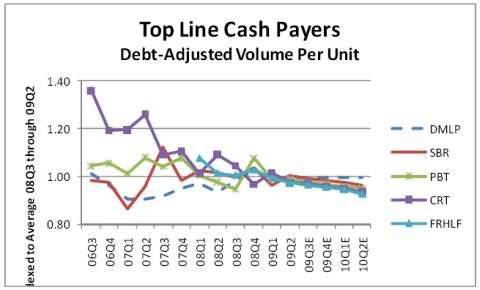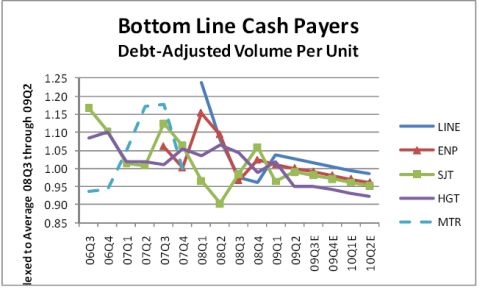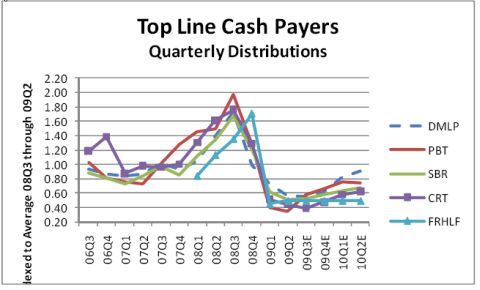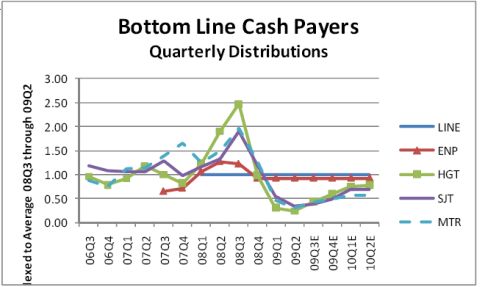 Originally published on June 26, 2009.