It is very important to understand a company's management strategy and management's ability to create wealth for its shareholders. By using The Applied Finance Group's (AFG's) Management Quality score you have the ability to grade management's ability to make wealth creating decisions and eliminate wealth destroying firms from your list of constituents. AFG's Management Quality variable is used as an exclusionary variable to get rid of the company's who continue to grow out their businesses when they are not even profitable (Economic Margin or EM is AFG's way of understanding a firm's economic profitability). When something is not working in a corporation the last thing you want to do is continue to throw money at something broken. Fix the broken parts of your business first by divesting losers and work on improving profitability and earn the right to expand. The best strategy AFG or anyone for that matter likes to see is a very profitable business (positive EM's) that grows it's assets to maximize their profitability.
In the examples below we analyze GE's Management Quality under the control of Jack Welch from 1980-2001 and compare against Jeffrey Immelt's time as CEO from 2001-2009.
Welch was the youngest CEO in GE's history and widely regarded for his innovative management strategies, leadership style and understanding of how to create shareholder value. As a result of the strategies Welch put in place for GE from 1980 to 2001, he was able to grow GE's revenues from just over $26 billion a year to $130 billion and took GE's stock price from around $1.25 a share to nearly $50 a share. Welch streamlined GE and made it a more competitive company in the market through his dedication to identifying and improving ways of adding value to its shareholders as well as numerous successful acquisitions. During the 1990s, Welch transformed GE from simply a manufacturing company to financial services and even acquired the NBC network which was turned around into a success under Welch. Welch's compensation/termination policy added to the internal competiveness of its management teams who knew if they ended up in the bottom 10% of performance of managers they would no longer be working for GE and only those in the top 20% received bonuses and stock options.
Jeffrey Immelt, on the other hand, did not achieve the same success as Welch in his time as CEO. Immelt immediately started off on the wrong foot by taking over the company just days before the 9/11 terrorist attacks which launched the recession and cost GE's insurance arm over $600 million. Along with 9/11, Immelt also had to deal with last year's financial crisis which definitely hit that portion of GE's business hard. Under Immelt the company has become more dependent on the finance sector of its business, lost a third of its value, missed earnings estimates for the first time, and lost its place as the largest company (by Market Cap) in the U.S. to Exxon Mobil (NYSE:XOM).
GE's stock price has also suffered dramatically under Immelt going from $49/share when he took over to under$7 for the first time since 1993. Bad luck and bad timing are partially to blame for the struggles GE has encountered under Immelt, but he has also done a few questionable things in his tenure which should make investors question his ability to add to shareholder value which Welch did such a good job of. Immelt's transition, relying more on the finance division of GE, is questionable as well as his recent support of cap-and-trade which is believed to be extremely detrimental to the overall U.S. economy.
Below is a graphic representation of the value of GE's stock under Welch vs. Immelt. This highlights the importance of a strong management team to a shareholder's value of their investment. By understanding a company's true economic profitability (EM) and relating that to how a company grows based on their level of profitability will give investors a much clearer picture of whether a company is likely to create or destroy wealth in the future. As you can see in the chart below, GE's Economic Margins have been closely correlated with the subsequent performance of their stocks' price. Welch was able to grow GE's EMs from 2 to 12 in his tenure and Immelt has taken that EM level and diminished it to an expected EM of 0 for next year. A zero EM company is just a break even business at best, earning back its cost of capital but nothing above that.
click to enlarge
GE's stock performance under Welch vs. Immelt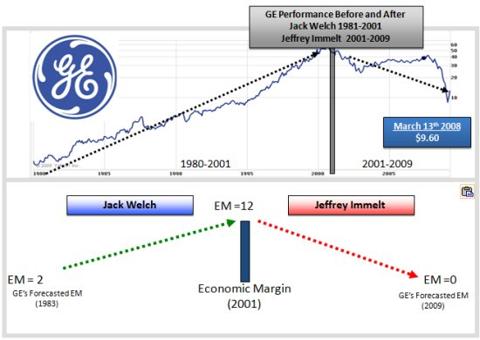 Management Competence Factors
• Have there been any changes in the executive management team?
• Has the company had any significant write-offs or poor earnings quality?
• Has the company recently made any significant acquisitions and, if so, what are the strategic implications and costs?
• How is the company spending any excess cash?
• What did we learn from the company's most recent earnings call and what was the tone of analyst questions?
Management Quality Score Insights:
• Measures a company's EM+1 and LFY Asset Growth.
• Companies that have positive EMs should grow their business while firms with negative EMs should focus on profitability and earn the right to grow.
• Un-bias quantitative way to analyze a company
• Holds management teams accountable for unprofitable growth