PPL Corporation is a global energy holding company with its headquarters in Allentown, Pa. The company owns:
Louisville Gas and Electric Kentucky Utilities serving 1.3 million customers in Kentucky, Virginia, and Tennessee.
PPL Electric Utilities serving 1.4 million customers in Pennsylvania.
PPL EnergyPlus is an unregulated business, which sells wholesale and retail electricity in key U.S. states.
PPL Generation is the business that controls or owns about 11,000 megawatts of generating plants in Montana, and Pennsylvania.
PPL Global owns and operates distribution businesses in the United Kingdom serving 7.8 million customers.
There are several reasons to like PPL.
PPL pays 5% dividend at the current price.
PPL has a 12.5 PE ratio, which is lower than most utilities comparable in size and scope.
PPL has just won a foreign tax case at the Supreme court that will save the company $40 million in the current quarter.
PPL with revenue of over $12 billion annually is one of the largest companies in the U.S. utility sector.
PPL has just restarted Unit 2 on June 5, at the Susquehanna Nuclear Power Plant. Refueled the plant and made extensive plant improvements
PPL is investing heavily in its regulated businesses and expects to grow the regulated rate base by approximately 7.6% annually over the next 5 years.
The Street Ratings rates PPL a buy with a target price of $33.96 within a year.
S&P has a target price of $34.00 over the next 12 months.
Recent fall in the price offers a good entry point. See graph below: (taken from Interactive Brokers)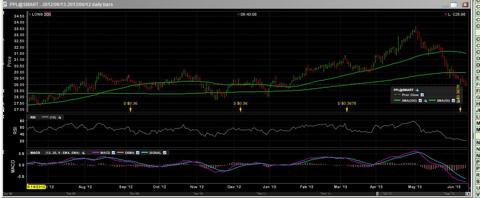 Click to enlarge
There are several reasons to be concerned about PPL.
Earnings per share have grown less than 1% over the past 5 years.
Dividend has grown only 3% over the past 5 years.
668 thousand shares of PPL were sold by insiders over the most recent quarter.
Possibility of regulators disallowing rate increases for the capital expenses needed in Pennsylvania, and Kentucky.
PPL's merchant power generation segment is operating in weak power price environment over the next 2 - 3 years, which represents about 25% of its revenues.
S&P predicts that earnings per share will drop several percentage points over the next 2 years because of lower power supply margins. (Information on numerical points above gathered from TDAmeritrade website.)
Recommendation
PPL has been paying dividends consistently for years. However the company's rate of growth has been less than stellar. There are some triggers in the works that should enable the company to grow both revenues and earnings over the next 5 years. Regulators are likely to allow rate increases for the company's investments over the next few years coupled with a probable turn around in the company's merchant power generation segment at some point in the future that should propel both earnings and dividends, probably starting in 2015. Meanwhile one gets a relatively safe 5% dividend while one waits for these triggers to kick in. The stock looks to be a buy at $29.25 or lower.
Disclosure: I am long PPL. I wrote this article myself, and it expresses my own opinions. I am not receiving compensation for it (other than from Seeking Alpha). I have no business relationship with any company whose stock is mentioned in this article.