Once a Wall Street darling, Krispy Kreme (KKD) has been staging a remarkable comeback in share price after its unceremonious fall from grace this past decade. The rise in share price has been staggering, as it has nearly tripled since last summer. While the fundamental basis for any rise in share price has been showing improvement as well, it is not on par with what has been seen with the actual price levels the shares now sit at.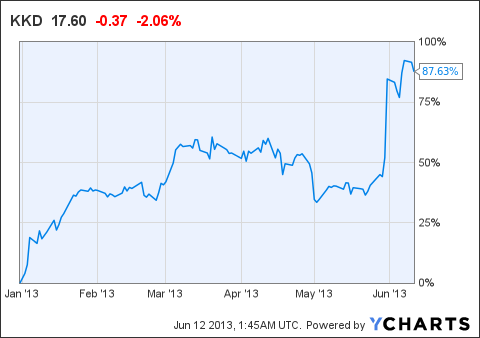 KKD data by YCharts
Shady, Not so Distant History
After it had its IPO at $21 dollars a share in 2000, quickly rose to $50, and had fallen to around $6 all within the span of five years, the company was in a bad place. Some were even predicting its complete demise. Even aside from its financial situation, the company built up a reputation for unsavory business practices as well. Accounting irregularities and a serious lack of disclosure ran amok. In addition it even suffered failures to file financial statements in a timely manner. Franchisees accused it of "Channel Stuffing" or stores getting increased shipments in the final months of a quarter so the company could make its desired numbers.
Eventually investigations were launched by the SEC, financial statements were forced to be restated, and the CEO was replaced. This was long enough ago in 2005 where direct complications arising from it today might not be the biggest concern, but recent enough where worries over the corporate culture should still persist in people's minds. Nevertheless, the company survived, revamped, and is now ready to expand.
Current Goals for Expansion
It aims for 400 domestic and 900 international stores by 2017, up from what is around 250 domestic, and 525 internationally at this time. This kind of growth might sound exciting except for the fact that it is what got the company into trouble in the first place after its IPO.
Krispy Kreme relied on increasing profits at the parent-company level while not necessarily concentrating on how each individual outlet was doing, which is where concentration is centered with McDonald's (NYSE:MCD), which remains the gold standard in franchising. As a result of this strategy, there were examples in the past where you can see 15% increases in quarterly revenue, while same-store sales were barely in positive territory. It had far too much of its revenue stream derived from the selling of equipment to the new opening franchisees, whereas what you would like to see is more building it around royalty payments instead - once again how McDonald's operates. How Krispy Kreme was operating was a recipe for disaster, and indeed things got very bad for the company.
Current Sales Numbers
Current numbers might suggest it is doing better on these fronts. Krispy Kreme likes to highlight that company same-store sales were well positive in the last quarter, up 11.4%, which marks the 18th consecutive quarterly increase. However, looking more closely at the sales numbers, international franchise stores were down double digits, or 7.3% in constant dollars. This comes after being down 8.1% in constant dollars the previous quarter, which was called a sign of "stabilization" during the conference call for that quarter. A claim that I think is a stretch. Those numbers are far from stable.
Unfortunately, international franchise stores comprise 40% of system wide sales for the company, a greater percentage than company stores or domestic franchises. And yet, going back to the expansion goals spoken about earlier, you can see most of these goals are internationally oriented. Ideas in the pipeline include 80 stores in India to be opened in the next five years. It appears attractive to the company because of the brand's popularity with that country's immigrants in the U.K. But that doesn't necessarily transfer over to India at all.
Conclusion
Not every country's idea of breakfast is synonymous with the doughnut and coffee popular in America. Krispy Kreme is also essentially a niche company, without the advantageous option of diversifying the product line on par with a company like McDonald's. A company such as this should acquiesce to the fact that some markets just might not be accessible. Before even thinking about embarking on any expansionary goals, the company should worry about really stabilizing international franchises, because their numbers are not in the midst of an attractive trend, and doubling down on them is not a valid solution.
The not-so-distant troubles operate as a pretty solid case study in how not to grow a franchise. The company escaped from it, but barely. Earnings have only been positive for the last three years. With round two of aggressive expansion set, presenting a very unknown variable with its future course, coupled with a P/E ratio north of 50, the stock is far too speculative and pricey to be attractive at this point in time.
Disclosure: I am long MCD. I wrote this article myself, and it expresses my own opinions. I am not receiving compensation for it (other than from Seeking Alpha). I have no business relationship with any company whose stock is mentioned in this article.