Folks, I'm willing to suspend disbelief in the interest of making ill-gained profit as much as the next guy - but only in the stock market of America can we celebrate a housing starts number that indicates an increase in the inventory of homes to be built in the middle of the largest housing debacle in our country's history.
I mean really, if there is one thing this country is lacking, it's a housing stock. But this Kool Aid is exactly why we own our homebuilder - Meritage Homes (NYSE:MTH). We enjoy taking advantage of tomfoolery. MTH is up a cool... uhh, 30%, so I'm going to gracefully exit here with 95% of the position (taking it down from a 1.5% position to 0.1%) and we'll load up on the next pullback.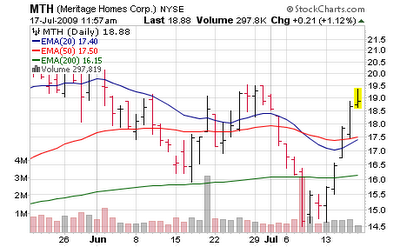 Technically the stock faded around $19.50 two weeks ago, and we're just about back there now. Much like our airline stock, homebuilders really don't go off technicals - they are just proxies on news and emotion, so we added some on that dip ($15s, missed the $14s). I am out around $19 with an insidious smile on my face at the insanity of it all. For pure momentum players, you'd want to buy this stock on a clearance of $19.50, as that would indicate the potential of a new leg up. I'll take my 25% in a week and run.

Anyhow, as Obama and team is considering keeping unemployed people in their homes by paying for their mortgages, and / or turning homeowners into renters (allowing them not to leave the premises) [Jul 15: Reuters - Obama Mulls Rental Option for Homeowners, along with Paying Mortgages for Unemployed] surely we need more homes built.
Construction of new U.S. homes rose in June to the highest level in seven months as builders rushed to pour foundations for homes that must be completed by the end of November for first-time buyers to take advantage of a special tax break.
The Commerce Department said Friday that construction of new homes and apartments jumped 3.6 percent last month to a seasonally adjusted annual rate of 582,000 units, from an upwardly revised rate of 562,000 in May.
It was better than the 530,000-unit pace economists expected, and was the second straight monthly increase after April's record low of 479,000 units.
"The largest spark...has been the looming deadline," said David Crowe, chief economist for the National Association of Home Builders. His trade group said Thursday that the confidence level of builders has risen to the highest level in nearly a year.
Even with the better-than-expected figures, the pace was still 46 percent below last year...
Meanwhile, applications for building permits, seen as a good indicator of future activity, rose almost 9 percent in June. (oy!)
On a serious note, the number of starts, at sub 600,000 is abysmal on a relative basis (half the rate of the June 2008) but in comparison to the record lows of 2 months ago, the green shoots crowd will embrace it. The actual number of new homes built in this country should be zero- and stay there for a year. (at least) If Obama wanted to "help" he should just pay homebuilders to do nothing for 12 months.
However, since the homebuilders know a government transfer of $8000 from your pocket to theirs via the 1st time homeowner program is available, they'll just continue building homes while, concurrently lobbying for this program to be extended into 2010 (I assume it will be) and / or increased the eligibility to everyone (also very probable) and / or we also have a lot of talk of increasing the handout.... err incentive... to $15,000 (when you see Obama's poll numbers by Thanksgiving as the economy on MAIN St remains a bloody disaster, you can be assured this has a great chance of happening as well).
In summary? I expect $15,000 (up from $8000) for everyone (up from 1st time home buyers) handouts by next spring as America enjoys the fact our stimulus programs are endless and our money trees bear fruit like no other. And pat your homebuilder or financial lobbyist on the back - "heckuva job Brownie!"
Disclosure: Long Meritage Homes in fund; no personal position