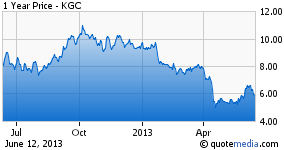 Kinross Gold Corporation (NYSE:KGC) announced this morning that it will cease development of its Fruta Del Norte (FDN) project in Ecuador. After more than two years of negotiation, KGC and the Ecuadorian government were "unable to agree on certain key economic and legal terms which balance the interest of all stakeholders." It is believed that these two parties could not come to an agreement over the 70% tax rate that was being imposed by the Ecuadorian government.
KGC has said that this decision will result in a charge of approximately $720M in the company's second quarter earnings. Of this $720M, $700M is expected to be a non-cash charge that represents the "net carrying value of the whole FDN investment" while the other $20M represent "accrued severance and closure costs." This announcement decreased share price by over 6% during trading hours yesterday. So, what does this decision mean for the long-term success of KGC?
This write off $720M is going to affect future earnings estimates for KGC tremendously but the problem in this case lies with Ecuador and not KGC. New president, Rafael Correa recently was trying to pass a bill through parliament that would make it easier for gold companies to mine so as to make the country less dependent on oil exports. This bill ended up passing but there still seems to be some differences between these two parties.
KGC will not be able to retrieve any investment made at FDC as until now the Ecuadorian government has denied them the opportunity to sell off the development or at least search for a buyer. There have been few gold companies that have had problems with Ecuador but these were mainly as a result of political instability rather than government measures themselves. Just today INV Metals (INV) announced that it was going to reevaluate its own Ecuadorian gold projects after these recent occurrences. INV Metals announced it will meet with senior Ecuadorian government officials to decide on how to move forward.
The $720M write off is a large amount of capital that KGC will not be able to get back. Although this is the case, other development projects that KGC can rely to offset the loss of the FDC project are doing well as was seen in this quarter's earnings report. The Tasiast expansion project in West Africa announced pre-feasibility results on April 29 that would expand the project to 38,000 tons per day. The expansion of the Kupol mill in Russia to 4,500 tons per day is also well underway and still remains on budget. The mill is ready to be completed in the third quarter of this fiscal year.
Additionally, KGC operating results have also been good this last quarter and we expect this to continue. Production of gold increased by 10% over this last quarter while revenues also increased. This occurred while cost of sales decreased slightly from $738 per gold equivalent ounce to $729 over the last year.
Most of KGC's expected successes have the one unknown of gold prices. With renewed fears of QE tapering we expect traders in the near future to move in precious metals such as gold as uncertainty in equity markets increases. This would increase the price of gold, which would benefit KGC.
KGC has a forward PE of 11.00 which is below our sub-15 threshold for undervalued companies. They have beaten expectations for the last three quarters emphasizing the solidity of the company. We expect that the stock has bottomed as a result of the announcement and we would be comfortable getting into a position now. It is a company that we believe is fundamentally strong and it will bounce back as a result of its continued operation and its expansion projects.
Recommendation:
Long, KGC
Disclosure: I have no positions in any stocks mentioned, and no plans to initiate any positions within the next 72 hours.
Business relationship disclosure: The Oxen Group is a team of analysts. This article was written by David Ristau, one of our writers. We did not receive compensation for this article (other than from Seeking Alpha), and we have no business relationship with any company whose stock is mentioned in this article