Baron Rothschild of the infamous Rothschild dynasty famously said: "The time to buy is when there is blood in the streets." The literalness with which one is to take this statement is debatable, but historically the following points have, for the most part, held true:
Falling asset prices, fear in the marketplace, and social unrest have often occurred simultaneously.
When these events coincide it is a good idea to invest in assets whose prices are falling.
The events going on in Turkey and the price action in Turkish stocks follows this pattern. Turkish stocks have collapsed recently, with the iShares MSCI Turkey Investable Market Index Fund (NYSEARCA:TUR) falling from roughly $74/share on May 28th (when riots first began escalating in severity) to just under $61 today, which represents a nearly 18% decrease in price over just a two-week period. Concurrently (and unfortunately!) we are literally seeing blood in the streets.
Such imagery and collapsing stock prices beg the question: Is now the time to buy Turkish stocks?
Violent protests and social unrest that make global news does not by any means imply a bottom in a given region's stock market. After all, who can forget the violent riots in Greece shown to American television audiences in the spring/summer of 2010? Had one applied the "buy when there is blood in the streets" theory and purchased Greek stocks, he or she would have seen a 35 - 50% loss in his or her investment (depending on when exactly the purchase was made).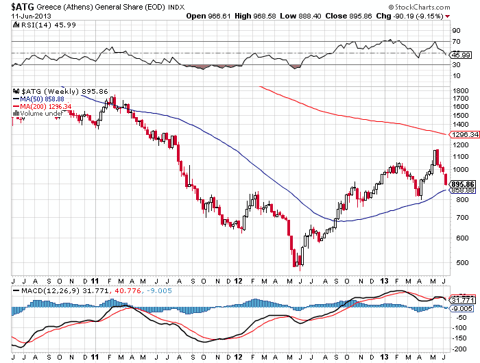 Yet if we look at a longer-term picture of Greece's stock market and compare it to Turkey's a different picture emerges: Greek stocks are in a secular bear market, and they have been since the beginning of the 21st century: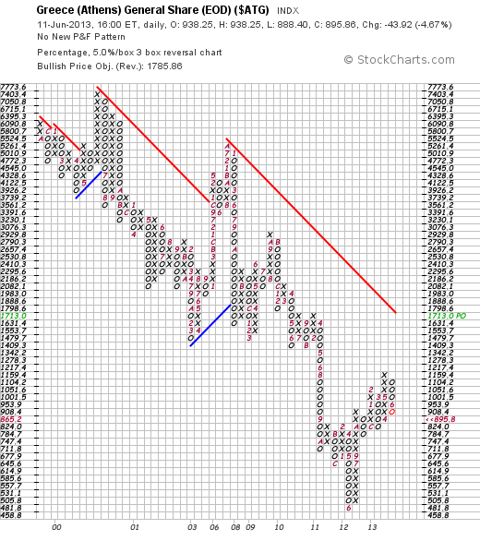 Turkish stocks, on the other hand, have been in a secular bull market, with the recent weakness appearing to be a mere setback in a much longer uptrend. In fact if we look at the chart of Turkish stocks the current correction appears to be a much needed one that has been long overdue.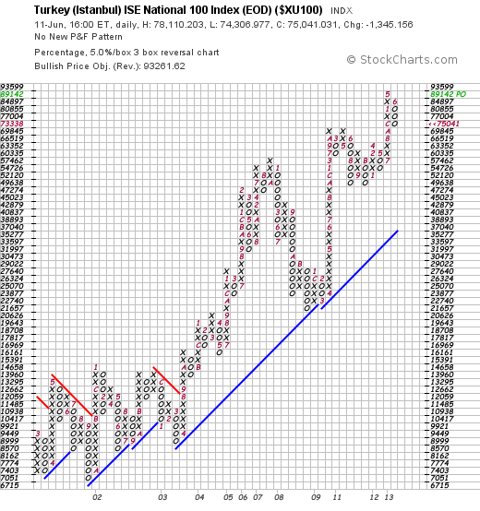 Given this uptrend, and given the state of Turkey's economy, which I will discuss presently, the "blood in the streets" theory for bottom picking seems to be much more compelling when it comes to Turkish stocks. In what follows I will discuss the current state of Turkey's economy: it isn't a "Goldilocks" economy but there are many things that I can point to that would justify owning Turkish stocks longer term. I will then discuss specific investments in Turkish stocks that American investors should consider.
A: Turkey's Economy
1: A Brief Description of Turkey's Economy
Turkey has many established industries, although its economy has been growing rather rapidly throughout the 21st century and it has a rather young and vibrant population, which is probably why different sources classify it as "developed" while others classify it as "developing."
Turkey's economy is predominantly a service-sector economy with extensive banking and telecommunications industries. However a little more than a third of Turkey's economy is in industrial production and in agriculture. The following chart breaks this down.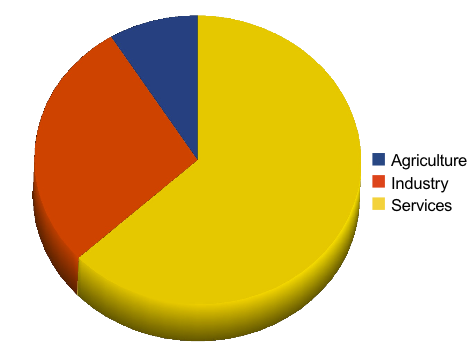 *2012 data according to indexmundi.com
While agriculture isn't Turkey's largest industry, almost 30% of the workforce works in farming. Given the strength in agricultural commodity prices in recent years this should be extremely beneficial to Turkey's consumers and consequently to Turkey's consumer products/services companies.
In addition to the country's heavy exposure to banking and telecommunications, it also produces electronic and home appliances that are exported throughout Europe, and to a lesser extent Asia. For instance Vestel, a Turkish company, is Europe's largest producer of televisions. Furthermore, Turkey also produces a million automobiles annually. Turkey also notably produces a wide array of commodities and minerals, and large North American mining companies such as Eldorado Gold (NYSE:EGO) operate mines there.
2: Turkish GDP Growth
Turkey's GDP has grown substantially during the 21st century.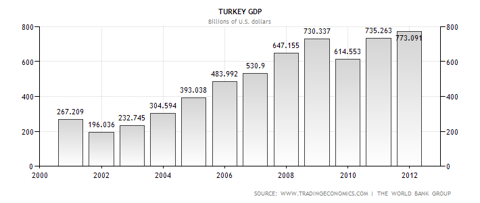 Turkey's annual GDP growth rate has consistently been among the highest in the European Union since the turn of the century, and it has remained decidedly positive except during the 2002 and 2008 recessions, as the following chart illustrates: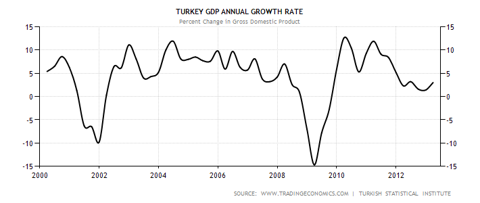 Despite the fact that Turkey's population is growing along with its GDP, its GDP per capita has been growing meaningfully, which suggests that its citizens are becoming wealthier and better able to afford products that we in the West take for granted: this should bode well for companies that make consumer goods and others that provide services such as utilities and telecommunication companies.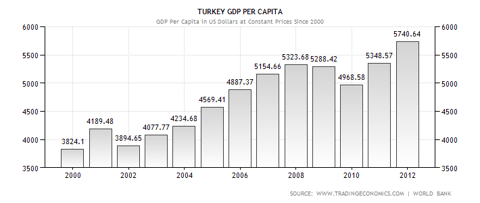 3: Turkish Fiscal Policy
Turkey's government should be commended as one of the few that has successfully gotten its fiscal house in order: its debt has declined precipitously relative to GDP.
Furthermore its budget deficit is just 2.8% of GDP.
Turkey's government's fiscal responsibility will be beneficial in that future regimes will not be forced to devote substantial amounts of capital to paying interest on government debt.
4: Foreign Reserves and Trade Balance
Despite the fact that Turkey is one of the world's largest producer of agricultural commodities it has had a perpetual negative balance of trade. Furthermore, the rate at which imports have been outpacing exports has accelerated as of late, and this should be reason for investors in Turkish companies to be somewhat concerned.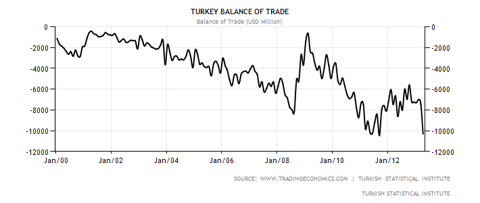 Despite this Turkey has been able to accumulate almost $140 billion in foreign exchange reserves, and this number has been growing at a fast pace--from $33.8 billion in 2000--equating to a compounded annual growth rate of roughly 12%.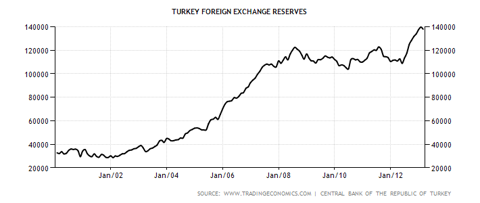 5: Monetary Policy and Money Supply
Currently The Central Bank of the Republic of Turkey's benchmark interest rate is 4.5%. This rate is somewhat high compared to much of the world but it is nowhere near the level of other developing nations such as Russia, Brazil, or China. Furthermore this rate is historically low for Turkey, which saw interest rates at around 60% back in 2002 when the country had fiscal troubles. As the following chart illustrates this rate has normalized over the past decade or so.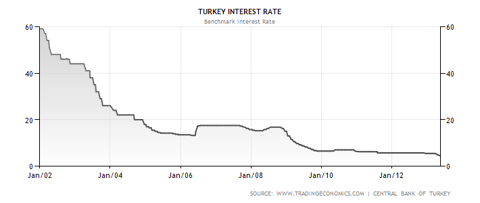 Despite the fact that Turkey has had incredibly high interest rates for much of the 21st century, this has not deterred lending in the least, as evidenced by the rapid growth rate in the nation's money supply. The following charts are of Turkey's M1 and M3 money supplies, respectively: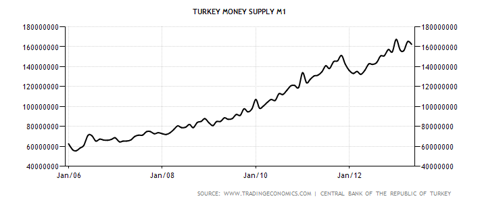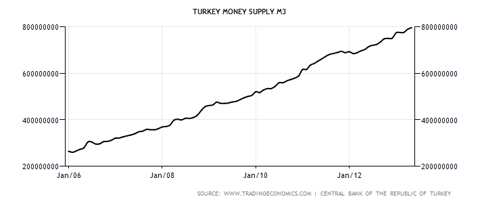 M3 money supply, which measures the supply of money and all outstanding credit, has grown especially rapidly from roughly 260 billion to roughly 800 billion Turkish Lira from 2006 to the present, which represents a CAGR of a whopping 19%. This high rate of increase in Turkey's money supply is a red flag for potential investors. Furthermore it functions as an explanation as to why the Turkish Lira has weakened against the U.S. Dollar over the past several years while most major currencies (the Euro, the Yen, the Renminbi, the Swiss Franc...etc.) have appreciated against the U.S. Dollar.
This currency weakness and increase in the money supply have led to rising prices in Turkey.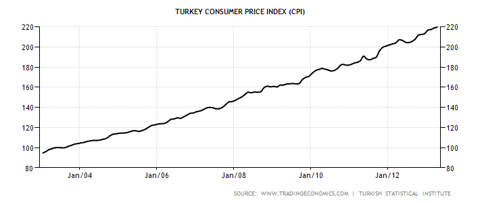 Considering that the trend in the benchmark interest rate appears to be down for the short to intermediate term, I would expect the weakness in the Turkish Lira and the rise of prices in Turkey to continue. This, along with social unrest and a negative trade balance, are the three primary risks that potential investors in Turkish equities face.
6: Demographics
Turkey's demographic situation makes for a promising economic future. Turkey's population has been growing at a steady pace throughout the 21st century, from 65.4 million people in 2000 to 73.6 million people presently, or at a CAGR of 1% per year.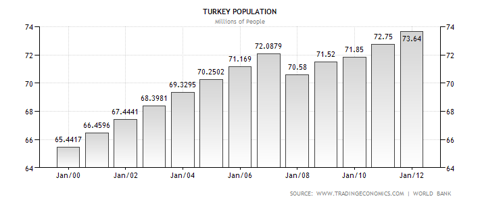 What bodes especially well for Turkey's long-term economic outlook is the age distribution of this population. Turkey's population is extremely young, as the following population pyramid illustrates.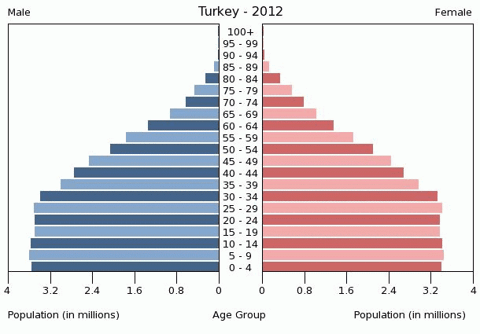 This means that as time goes by more and more Turks will enter the workforce, and the number of Turks who are at the age of peak productivity (usually in the mid-40s) will rise as well. The following chart shows that this is already taking place: since 2005 the number of employed Turks has increased from roughly 20 million people to almost 26 million people presently, which is a CAGR of over 3% per year.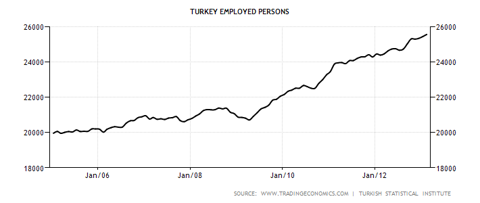 These last two trends in particular should bode well for Turkish consumer goods companies, although the entire economy will benefit.
B: Turkish Investments
Americans have limited access to investments in Turkey. There are not many ADRs and there is only one ETF: TUR. TUR divides its assets between large, medium, and small cap stocks. According to the information provided by iShares, it currently trades at roughly 13.7 times earnings and at 2.8 times book value. This is not cheap, but it is not that expensive either (by comparison, the iShares S&P 500 index fund (NYSEARCA:IVV) trades at 21.5 times earnings and 4 times book value). Compared to other stock markets in economies that are showing secular bull trends, such as Russia (see my article: The Case For Investing In Russia (Despite The Risks)), I think this is somewhat expensive. However I suspect that there will be some extreme volatility and bearish price action in the short term, and this may provide a better entry point. I would start to get interested in TUR at 10-12 times earnings.
Unfortunately TUR holds roughly half of its assets in financial stocks. This lack of diversification, and my interest in consumer-related equities in Turkey forces me to look elsewhere for opportunities (although TUR can be a part of a Turkish equity portfolio). One possibility is to look at closed-end funds such as the Turkish Investment Fund (NYSE:TKF). TKF suffers from an over-allocation to financial stocks like TUR, although it currently trades at an 11% discount to its NAV.
Other possibilities include individual stocks, although there are not many for Americans to choose from. Probably the largest and most active Turkish stock to trade on an American exchange is Turkcell (NYSE:TKC), which provides telecommunication services to Turkey and neighboring countries. Recently it has not shown much earnings strength, however its sales seemed to have bottomed after slumping during the financial crisis of 2008-9. At 10X earnings it is definitely worth considering, especially given that the company has $3.6 billion in cash and cash equivalents with just a $12 billion market capitalization. The ongoing turmoil in Turkish stocks should provide investors with a better opportunity to pick up Turkcell shares.
Another stock for investors to consider is Anadolu Efes Birck (OTCPK:AEBZY), which is a brewer of beverages (both alcoholic and non-alcoholic) in Turkey and plays well into my thesis that Turkish consumer stocks should perform well. Currently the stock trades at over 20 times earnings, although the company is growing rapidly (it grew EBIDA 30% in 2012). Potential investors should take note that the company sells a lot of products in Russia, particularly its alcoholic beverages, although two thirds of the company's soft drink sales are in Turkey. The stock is down 25% or so since the riots began in late May, and given that it is a growth stock I suspect that it will be more volatile than the three issues I discuss above. But ultimately I expect that this company will do incredibly well with a low-risk business model.
C: Conclusion
Investors should take away the following points from this article.
There is literally blood in the streets in Turkey. As horrifying and as saddening as this is this might signify a buying opportunity in Turkish stocks.
Turkey's economy is characterized by its exposure to banking, telecommunications, and agriculture; and to a lesser extent electronics and home appliances. Generally Turkey has a diversified economy.
Turkey has experienced meaningful GDP growth while its government has kept deficits under control. It has a trade deficit although it has a growing internal economy and foreign exchange reserves to support this deficit, at least for the foreseeable future.
Turkey has a somewhat loose monetary policy, and credit is growing at a rapid rate (19%) that far exceeds its 4.5% benchmark interest rate. This has likely contributed to the nation's weak currency and rising prices. However I do not think that this will be detrimental enough to harm Turkey's economy longer term.
Turkey has an ideal demographic situation. The population is growing at about 1% per year, but Turkey has a very young population, which has led to a work force that is growing at more than three times that pace. This bodes well for Turkey's future economic output and the future prosperity of its consumers.
Investors who are interested in purchasing Turkish stocks do not have many options available to them on American exchanges. There are funds such as the iShares Turkey fund and the Turkish Investment Fund, but these funds have high weightings in financial stocks. Investors who want to bet on the growing prosperity of Turkish citizens (even though the ongoing riots make this seem like a far-fetched notion) might consider purchasing shares in Turkcell, which is a telecommunications company, or in Anadolu Efes, which is a brewer of both alcoholic and non-alcoholic beverages.
Disclosure: I have no positions in any stocks mentioned, and no plans to initiate any positions within the next 72 hours. I wrote this article myself, and it expresses my own opinions. I am not receiving compensation for it (other than from Seeking Alpha). I have no business relationship with any company whose stock is mentioned in this article.