The Reserve Bank of Australia recently held rates at 3.0%. The cost of borrowing compares to 0.5% in the UK, 1.0% in the Euro-Zone and the 0.0% to 0.25% band in the US.

Whilst the RBA's monetary policy hints at a 2009 recovery, their accompanying comments leave no doubt Australia will be one of the first G20 nations to exit recession and return to growth. The RBA confirmed downside risks have diminished and recent upgrades to Chinese GDP would help the wider region and Australia to enjoy healthy growth in 2010. Interestingly, the RBA took the time to highlight its cautious confidence in a US recovery but suggested the Euro-Zone remained behind the curve. The sentiment mirrors the thoughts of the IMF in their July World Outlook Update.

The Australian Central Bank also cited fast improving domestic consumer confidence and a pick-up in housing with a healthy number of first-time buyers joining the market. Also highlighted is an absence of labour cost inflation, further helping the RBA to keep rates on hold for now rather than tightening monetary policy possibly too early and thereby threatening the recovery. On a more cautious note, the willingness of companies to borrow remains subdued despite the 3.0% interest rate, low by Australia's historical standards.

In summary, the combination of fast rising consumer confidence, recovering commodity demand from China and continued domestic monetary and fiscal support suggests the pace of the Australian recovery will remain intact. The International Monetary Fund's recent upgrade to its GDP forecast also reassures with a revised prediction of a modest -0.5% contraction in the current year and growth of 1.5% for 2010.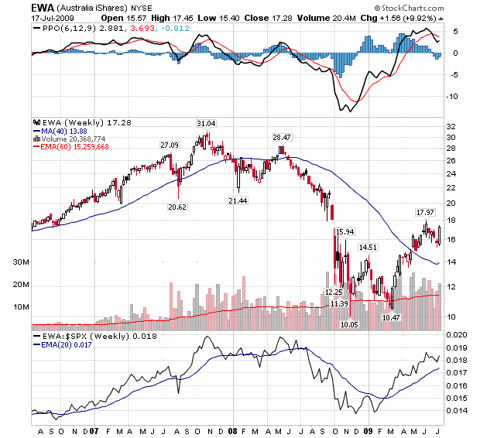 Click to enlarge