I like spending time looking for investment opportunities, but I also like to spend my time as efficiently as possible. That's why a couple of areas that I focus my search on are companies that are targets of activist investors, and also companies that are being purchased by the world's leading investment minds.
I like activist involvement both because the activists often are catalysts to realize value and I like looking at the investments of great investors for the obvious reason -- they have the best ideas. One of those investors that I keep my eye on is none other than Bill Gates. It wasn't his investment acumen that made Bill Gates the world's richest man. It was his ownership stake in a single company. By putting all of his eggs in his Microsoft (NASDAQ:MSFT) basket, Bill Gates was able to amass tens of billions of dollars.
I don't know if it is because of his close friendship with the world's greatest investor Warren Buffett, but later in life Gates has become a pretty accomplished investor in his own right. Through his investment company Cascade Investment Gates made some pretty savvy investments. In fact, it was Gates who came up with the idea of buying into railroads first as he had a large position in Canadian National Railway (NYSE:CNI) before Buffett decided to start buying shares of Burlington Northern.
It was by watching what Gates is doing is how I find myself looking at the security/protection sector of the market. This week, I noticed that Gates had taken a position in U.K. security firm G4S, which primarily does the following:
G4S is the world's leading international security solutions group, which specializes in secure outsourcing in countries and sectors where security and safety risks are considered a strategic threat.

We make a difference by helping people to operate in safe and secure environments where they can thrive and prosper and we believe this role can only grow in importance.
Gates taking an interest in the security sector made a light bulb go off in my head. I had forgotten that I had taken a look at another company in the business of protecting people earlier this year. The company is called LRAD Corporation (NASDAQ:LRAD), and I had been drawn to the company because it was the target of an activist investor.
LRAD Corporation -- Significant Changes Since My Last Look
When I last looked at LRAD, it was the target of an activist investor (Iroquois Capital) and I concluded that the company appeared to be attractively valued. Since then there have been a couple of significant pieces of news. The first item was announced on May 22 and related to successful news for the activist party Iroquois:
SAN DIEGO, CA, May 22, 2013 - LRAD Corporation announced today that it has reached an agreement with Iroquois Master Fund Ltd. and certain of its affiliates (collectively 'Iroquois'), under which two new independent directors proposed by Iroquois and a third new independent director mutually selected by the Company and Iroquois will stand for election in place of three independent members of the Company's current Board of Directors.

'We believe this agreement is in the best interests of the Company and our stockholders,' stated Tom Brown, chairman, president and CEO of LRAD Corporation.

The Company and Iroquois have also agreed to settle the pending derivative lawsuit brought by Iroquois, subject to approval by the Delaware Court of Chancery, with the Company agreeing to amend Mr. Brown's May 2012 stock option grant by raising the strike price from $1.33 to $3.00. The Company also agreed to pay certain Iroquois legal and advisory fees. Iroquois has agreed to certain standstill restrictions that expire prior to the Company's 2014 Annual Meeting.

'We are delighted to have settled with LRAD amicably and believe that General John G. Coburn, Dennis J. Wend and Richard H. Osgood III will enhance the composition of the Board,' said Richard Abbe, co-founder and managing partner of Iroquois Capital, LP. 'We look forward to working constructively together with the Board and management team to help maximize value for all stockholders.'
That was a double win for Iroquois which not only was able to add two of its own directors to the Board and have a say in a third director, but also get options that had previously been granted to management at a very opportune time re-priced. This isn't just a double win for Iroquois, though -- this is a double win for shareholders. With a board of directors that numbers only five, a large shareholder (Iroquois) is influence over at least half of the board. Shareholders now clearly have a say in how this company is run.
The second piece of news is also very good for shareholders as it relates to a pretty chunky piece of new business:
SAN DIEGO, CA, June 11, 2013 - LRAD Corporation, the world's leading provider of long range acoustic hailing devices (AHDs), announced today it has been awarded a multi-year $12.2 million firm-fixed-price, indefinite-delivery/indefinite-quantity contract for small, medium and large LRAD AHDs from the United States Navy's Naval Surface Warfare Center located in Crane, Indiana.

The contract was competitively bid with LRAD Corporation being awarded the contract over two other companies. United States Navy contract funds in the amount of $1,988,785 will be obligated at time of award.

'We are pleased to be awarded this contract and to continue our working relationship with the United States Navy,' remarked Tom Brown, president and CEO of LRAD Corporation. 'LRAD systems and support equipment will be used to support large and small deck naval surface ships, submarines, security boats and shore security operations in anti-terrorism/force protection missions. Having received competitively bid multi-year contracts from the United States Navy in 2007 and 2010, this new award continues to demonstrate that LRAD Corporation is the world's leading manufacturer of acoustic hailing devices.'
This deal is not only important for the amount of revenue involved, but also because it further validates the effectiveness of the company's proprietary LRAD systems.
In case you were wondering what those LRAD systems are all about, here is a little background. The LRAD systems were developed in response to the deadly attack on the USS Cole over 12 years ago. The systems are deployed in more than 60 countries and by international naval forces and other military organizations. The systems are used at distances up to 3,500 meters in anti-terrorism/force protection missions by broadcasting powerful deterrent tones and live or pre-recorded multi-language warnings, commands, and instructions with unprecedented clarity and range. The ability to communicate clearly over a safe distance creates large standoff zones and allows intent to be made clear. This allows uncertain situations to be resolved peacefully.
Current Valuation and Balance Sheet
The first thing that I look at when considering a company is its balance sheet. LRAD has a good one.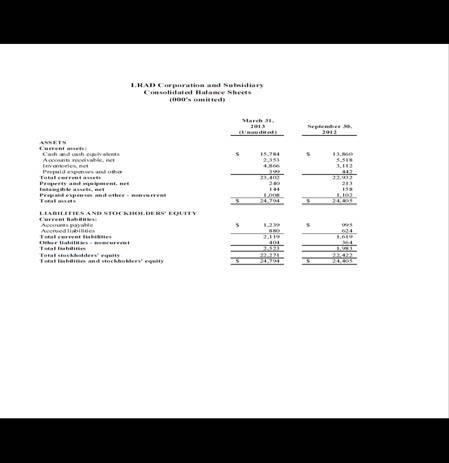 At the end of March 2013, LRAD had $15,784 in cash and no debt. Accounts receivable were in excess of accounts payable as well, so this is a company with strong financial footing. With 32.4 million shares outstanding and a share price of $1.06, LRAD has a market capitalization of $34.3 million. If I deduct LRAD's net current assets of $21.3 million (which are mainly cash) from its market capitalization, I arrive at an enterprise value figure of only $13 million.
The market isn't assigning much value to the operating business of LRAD. Over the last two full fiscal years LRAD has an average net income of $3.2 million. On LRAD's enterprise value of $13 million, that is an earnings yield of 24%. That is pretty interesting. What makes this more interesting is the new $12 million contract LRAD just announced with the Navy. That one contract alone is worth almost 100% of LRAD's current enterprise value.
Risks
LRAD is a small company and investors need to be aware that there is not a lot of daily trading volume in its stock. This is also a technology company, which means it is faced with competitors trying to improve on that technology every day.
Disclosure: I have no positions in any stocks mentioned, and no plans to initiate any positions within the next 72 hours. I wrote this article myself, and it expresses my own opinions. I am not receiving compensation for it (other than from Seeking Alpha). I have no business relationship with any company whose stock is mentioned in this article.