Investors are always looking for a way to increase their returns without taking on too much risk. This never-ending hunt for yield is what helps keep markets operating smoothly. One stock that I think has been overlooked in this hunt is Seadrill (NYSE:SDRL). The little-known oil services company carries a spectacular yield of 8.95% in an industry that is largely isolated from new competition. In fact, I believe that Seadrill's 8.95% yield may be the safest dividend of any stock paying more than 8% out there right now.
Other companies paying 8%-plus mREITs like (NYSE:NLY), (NYSE:ARR), (NASDAQ:AGNC), MLPs like (NYSE:KMP), (NYSE:CVRR), (NYSE:SXCP), and CEFs like (NYSEARCA:JNK) all have a significant risk hanging over their head -- the threat of Fed tapering. I personally believe these risks are overstated as I discuss in my article here, but nonetheless if the Fed does begin to taper in short order, these companies will certainly decline in price. So while I don't mean to denigrate these firms (indeed I own stock in several of them), having looked at them extensively, I think SDRL offers a superior combination of return and risk. In this article, I'm going to focus on Seadrill rather than going through every stock paying 7%-plus, but as I hope you will agree by the end, Seadrill's stock looks like a great choice for those interested in the oil services space.
Seadrill is a $19 billion (market cap) offshore drilling contractor that owns and rents out oil rigs to other companies. Basically, if a company like Exxon wants to drill offshore somewhere for oil, they rent one of Seadrill's 59 massive ocean based drilling rigs. Seadrill is a Norwegian company controlled by Chairman of the Board and famed shipping tycoon John Fredriksen. While the company is publicly traded, investors in the stock know that Fredriksen basically runs the show. As a result you have to believe in the man and his long history of success in shipping and oil in order to get behind the stock for the long run.
That said, few large non-tech companies can boast the kind of asset growth Seadrill has had over the last few years. Even better, the board of the company expects this to continue predicting after their most recent earnings release on May 28, EBIT growth of over 50% in the next two years. Based on this, the board indicated that they expected the firm's dividend "can be further increased" and that future demand looks strong.
The long-term future for the general industry of deepwater drilling also looks bright, with research firm Rystad estimating that three times as many offshore rigs will be needed by 2020 as are in operation today. This will be a long term boon for the SDRL as the greater the demand, and lower the supply of rigs, the greater the price the company can rent their rigs out at.
Revenue in the quarter totaled $1.27 billion vs. a year earlier figure of $1.05 billion (21% growth). Utilization of the company's fleet during the quarter was over 90% despite the relatively low global oil prices. Given this performance in a period of lackluster international growth, it's likely the company has even better times ahead as global growth (and oil demand) picks up over the next few years. The stock just finished paying an $0.88 dividend with an annualized payout of $3.52 (a yield of ~8.95% based on the recent stock price of $39.30).
Looking at the company's annual financials for the last few years shows a decent, though not spectacular, past:
| | | | | |
| --- | --- | --- | --- | --- |
| FYE: | 2012 | 2011 | 2010 | 2009 |
| Tangible Book Value | $11.49 | $9.95 | $8.24 | $6.41 |
| Operating Income | 1,791 | 1,774 | 1,480 | 1,372 |
| EPS | $2.41 | $2.96 | $2.73 | $3.00 |
| Div/Share | $2.54 | $3.06 | $2.54 | $1.05 |
| Price High | 42.34 | 38.49 | 35.28 | 26.39 |
| Price Low | 31.37 | 24.68 | 17.81 | 8.25 |
| P/E High | 18 | 13 | 13 | 9 |
| P/E Low | 13 | 8 | 7 | 3 |
| Revenue | 4,295 | 4,095 | 4,015 | 3,211 |
| Net Income | 1,257 | 1,482 | 1,172 | 1,353 |
| Total Assets | 19,633 | 18,304 | 17,497 | 13,831 |
| LT Debt | 9,630 | 9,009 | 8,611 | 6,622 |
| Current Ratio | 0.7 | 0.7 | 1.2 | 1.1 |
| Common Shares Outstanding | 469 | 468 | 443 | 399 |
| EBITDA/Share | $3.82 | $3.79 | $3.34 | $3.44 |
| Earnings Before Taxes/Share | $3.07 | $3.58 | $3.00 | $3.44 |
The table shows that Seadrill has rapidly expanded in the last few years adding assets, liabilities, and revenues very quickly in the wake of the recession. What is confusing for many investors, and one reason why I suspect the stock has not performed better in the last year, is the EPS figures. Looking at these figures, one might conclude that the company has gotten bigger, but not any more profitable on an EPS basis. Yet the EPS figures are deceptive in that Seadrill has had several major non-recurring special items (like asset sales, etc.) that have improved earnings in the last two years.
Furthermore, while many investors would immediately be wary of the stock given the payout ratio implied above, this is a mistake. Seadrill operates massive drilling rigs which means that it has large amounts of assets and the accelerated depreciation on these assets eats up much of the firms earnings. This depreciation is a non-cash charge of course, but it is also an accelerated depreciation charge that aids the firm's tax bills, rather than giving an accurate picture of replacement needs.
Looking at the firms, EBITDA per share, and earnings before taxes per share shows that SDRL pays out most of its profits to shareholders, but still retains enough for investment and upkeep of its fleet. This is in line with Fredriksen's long standing policies of paying out every spare penny in profit to himself and the other shareholders. This policy has led a lot of variation in dividend payout over the last few years, but the payout has generally been large for investors.
In all, the past financials for Seadrill over the last few years are good, but not great. What makes the firm such a strong investment going forward is the improvement in the business in the last 12 months and the outlook going forward. Seadrill's fleet summary shows its daily rental rates across the fleet, and reveals that contract rates have gone up as new contracts have been put in place. That improvement in rental rates (due to tightening supply mainly) combined with the young relative age of the fleet makes SDRL's future look better than its merely decent past.
Despite the improvements in the stock's outlook, which I believe would normally warrant a lower yield, Seadrill's stock been relatively stable without much price run-up in the last eight months, as the price chart below illustrates. This presents an opportunity for investors to get an attractive yield on the stock in advance of the likely future dividend increases the company is clearly telegraphing. Given this future, I think SDRL looks like one of the safest 9%-plus stocks out there right now, and quite possibly the safest.
Click to enlarge image.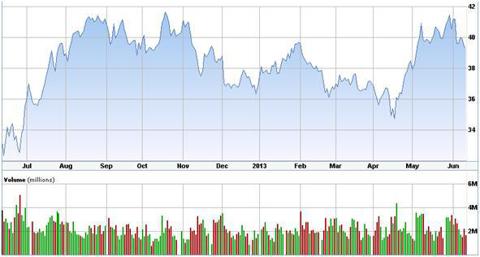 As an aside (and hopefully most investors don't need me to say this), a recent comment on one of my articles took issue with my characterization of another company as a "safe" investment because the commenter felt it would be unwise to put all of his money into a single stock. I am in100% agreement with that statement, and I apologize to any readers who think that by "safe" I mean you don't need to diversify -- you certainly do.
I don't know anyone who knows anything about investing who would suggesting putting all of one's investment into a single stock. Diversification is always a good idea. Regardless of your opinion on this article, please do not think I am recommending you put your entire investment savings into SDRL -- no company is that safe. Period. Full stop.
However, as part of a balanced portfolio, I think Seadrill is a great investment and a safe high dividend yielding stock with a bright future for those looking to add an income component to their portfolio.
Disclosure: I am long AGNC, EPD, KMP, CVRR, SXCP, NLY. I wrote this article myself, and it expresses my own opinions. I am not receiving compensation for it (other than from Seeking Alpha). I have no business relationship with any company whose stock is mentioned in this article.