We don't see Warren Buffett, Todd Combs and Ted Wechsler repeating the 19.8% returns that Berkshire Hathaway (NYSE:BRK.B), (NYSE:BRK.A) enjoyed from 1964-2011 due to its size and the fact that it has already bought up many of the most desirable investment opportunities out there. However, we think that Berkshire will continue to chug along to solid growth and performance due to its mix of high quality businesses that it owns as well as its well-regarded portfolio of marketable securities. Berkshire's share price is now trading at a 41% premium to its Q1 2013 book value. If we project that Berkshire will earn at least $3.7B in net income in Q2 2013 and another $3.5B from net other comprehensive income (unrealized gains on its investment securities), then BRK.B is trading at a 36% premium to its estimated Q1 2013 book value. We're not expecting Berkshire to buy back any shares in FY 2013 as its share price is well over the 1.2X book value that Buffett has targeted for share repurchases.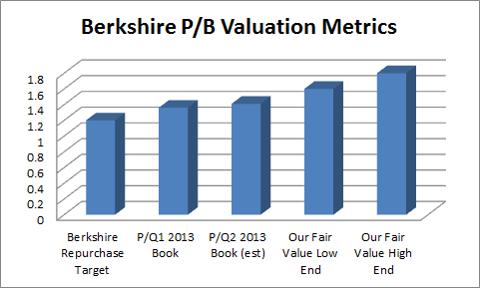 Sources: Our December Report on Berkshire's Repurchase, Morningstar Direct and Our Estimates
At the same time, we agree with Morningstar analyst Greggory Warren and hedge fund manager Whitney Tilson that Berkshire is worth between 1.6X and 1.8X book value and we maintain there is at least 20% upside remaining in Berkshire, especially with its alliance with 3G in its recent acquisition of Heinz. Berkshire put up $4.4B in common equity and $8B in preferred stock that will yield 9% in dividends and should give Berkshire's net investment income a boost by cashing in low-yield cash and fixed income securities to buy the Heinz 9% preferred stock. Berkshire is also spending $5.6B in cash to acquire Nevada's largest utility company NV Energy (NYSE:NVE). We previously discussed NV Energy and Berkshire's utility operations in a separate report.
Burlington Northern Santa Fe
BNSF continues to generate solid performance. BNSF's revenues in Q1 2013 increased by 5.64% in comparison to Q1 2012's revenues and reflected higher average revenues per car/unit of approximately 2% as well as a 3% increase in cars/units handled ("volume"). Q1 2013 revenue growth was due to increased volume for consumer products (5% volume growth) and industrial products (14% growth), which were partially offset by declines in coal volume (3% decline) and agricultural products (7% decline). Industrial products volume increased primarily as a result of increased shipments of petroleum products, as well as increased sand shipments.
We maintain that opposition to the Keystone Pipeline by Buffett's cronies Dickie Holland and Former Senator Ben Nelson (D-Nebraska) helped ensure that BNSF would be able to benefit from the fracking activity in the Bakken formation. BNSF increased its railroad car volume by 3% year-over-year in Q1 and its revenue per car by 2% even when taking into account a 6% increase in fuel surcharges. BNSF enjoyed positive operating leverage which resulted in operating costs only increased by 2.08% in Q1 2013. This positive operating leverage enabled the division to generate 15.6% operating income growth in Q1 2013 versus Q1 2012 even though interest expenses increased at a faster rate (20.3%) than revenues (5.64%).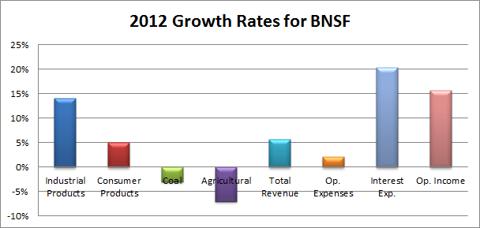 Source: Berkshire Q1 2013 10-Q
Berkshire Manufacturing, Service and Retailing
Berkshire's Manufacturing, Service and Retailing businesses' revenue grew by $3.3B in Q1 2013 versus Q1 2012 and reached a total of $22.5B. This was driven by the August acquisition of Meadowbrook Meat Company by McLean Company. Berkshire's collection of manufacturing businesses grew by 5.4%, but its operating income declined by 75bp. Forest River RVs generated strong revenue growth on the strength of higher prices and sales volumes. We also saw revenue increases from Berkshire's building products and apparel businesses.
Berkshire Finance and Financial Products
Manufactured Housing and Finance earnings were $71 million for the first quarter of 2013, an increase of $31 million (78%) compared to 2012. In the first quarter of 2013, the earnings benefited from lower loan loss provisions and an increase in net interest income due to the reduction in interest income on Clayton Homes' loan portfolio being more than offset by lower interest expense due to a decline in average borrowings and lower interest rates.
Furniture/transportation equipment leasing revenues grew slightly in the first quarter of 2013 compared to 2012. The increases primarily reflected increased lease revenues and earnings of XTRA, which benefited from slight increases in working units and average rental rates and relatively stable operating expenses. This helped operating income grow by 11.5% year-over-year.
Investment and Derivative Pre-Tax Gains/Losses were $1.7B in Q1 2013 versus $896M in Q1 2012. The company benefited from $1.2B in derivative gains attributed to changes in fair values of its equity index put option contracts and $520M in investment gains relating to its investment in GE and Goldman Sachs common stock warrants.
Berkshire's Insurance Operations
GEICO's performance continues to set the table for Berkshire's insurance operations. GEICO generated solid high single-digit revenue growth during 2012 and this continued with Q1 2013. Although GEICO's losses and loss adjustment expenses grew at a faster rate than its revenues, its underwriting expenses declined as a result of a change in U.S. GAAP concerning deferred policy acquisition costs ("DPAC") and this enabled GEICO's pre-tax underwriting gain to increase by $142M year-over-year.
General Re's revenues were flat but saw reduced underwriting losses, and this enabled the division to generate a 17.3% growth in pre-tax underwriting profit for Q1 2013 ($95M in Q1 2013 versus $81M in Q1 2012).
Berkshire Hathaway Reinsurance Group's performance during Q1 2013 was better than Q1 2012. BHRG enjoyed 35% revenue growth due to amendments associated with its reinsurance agreement with Swiss Re and the combination of reduced losses and higher revenues helped the business go from recording a $191M pre-tax underwriting loss in Q1 2012 to generating a $974M pre-tax underwriting gain.
Berkshire Hathaway Primary Group is the smallest division of Berkshire Hathaway's insurance operations. Premiums earned in the first quarter by BH Primary aggregated $713 million in 2013 and $507 million in 2012. The increase was primarily due to the inclusion of GUARD and increased workers' compensation insurance volume from the Berkshire Hathaway Homestate Companies. For the first quarter, BHPG's primary insurers produced underwriting gains of $54 million in 2013 and $71 million in 2012. Underwriting gains as a percentage of premiums earned for the first quarter were 8% in 2013 and 14% in 2012. The decline in comparative first quarter underwriting gains was primarily due to unfavorable loss experience from certain general liability business of the National Indemnity Company's primary group.
Berkshire Hathaway Insurance's Investment Income increased by 1% during Q1 2013 due to low interest rates on its liquidity holdings, and a decline in interest earned from fixed maturity securities and cash and cash equivalents was offset by slightly higher dividends earned from equity securities and lower tax expenses.
In conclusion, we are satisfied with the performance from Berkshire Hathaway. We see our investment in the company as not only a diversification away from traditional stocks and bonds, but also being able to utilize a high-quality asset manager to gain access to private equity businesses that are not leveraged to the hill in order to pay dividends to some self-styled "Master of the Universe". We were impressed that Berkshire has been able to increase its book value by $33B during the last five quarters and we believe that as it continues to do so, we will see the value in Berkshire realized by the investment community on behalf of Berkshire's investors. We are also pleased that Berkshire has set an implicit floor price for its shares through its December buyback and that it is adapt at sheltering its income from the taxman. We believe that even though Buffett has slowed down a step relative to his younger days, and that Berkshire will not be able to enjoy the 19.8% compounded annual growth it enjoyed from 1964-2011, we expect that it will be able to exceed that of the S&P due to its strong portfolio of diversified businesses.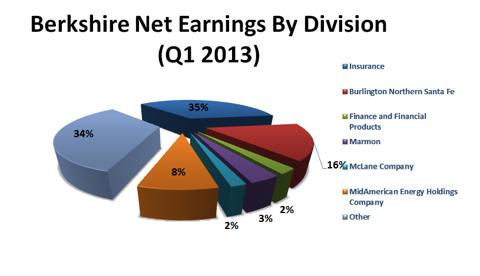 Source: Berkshire Q1 2013 10-Q
Disclosure: I am long BRK.B. I wrote this article myself, and it expresses my own opinions. I am not receiving compensation for it (other than from Seeking Alpha). I have no business relationship with any company whose stock is mentioned in this article.
Additional disclosure: This article was written by an analyst at Saibus Research. Saibus Research has not received compensation directly or indirectly for expressing the recommendation in this article. We have no business relationship with any company whose stock is mentioned in this article. Under no circumstances must this report be considered an offer to buy, sell, subscribe for or trade securities or other instruments.