Back on May 23rd, a day after the Fed indicated QE would taper "someday" Sirius XM (NASDAQ:SIRI) was floating in the $3.55 range. Life was good and yours truly was honestly looking forward to a $3.75 share price that seemed to be just around the corner. That $3.75 never came, and Sirius XM has since plunged from a high of $3.63, to Wednesday's low price of $3.21. That's a 42 cent drop, or 11.5% in what amounts to two and a half weeks.
That's painful if you watch the share price daily. That's painful if you are long and expecting the share price to just go up and up and up. And understandably, as the stock finds lower pricing, some longs may throw their hands up in the air and give up. Consider the following two emails I received Wednesday:


Reminds me of many messages I got back in June of 2012, a year ago, when Sirius XM was dragging along at $1.80. Selling out then wasn't a good idea either, considering Sirius XM effectively doubled in less than 1 year from those lows.
I have said it before and I will say it again, if you are a long term holder, and you believe in the fundamental story of the company and what I have been preaching for over a year now, then now is not the time to just give up and sell.
A big, bearish bet.
But one trader is certainly hoping you will. In paying attention to the options market I noticed that immediately following the Fed's mention of tapering of QE, someone (from here forward "the player") purchased 50,000 June 22 Sirius XM $3.50 put options while the stock was near the peak at $3.55 per share. Their purchase price was a rough average of about $0.14 per contract.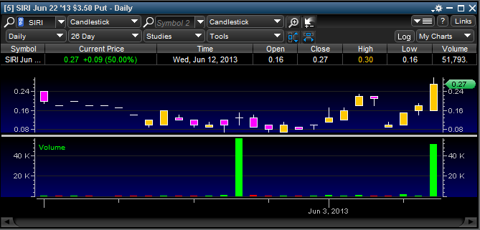 I'll be honest, I shrugged my shoulders at this "bet" at the time, and figured the player would lose his money, an outlay of approximately $700,000 on an options position that covered what amounted to 5 million shares.
But the fool was certainly not the player, as Wednesday Sirius XM touched an intra day low of $3.21 per share, putting those options firmly in the green. I must say I was a bit relieved when I noticed that the player had seemingly sold this position back to market and taken profits at $0.23 per contract, netting themselves nearly a half million dollars in the process.

But that relief was short lived. Looking forward to the July 20th expiration strikes, I noticed that it seemed the player had merely rolled their bet forward at the same time. But this time they chose the $3 strike price, and they purchased 150,000 contracts, or 15 million shares worth of options at a rough average price of $0.06 each.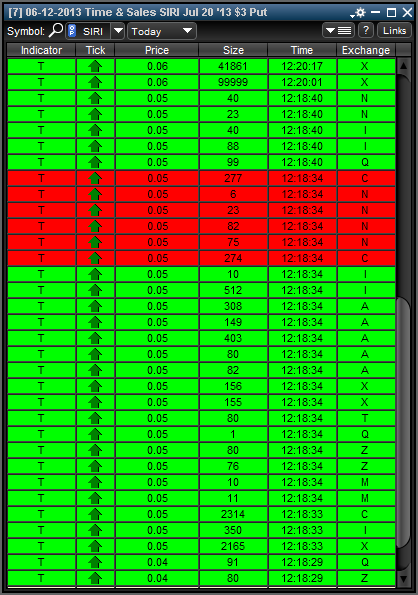 Essentially, the player expects to see share prices drop under $2.94 per share in the next 6 weeks, or at least under $3 per share very quickly before time eats away at the time premium on the options.
A big "bet" like this is something investors should be aware of. Often times individuals with a great deal of capital are deemed "smarter" than the average investor, and this is a respectable size for a speculative bet. Could the player know something? Perhaps. Apple's (NASDAQ:AAPL) iRadio going to take over the world tomorrow? Unlikely. The Fed going to throttle back sharply on QE? Doubt it. Solar flares going to destroy Sirius XM's satellites? Oh come on now...that's just being silly. Technicals in the stock breaking down? Maybe.
Time will soon tell if they are right or wrong on this trade. I hate saying that I hope anyone loses money, but since my money is against this trade I certainly hope the player is wrong.
So is this good news or bad news for the long term investor? Is Sirius XM "done"? Time to cash out and move on? Hold on...let me get out that drum I have been beating for over a year now. Obviously, given the emails I received Wednesday I am not banging on the thing hard enough.
These are the times you BUY. End of story. Because the fundamental story of Sirius XM has not changed.
A little Q+A
Q : Are auto sales, the prime source of new Sirius XM subscribers increasing or decreasing?
A : Increasing.
Q : Has Sirius XM been buying back shares and reducing shares outstanding?
A : Yes.
Q : Is Sirius XM exploring other avenues and programs for additional subscribers to drive revenue?
A : Yes.
Q : Does Sirius XM make up the lion's share of Liberty Media's (LMCA) market cap?
A : Yes.
Q : With Liberty in control, will it guide Sirius XM appropriately in order to best increase value for Sirius XM before an eventual RMT, and thus increase value for Liberty shareholders?
A : Yes.
Q : Is it a good idea to panic and sell my long shares when the fundamentals have not changed, but the stock drops on short term speculation and overall market gyrations?
A : Absolutely not. That's when you buy.
What now?
Hold your long shares. Period. While I have recently attempted trading shares of Sirius XM to varying degrees of success, I hold a large core "long" position that I add to when I find attractive prices. Where do I find those attractive prices? Mid term, the 50 day moving average (in yellow), and long term anything near the 200 day moving average (in red) has historically offered exceptional buying opportunity for the long term investor.

With the 50 day average currently at $3.30, and the 200 currently at $2.99, I would say we are in the correct range to consider aggressively adding to those long positions. As you do, keep the following thoughts in the back of your head so you may rest a bit easier as you buy into the fear and chaos of a down market:
Lower share prices in the short term benefit Sirius XM's share buyback plan and thus benefit long term investors in the longer term.
Liberty Media will likely wish to sell high cost basis shares back to Sirius XM sometime "soon." It will want the share price as high as possible when this happens.
Nothing has fundamentally changed with Sirius XM.
These are the times to aggressively buy and not aggressively sell. Patience, discipline, and a keen eye on the fundamentals of the company will see you through to profits down the road. If the player with their 150,000 July put contracts ends up in the money on their bearish bet? So be it. It's a short term bet, and I'm a long term investor.
Disclosure: I am long SIRI. I wrote this article myself, and it expresses my own opinions. I am not receiving compensation for it (other than from Seeking Alpha). I have no business relationship with any company whose stock is mentioned in this article.
Additional disclosure: I am long SIRI January 2014 $2, $2.50 and $3 call options. I may purchase January 2014 $3.50 call options at any time.