As someone who covers a lot of short ideas on this site, one of the most important items I follow is short interest data. One must always be aware of the short interest in a stock. A large short base could spark a short squeeze on good news, while low short interest could spark a huge drop on bad news. Every couple of weeks, we get an update from Nasdaq on short interest data, and I report on what I am seeing. Today, I'm here to discuss the end of May numbers. Today, I'll discuss five names that short sellers are running away from, whether just recently or over the longer term.
Google (NASDAQ:GOOG):
I wish Google's stock was as predictable as its short interest moves. Google has been one of the names I've discussed a number of times when it comes to short interest, and this time around we saw a large decrease. In the final couple weeks of May, Google short interest declined by more than a million shares, a drop of 22.37%. You can see the sharp drop in the chart below.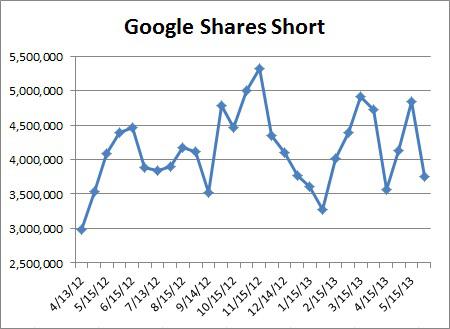 Why do I say Google's short interest is predictable? Well, we saw this same thing happen when Google crossed the $800 level. Google short interest raced higher when the stock ran to a then new 52-week high. Google then came back down into the $760s, and short sellers covered. When Google bottomed in mid April, short interest bottomed at 3.56 million shares. Then Google raced all the way through $900, and short interest jumped to about 4.84 million shares at the mid May update. Well, Google declined in the last few weeks of May, dropping to $870 by the end of the month. With a $50 fall from the high, shorts seemed to cover. Google has been mostly flat since the beginning of June. But with so much negativity brewing about the Federal Reserve possibly tapering the QE program, I wouldn't be surprised if Google short interest rises slightly at the next update. If investors are starting to get bearish, growth names will get hit, and Google certainly fits in that category.
lululemon (NASDAQ:LULU):
More than 2.7 million shares short in the Canadian apparel retailer were covered in the final few weeks of May. More than 5.85 million shares, roughly 22%, have been covered in a month and a half since the high above 26.5 million. At just under 20.7 million shares short, this is the lowest short interest has been in this name in two and a half months. Even with all of the recent decreases in short interest, the short interest number is still up 93% over the year ago mark. The chart below shows the one year activity in lululemon short interest.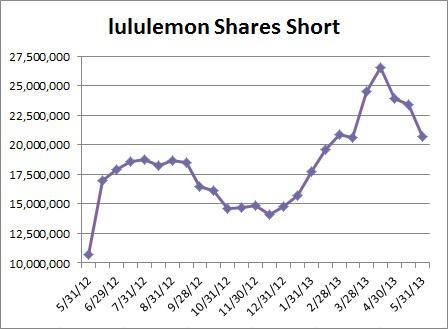 It will be the next short interest update that will be very interesting to watch in this name. The company, which had a pants problem in March, saw its shares ignore that problem and race to a new 52-week high recently in the low $80s. I told investors to be careful, as I figured a pullback would come after earnings. It certainly has, and the stock has dropped nearly 22% in two days after the resignation of CEO Christine Day. For the second time in three months, I defended the company, telling investors to stay calm. A huge drop does not make sense give the company's beat in Q1 and much better than expected guidance. I hope short sellers have covered already, because the short case at $64 seems limited compared to when shares were trading at $82. I've defended this name several times in the past, and that's usually been a good thing for the stock in the short-term.
SodaStream (NASDAQ:SODA):
Over the last few weeks of May, we saw one of the largest drops in short interest during the past year for SodaStream. More than 838,000 shares, nearly 1 in every 8 short, were covered in the roughly two week span. In about a year, SodaStream short interest has declined by more than 41%. On June 15th, 2012, more than 10.46 million shares were short, about half of the outstanding share count and even larger portion of the float. At the latest update, just 6.14 million shares were short, and they've been trending lower over time as you see below.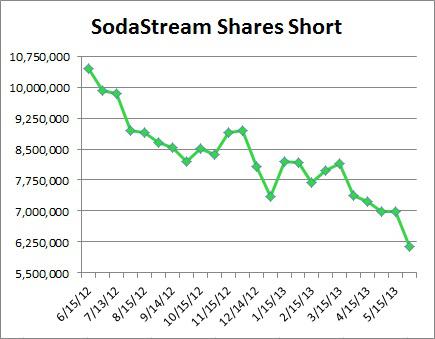 It might not surprise you that so many shorts have run away with shares going from $35 to $65 over that time period. The company raised guidance at every quarterly report last year, and results have constantly come in above expectations. This company has shown it is here to stay and investors have been buying in.
However, shares recently peaked on a bunch of buyout rumors, and I recently wondered when the madness will end. On those unconfirmed reports, shares topped $87 in the pre-market last week, and recently neared $78 during the day for the first time in almost two years. However, shares have lost about $7 so far, and I think the fall is rather justified. I have been one of the most positive out there when it comes to SodaStream, but the buyout rumors created a bubble in this name. I thought that we'd drop back into the $60s if a buyout didn't come soon, and we could see those $60s on Thursday. With such a large spike in recent weeks, I'm wondering if short interest will pop at the next update, as many start to bet against a purchase of this company.
Sirius XM Radio (NASDAQ:SIRI):
Sirius makes this list not for one single update drop in short interest, but like SodaStream, more of the longer-term trend. In the past three months, more than 45 million shares short in Sirius have been covered. That's only 11% of the total, but this is the lowest we have seen short interest in this name during 2013. Isn't that something to discuss?
It was in late May that shares of Sirius rose to their 52-week high of $3.63. Shares have come down roughly 40 cents since then, closing Wednesday at $3.24. There hasn't been too much company specific news, but investors seem worried over Apple's new radio service launch. Since integration into certain cars will occur, it is feared that Sirius' subscription numbers could be hurt. Pandora (NYSE:P) also took a beating on fears of Apple's radio service.
This could be an interesting development in terms of Sirius' short interest. Short interest was coming down because shares were rising. Now, shares have fallen, which you might think would cause more shorts to cover as they lock in profits or take reduced losses. But if those share price declines are due to competition fears, short interest should rise, right? The next update in short interest for this name will certainly be one to watch.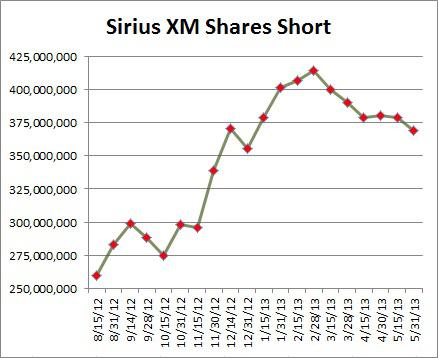 Tesla (NASDAQ:TSLA):
Another 4.45 million shares short in Tesla were covered during the second half of May, totaling more than 8.9 million covered for the month. Since the mid-March high of more than 32.3 million shares short, 42.5% of short sellers have covered. You can see the sharp drop in the chart below. We are getting into uncharted waters when it comes to Tesla short interest.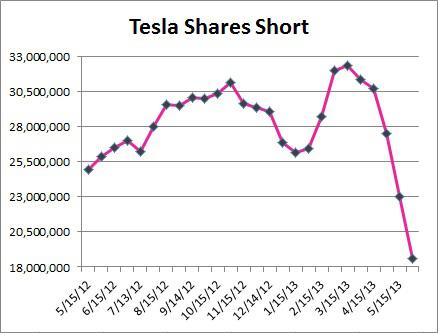 Why have so many shorts covered? Well, shares went from $35 to $115 in less than three months, so that's a start. First quarter results were strong, which started the short covering process. As the stock rallied strongly, the company raised funds through stock and debt, allowing the company's Department of Energy loan to be paid back. When it comes to Tesla, we've seen a super rally like no other, and that means Tesla has joined the momentum club, many of which have seen bubbles recently. The stock is a bit off its $115 high, but short sellers have certainly been covering in large amounts. Will that change at the next update?
Final Thoughts:
All five of these names have seen significant declines in short interest, whether over the short or long-term. Google is a predictable name, as short interest follows the pops and drops in the stock. Right now, Google shares have come down, so short interest has as well. Canadian retailer lululemon has seen short interest drop, but the stock has after earnings as well. More short sellers have probably covered. SodaStream has seen short interest trend much lower over the past year, as the stock has soared, creating a bubble on buyout rumors. Sirius short interest is also at a 2013 low, but will that change after Apple's radio announcement? Tesla has seen one of the largest short-term rallies in stock history, and short sellers have fled quickly. What will the short interest numbers look like at the next update? Well, you'll just have to wait a few weeks to find out.
Disclosure: I am long LULU. I wrote this article myself, and it expresses my own opinions. I am not receiving compensation for it (other than from Seeking Alpha). I have no business relationship with any company whose stock is mentioned in this article.
Additional disclosure: Author long LULU at time of writing for a short-term trade and will update position status in comments below. Investors are always reminded that before making any investment, you should do your own proper due diligence on any name directly or indirectly mentioned in this article. Investors should also consider seeking advice from a broker or financial adviser before making any investment decisions. Any material in this article should be considered general information, and not relied on as a formal investment recommendation.