ABM Industries Inc. (NYSE:ABM) is our insider buying stock of the week. ABM Industries Incorporated, through its subsidiaries, provides janitorial, parking, security, and engineering services for commercial, industrial, institutional, and retail facilities primarily in the United States. It operates in four segments: Janitorial, Parking, Security, and Engineering. The Janitorial segment provides floor cleaning and finishing, window washing, furniture polishing, and carpet cleaning and dusting, as well as other building cleaning services for customers in various facilities, including commercial office buildings, industrial facilities, financial institutions, retail stores, shopping centers, warehouses, airport terminals, health facilities and educational institutions, stadiums and arenas, and government buildings.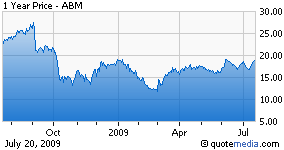 On July 9th, ABM's Sr. VP, Corp. Sec. and Gen. Counsel, Ms. Sarah Hlavinka McConnell, purchased 1,445 shares for a total of almost $25,000. Her timing may have been fairly good as ABM recently printed a positive MACD crossover, one of our favorite technical analysis buy signals. In our view, the stock could trade up to $19 fairly quickly. If it can break and close above $20 a share, then $21.50 is a strong likelihood.
Ms. McConnell also bought a fairly good value with her insider buying. ABM trades for just 25 cents for every dollar it does per share in sales. Other stocks in the industry trade dollar for dollar. The stock trades with a better than average PEG ratio of 1.15, slightly discounted from the industry norm of 1.21. We would assign a grade of B for a PEG ratio of 1.01 to 1.5.
Analysts expect ABM's earning to grow by almost 13% in the next year. That's a hair higher than the business services company's forward P/E of 11.7. On June 26th, an analysts with CL King initiated coverage with a strong buy recommendation. A few days earlier, Robert W. Baird started coverage with a more modest rating of neutral.
Investors who that take more than a neutral stance and invest in ABM will receive a dividend yield of 3%. The longer an investor holds this stock, the higher he or she can expect his or her dividend yield to go. According to DividendInvestor.com, ABM has raised its dividend 44 consecutive years. No matter how you score it, that's impressive. Imagine getting a pay increase from your boss 44 years in a row: not gonna happen.
Suggested Closing Price Stop: $16.68