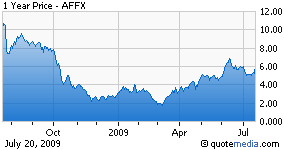 Affymetrix (NASDAQ:AFFX) will report second quarter earnings after the market close on July 21st. Prior to the announcement, we will be adding to our position in this microcap recovery story, which we believe will surprise on the upside. These are our reasons for allocating more risk capital to Affymetrix now:
1) A well established company with shares down substantially from their highs.
Affymetrix GeneChip® microarray technology is the industry-standard tool for analyzing complex genetic information. After inventing microarray technology in the late 1980s, Affymetrix scientists have been dedicated to developing innovative products that provide researchers with a more complete view of the genome. These products continue to accelerate genetic research. They enable scientists to develop diagnostics which may support the tailoring of treatments for patients by identifying and measuring the genetic information associated with complex diseases. Affymetrix´s shares, which quoted above $160 during the biotech boom in 2000, now are at just $6, after reaching a low of less than $2 earlier this year.
2) Affymetrix displays substantial recent insider buying activity, and almost no insider selling.
This time tested indicator provides a margin of comfort, especially when investing in microcaps.
3) Affymetrix is a Real Company, not a just a good story.
Affymetrix GeneChip® technology was invented in the late 1980's by a team of scientists led by Stephen P.A. Fodor, Ph.D. The theory behind their work was revolutionary - a notion that semiconductor manufacturing techniques could be united with advances in combinatorial chemistry to build vast amounts of biological data on a small glass chip. This technology became the basis of a new company, Affymetrix, formed as a division of Affymax, N.V. in 1991. Affymetrix began operating independently in 1992. Headquartered in Santa Clara, California, the Company completed its initial public offering in June 1996.
The Company commenced commercial sales of the GeneChip® system for research use in 1994, and currently sells its products directly to pharmaceutical, biotechnology, agrichemical, diagnostic and consumer products companies, as well as academic, government, and other non-profit research institutes. Revenues in 2008 were over $400 million. The company shares are 89% institutionally owned, and Affymetrix is followed by over 13 sell side analysts. Just in the past several days Morgan Stanley has raised their opinion on Affymetrix from underweight to market weight.
4) Affymetrix´s market capitalization is only about $400 million.
With a market capitalization only somewhat higher than 2009's projected revenues, Affymetrix could easily become prey to a takeover bid from a larger company looking to enter this high growth potential area of the life science industry. At year end 2008 Affymetrix had the largest installed base of Gene Chip Analysis systems, making it a market leader with a steady stream of repeat revenue from consumables utilized in these systems.
5) Several catalysts are in play to boost earnings and return to profitability in the near term.
Affymetrix will benefit from over $10 billion of stimulus plan spending allocated to the National Institutes of Health. Some of this spending will go to government and academic laboratories which are Affymetrix´s major customers. Additionally, the company has recently completed ahead of schedule a reorganization where all of its manufaturing activities were moved to Singapore, and all of its distribution activities from Sacramento, CA, to Louisville, KY, just three miles from the global hub of UPS, its delivery partner. Affymetrix´s President and CEO estimated in June that these moves would save the company over $25 million dollars in the coming year. Given the fact that the company still enjoys gross margins of over 50%, this will make a substantial impact on the bottom line. Finally, Affymetrix has recently made several strategic acquisitions to further diversify its revenue base and to boost growth in the coming years.
We expect Affymetrix to report earnings on July 21st which exceed current consensus expectations of a loss of $0.20 per share, and project that the company will return to profitability sooner than expected, providing substantial rewards to investors who build positions at the current price.
Disclosure: The author owns a long position in Affymetrix.