Yesterday after the market close, Halcón Resources (NYSE:HK) announced the launch of a $300 million convertible preferred offering. Assuming the "shoe" is exercised in full, the size of the issuance would be $345 million. Given Halcón's significant financing needs, an upsized transaction would not be surprising, assuming the financing is well received in the market.
The Offering Is A Logical Financing Solution
Halcón's press release states that the company intends to use the net proceeds from the offering to repay "a portion of its outstanding borrowings under its senior secured revolving credit facility." The statement implies that the company's current draw down under its revolver (which has a borrowing base of $850 million) likely exceeds $300 million at this time, an increase of at least $166 million since March 31 when the company had $133 million of indebtedness and $1 million of letters of credit outstanding under its senior credit facility.
Halcón's aggressive growth strategy and heavy upfront investment in several early-stage resource plays explain the substantial budget deficit the company is facing. In the first quarter of 2013, Halcón invested $390 million in oil and natural gas capital expenditures. The majority of these expenditures were for acreage in the Utica / Point Pleasant, Bakken, Woodbine and Eagle Ford. Including infrastructure and other spending, total capex in the first quarter was $455 million. Additional ~$50 million were required to finance increase in working capital. This compared to cash flow from operations before changes in working capital of just $105 million. Outspending has continued during the second quarter.
Halcón is currently running 17 rigs, actively leasing additional acreage in its core resource plays, and developing midstream infrastructure. In addition, Halcón has repeatedly indicated that it is actively pursuing several new exploratory areas ("stealth plays"). While the company has guided that its total drilling (D&C only) capex during 2013 would be $1.2 billion (slide below), the spending run rate so far this year suggests that staying within budget may be a challenge.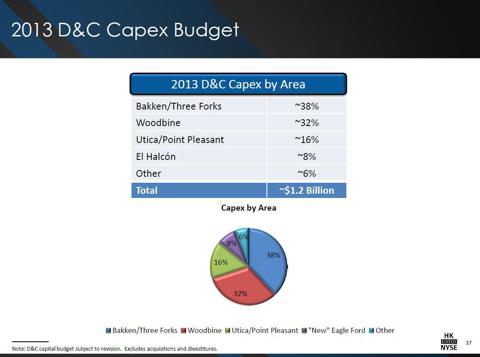 Click to enlarge
(Source: Halcón Resources' April 2013 Invest
In this context, an equity-linked offering certainly does not come as a surprise: with Halcón's debt level already quite high when compared to cash flow, an equity component is unavoidable.
Halcón has made no secret of its intention to access capital markets. The company's Form 10-Q filed on May 2 hinted that a financing was likely in the near future:
We strive to maintain financial flexibility while continuing our aggressive drilling plans and evaluating potential acquisitions, and will therefore likely continue to access capital markets (if on acceptable terms) as necessary to, among other things, maintain substantial borrowing capacity under our Senior Credit Agreement, facilitate drilling on our large undeveloped acreage position and permit us to selectively expand our acreage position and infrastructure projects while sustaining sufficient operating cash levels.
While Halcón's projected rapid production growth should translate into stronger internal cash flow generation during the second half of this year, the budget gap will still likely remain wide, which may necessitate accessing capital markets again as soon as by the end of this year. Issuing equity - in the form of straight common or equity-linked financing - may be needed. Equity issuance via acquisition would be an alternative to public market financings. Halcón has ample recent track record of funding its growth with equity issued as part of consideration for acquired properties.
Pro Forma Capitalization
Assuming, for illustrative purposes, that approximately $335 million is currently outstanding under the company's senior credit facility and that the entire amount will be repaid with net proceeds from the offering (assuming the "shoe" is exercised in full), the company's pro forma long-term debt and preferred would be ~$2.7 billion and would include the following components: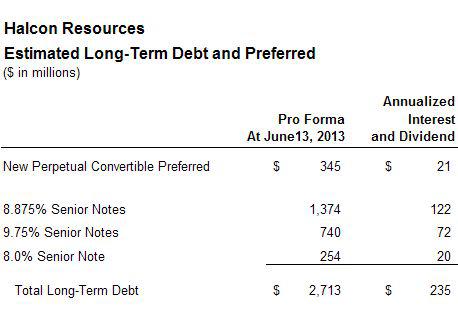 Assuming 6% dividend on the newly issued convertible preferred, total annualized interest expense and dividend requirement would be ~$235 million.
Based on the assumed current debt amount, Halcón's pro forma Enterprise Value is approximately $4.8 billion (using closing price per HK share of $5.13 on June 12, 2013 and treasury method of calculating net diluted share count).
Implications for the Stock
Despite the dilution effect, a successful financing would be a material positive for the stock, given Halcón's pressing need to "re-load" its credit revolver and enhance equity capitalization. The offering should provide much needed funds for the build out of the acreage position in the company's important East Texas Eagle Ford play where active leasing is ongoing. However, the offering puts the spotlight on Halcon's massive budget deficit, extended credit metrics and continued funding requirements.
Given the equity-linked nature of the financing, it would be surprising if the offering did not cause some pressure on the stock price. (In fact, convertible offerings are sometimes associated with vigorous short-term price moves given that convertible arbitrage funds often represent a large share of the distribution. Such funds typically short the underlying stock to create an "arbitrage" position and are responsible for a massive short selling volume immediately before and after the transaction.)
Disclaimer: This article is not an investment recommendation. Any analysis presented herein is limited in scope, based on an incomplete set of information, and has limitations to its accuracy. This article is not meant to be relied upon for investment decisions - please consult a qualified investment advisor. The information upon which this material is based was obtained from sources believed to be reliable, but has not been independently verified. Therefore, the author cannot guarantee its accuracy. Any opinions or estimates constitute the author's best judgment as of the date of publication, and are subject to change without notice.
Disclosure: I have no positions in any stocks mentioned, and no plans to initiate any positions within the next 72 hours. I wrote this article myself, and it expresses my own opinions. I am not receiving compensation for it (other than from Seeking Alpha). I have no business relationship with any company whose stock is mentioned in this article.