With fixed income yields heading upward, there's talk that dividend stocks have had their day. Not so fast. Since 2010, equities with higher yields and a lower ratio of dividend payouts to earnings - that also avoided low scores in two Thomson Reuters StarMine models - have outperformed the S&P 500. The two StarMine models are Earnings Quality and SmartRatios Credit Risk. We found we could still dig up some dividend plays that might be stars.
It's true that dividend-paying stock baskets like the Vanguard Dividend Appreciation ETF (NYSEARCA:VIG) haven't hit any home runs in the last couple of weeks. Dividend stocks' fixed income competitors, especially high yield 'junk' bonds, have seen their spreads relative to U.S. Treasuries widen since mid-May, making them relatively more attractive to yield seekers.
But the Thomson Reuters list of higher yielding and lower (dividend) payout ratio companies is outperforming the S&P 500 in total return from 2010 through early June, with more potential based on its construction. The list includes companies that may benefit from a higher interest rate environment, such as J.P. Morgan (NYSE:JPM) and PNC Financial (NYSE:PNC), as well as consumer discretionary choices Genuine Parts (NYSE:GPC), Kohl's (NYSE:KSS) and Mattel (NASDAQ:MAT).
Dividend Stock Returns Through June 10, 2013
The Thomson Reuters Datastream chart below shows the S&P 500 total return of the 2013 High Yield and Low Payout list ('HILO' in the blue line) up 22%. That beats the VIG ETF's 15% showing, which has fallen below the S&P 500's 16% return.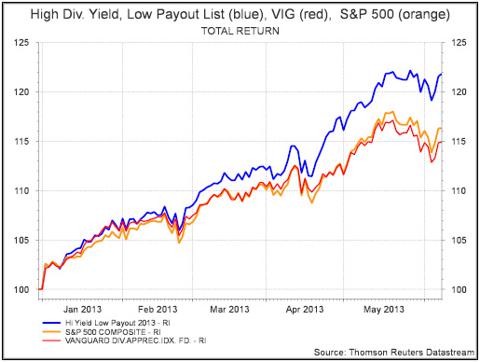 So while some dividend-oriented portfolios are now lagging the broad market, others seem to be performing well.
Why Watch High Yield and Low Payout Stocks
Credit Suisse Quantitative Research produced the original research as the basis for this list. A brief summary of our process steps is below, using StarMine screening, to filter our January 2013 list of 59 companies, which contains at least one company in each S&P sector. The details can be found in our January analysis here, including some large companies such as General Electric (NYSE:GE):
Use the eighth and ninth highest deciles of all U.S. dividend paying companies, as the highest yield decile may contain weaker credits.
Find companies that pay out 50% or less of their trailing earnings. Such companies are able to plow retained earnings back into their businesses.
Eliminate:
-Bottom 20% companies in earnings sustainability (using the StarMine Earnings Quality Model). Better to sacrifice some return potential if markets head south.
- Bottom 10% companies of StarMine's SmartRatios Credit Risk Model. Again, better to be safe.
Leaders and Laggards
The final 2013 HILO list is currently most overweight in the energy sectors (+7.3% vs. the S&P 500 index - see table below) and information technology (+3.9%), and underweight most in consumer discretionary (-7.7%) and consumer staples (-5.2%).

Winners for 2013 through May include stocks that had been at one point out of favor, such as 'dying industry' and controversial names such as Hewlett Packard (NYSE:HPQ), Seagate Technology (NASDAQ:STX), Herbalife (NYSE:HLF), and Staples (NASDAQ:SPLS).
Stocks that show losses on the year through the end of May include those currently under stress for one reason or another. Kronos Worldwide's (NYSE:KRO) earnings forecasts for FY2013 moved from a profit to a loss, Carnival Corp. (NYSE:CCL) experienced a series of mishaps with its cruise ships, and Freeport McMoran Copper & Gold (NYSE:FCX) is dealing with lower global materials demand and labor issues.
Disclosure: I have no positions in any stocks mentioned, and no plans to initiate any positions within the next 72 hours. I wrote this article myself, and it expresses my own opinions. I am not receiving compensation for it. I have no business relationship with any company whose stock is mentioned in this article.