On June 7, news that the Internal Revenue Service would be increasing scrutiny over its approval process for real estate investment trusts came as a shock to the shareholders of several companies. The IRS announced that it would be stepping up its scrutiny over the process and established an "internal working group" to study its current standards. The news comes as multiple companies (that haven't always been viewed as typical real-estate firms) have been stepping up their pursuit to gain approval for the tax-advantaged structure.
The announcement served to be harmful to at least 3 companies in particular. On June 7, Equinix (EQIX) fell 5.54% from $203.87 to $192.57, Lamar Advertising Co. (LAMR) dropped 4.26% from $45.54 to $43.60, and Iron Mountain (IRM) fell 15.84% from $34.40 to $28.95. Each company has plans to convert into a real estate investment trust and the differences between them could not be more distinct. Equinix runs data centers, Lamar operates in outdoor advertising, and Iron Mountain rents storage space to maintain paper and electronic records. Yet the announcement from the IRS threatens the plans of each of these companies and inevitably delays a ruling on their possible conversions.
From these three companies alone, the damage that resulted once again shows the costs of government intervention. The loss in market capitalization over June 7 between them amounted to $1.78 billion. The introduction of uncertainty into the approval process has caused investors to scale back much of the premium that had been gaining traction in each of the companies. This can be seen in the graph below.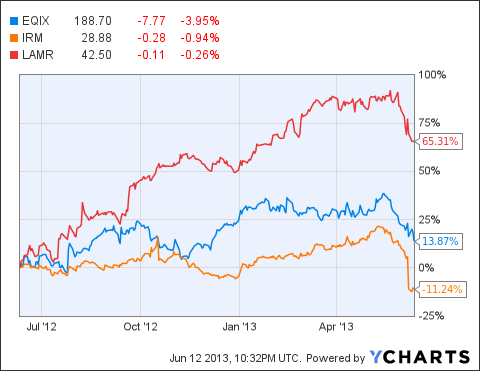 Yet despite the newly discounted prices of these companies, it remains difficult to say that they remain undervalued in the present. As of June 12, Equinix carried a trailing price-to-earning ratio of 64.77, Iron Mountain a trailing price-to-earnings ratio of 37.95, and Lamar a trailing price-to-earnings ratio of 152.91. Yet these companies maintain high valuations in light of the sustainable cash flows they're able to reel in for their investors. Equinix supports an operating cash flow of $590.21 million while Iron Mountain and Lamar carry operating cash flows of $464.46 million and $390.93 million respectively.
Out of the three companies, the one that actually stands out the most now remains Iron Mountain. Iron Mountain took the most direct hit from the IRS news, thereby suffering the largest discount to its share price. Yet here are two additional reasons to consider company:
Dividends. Out of the three companies mentioned, only Iron Mountain actually pays a dividend. The company now pays an above average yield of 3.70% through a quarterly rate of $0.27/sh. This rate has significantly grown over time as well. In 2010, the company was paying a quarterly rate of 6.25 cents reflecting a 332% rate increase in 3 years time. Such dividend growth remains an attractive feature for income investors.
Insider Purchases. Additionally, several insiders took the opportunity to buy shares on the open market with the volatile swing in the share price on June 7. Directors Arthur Little and Ted Antenucci both purchased shares worth $52,211 and $168,200 respectively. CFO Brian McKeon also purchased 3,600 shares at $28.61 resulting in a transaction worth $103,010. But CEO William Meaney remained the most bullish of all with his purchase of 12,000 shares at $29.00. Meaney's transaction was valued at $348,001. According to the Form 4 filed here, these shares now represent his entire holding in Iron Mountain.
For the IRS, it appears that the "tea party" situation wasn't going to be the last policy to make headlines in 2013. Once again, an internal agency decision has affected American business. Yet this time, the toll of uncertainty can be attributed to nearly $1.78 billion in lost market capitalization. For now, it gives investors a chance to reevaluate the worth of their holdings in light of dampened expectations. But for some investors, including the insiders of Iron Mountain, the market shock may prove to be an opportunity in disguise.
Disclosure: I am long IRM. I wrote this article myself, and it expresses my own opinions. I am not receiving compensation for it (other than from Seeking Alpha). I have no business relationship with any company whose stock is mentioned in this article.