This report in China Daily the other day that included the stunning photos shown below offers another example of the sharp contrast between the "physical" gold market in Asia and the "paper" gold market here in the U.S.
There appear to have been hundreds of people lined up outside of a gold store in Jinan City in East China's Shandong province on Tuesday, all there to buy gold at a discount.
Customers were limited to 15 minutes inside the store to make their purchases, what must have seemed like an interminable wait for those on the outside.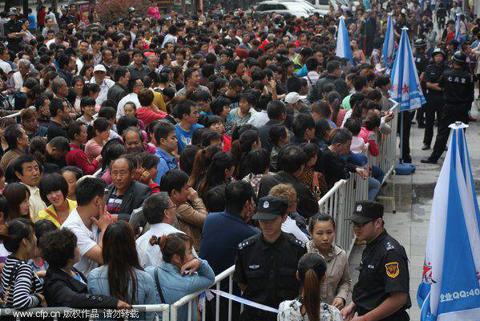 Of course, this is just one gold store in one city in China whose sales will have absolutely no impact on the price of gold at the COMEX commodities exchange in New York. But, the event should serve as another wake-up call to U.S. investors who have recently sold shares of the SPDR Gold Shares ETF (NYSEARCA:GLD) where outflows now total almost 350 tonnes (about $16 billion at today's prices) since the holdings peaked last December.
Gold futures traders should take note as well since, ultimately, supply and demand fundamentals will dictate the long-term gold price, not technical patterns on a trader's screen half way around the world from where most of the world's gold is purchased.
In this photo, customers inside the store make their way up to the counter to eye what's available for sale, ready to trade in their paper money for jewelry of some kind, a form of savings in much of Asia where there is a history of high inflation and distrust of the financial system.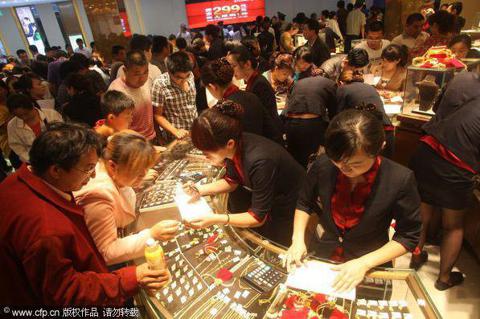 Of course, the exact opposite exists here in the U.S. where, with the exception of the 1970s, we have a history of low inflation along with a much higher level of confidence in financial institutions. Why that level of confidence persists after the 2008 financial crisis is a good question (and a possible topic for another day).
Gold demand has been on a tear in Asia over the last two months as a $200 an ounce price drop has brought buyers out in droves. In India, gold demand in the second quarter is expected to be as much as double the normal level - up to 400 tonnes according to the World Gold Council - despite the Indian government taking even more steps to curb gold buying.
Since India produces no gold, domestic demand must be met by importing the metal and this has wreaked havoc with the nation's trade deficit, contributing to a sharp decline in the currency that reached a record low just days ago. Indian gold demand is expected to fall off as a result of these new curbs, but smuggling has already risen rapidly. It is widely believed that if the Indian people want gold, they'll get it somehow, despite the efforts of the brightest economists at the Reserve Bank of India.
Gold demand in China has also surged since prices fell. The world's number one gold producer may overtake India this year as the world's number one gold consumer, however, since China doesn't report gold flows, it is always a guessing game to peg gold demand in real time.
The World Gold Council does an exhaustive job in collecting and organizing this data, but their official figures won't be available for some time. What we know now is that net imports from Hong Kong were at a record high of 136 tonnes in March, smashing the previous record of 114 tonnes in December.
Bloomberg reported earlier this week that China approved two new yuan-denominated gold ETFs that will soon begin trading on the Shanghai Stock Exchange, a development that will make it much easier for the Chinese people to buy the metal.
Interestingly, this report quotes Zhang Bingnan, secretary-general of the China Gold Association, who has come to the same sort of conclusion that I've been writing about in recent months:
Gold ETFs should help boost gold demand as they will make Chinese investments in the bullion much easier. The dumping recently of holdings in gold exchange-traded products by overseas investors may not prove to be a wise move.
Liu Jianqiang, spokesmen for Huaan Asset Management Co. who will manage one of the ETFs noted the following:
We think the timing is pretty good after the recent decline because gold prices have got close to the cost of production, limiting downside risks.
This is key. Current prices are not far above producers' "all-in" production costs and with mining companies now writing down assets and making plans to shutter mines that are no longer profitable, there could soon be pressure from the supply side of the gold market.
What does all this mean for U.S. investors? One thing seems clear. Some portion of money managers, hedge funds, and retail investors who sold shares in GLD in recent months are rethinking that decision.
Outflows from this ETF have slowed to a trickle. In fact, GLD holdings have been steady in recent days after the addition of 2.7 tonnes to the trust on Monday and it would be a very bullish development if the trust would see its first weekly inflow since December. Presumably, if this comes to pass, it will get as much attention from the mainstream financial media as when the trust's holdings were declining, but we'll have to wait and see.
Moreover, at 1,009 tonnes, holding the 1,000 tonne level would also be very bullish as most analysts (including yours truly) thought this level would surely give way after U.S. investor sentiment toward gold changed dramatically starting about six months ago. That equity markets around the world are now looking very shaky and with fresh concerns about rising interest rates recently emerging, U.S. investors are surely rethinking the role of gold as an asset class.
How could they not after hearing about physical demand in Asia?
To be sure, this is a unique phenomenon since, nowhere else is there such a disparity between two markets - "paper" vs. "physical" - where the same asset is bought and sold. In recent months, "paper" demand has plummeted while "physical" demand has surged and visualizing the latter in China via the pictures above should help U.S. investors better understand the metal.
Disclosure: I am long GLD. I wrote this article myself, and it expresses my own opinions. I am not receiving compensation for it (other than from Seeking Alpha). I have no business relationship with any company whose stock is mentioned in this article.