About a year ago, I wrote an article recommending the purchase of 3D Systems Corp. (NYSE:DDD).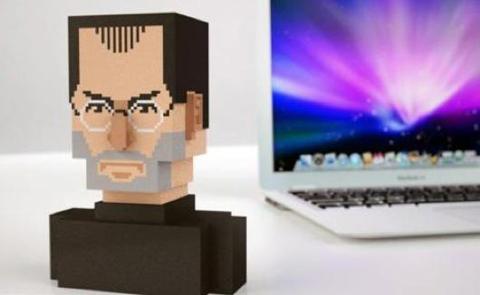 I also suggested that Apple Inc. (NASDAQ:AAPL) should enter the 3D printing market by acquiring 3D Systems. I no longer believe the stock is a buy or that the acquisition is a good idea. However, now more than ever, the personal 3D printing industry needs Apple, and Apple needs 3D printing, too.
Why I No Longer Recommend 3D Systems
Readers of my previous articles will note that I bought and recommended buying 3D Systems last year at $28 a share when it dipped from a secondary offering. I ended up selling last fall at $45, because I had a nice gain and growing concerns that I will explain below. As you can imagine, if I no longer feel comfortable investing in 3D Systems, I am not going continue to recommend that Apple acquire it.
When I wrote the article, 3D Systems had a market capitalization of $1.5 billion; in about a year, its market cap has more than doubled to almost $3.2 billion. I believe that this is a clue that 3D Systems and other 3D printing companies like Stratasys Inc. (NASDAQ:SSYS) are in a bubble.
A number of my fellow contributors have also pointed out worries about 3D Systems acquisition spree and future organic growth. I have found this article by Atlas Shrugged to be the best and most comprehensive on the subject.
3D Systems stock price has exploded over the last couple of years because of a number of factors:
It has been able link its personal story with that of the potential of the industry at large.
It has taken advantage of the low interest rates to fund debt for acquisitions.
It has taken advantage of a rising market (and points number 1 and 2) to sell additional shares to fund further acquisitions.
As the author has pointed out, these acquisitions destroy shareholder value and potentially mask a slow organic growth rate.
Is the Party Ending?
Wohlers Associates, the leading authority on the 3D printing industry, recently noted in their 2012 State of the Industry Report, that sales of personal printers, which had previously been on fire, slowed noticeably in 2012.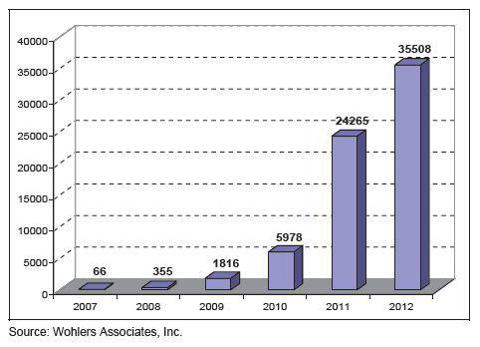 The report goes on to say: "Growth of the low-cost (under $5,000) "personal" 3D printer market segment averaged 346% each year from 2008 through 2011. In 2012, the increase cooled significantly to an estimated 46.3%. Most of these machines are being sold to hobbyists, do-it-yourselfers, engineering students, and educational institutions." While this chart deals with industry sales as a whole, and personal printers are only one segment of 3D Systems' revenue stream, I wonder if we are starting to see signs that the party is about to end.
While Atlas Shrugged also noted a trend in insider selling over the last few years, the Motley Fool, who has been bullish on 3D Systems and the industry in general, recently recommended caution due to a "massive" spike in insider selling during the last month.
It will be interesting to see how things play out over the next few years, how 3D Systems will fare if interest rates increase or the hype machine slows and they aren't able to issue shares and acquire at the same rate. It brings to mind the words of Warren Buffet: "It's only when the tide goes out that you learn who's been swimming naked." Time will tell.
As an investor, not only am I concerned about overvaluation, insider selling, etc. I am also cautious due to the looming piracy issue, which I will now discuss further.
There be Pirates Here
There is a storm brewing in the personal 3D printing industry relating to copyright laws and intellectual property [IP]. While personal 3D printing has yet to hit the mainstream, there is already plenty of piracy of objects.
Some of the most recent examples include piracy of figurines from popular game or movie franchises. One example according to the Huffington Post, is the likeness of a "Warhammer 40,000 Space Marine Dreadnought" that is available through the Pirate Bay. And, if you spend any time there, you will notice tons of Star Wars replicas, as well [The Walt Disney Company (NYSE:DIS) owns the rights to the franchise but the toys are often created and sold by Hasbro, Inc. (NASDAQ:HAS)]. As printers and scanners decrease in price and become more popular, it is natural to expect that we will see more instances of piracy. For further reading on the impending battle, click here for a brief explanation, or click here for more in-depth information.
Another reason investors have to be cautious on the sector is that once these piracy lawsuits begin to hit the mainstream media, it could be one of the catalysts that cause the bubble in stock prices to burst.
While IP/copyright laws for digital music files and 3D objects are different, there are some similarities; I think we can learn a lot about the possible progression of conflict and ultimate solution from how events played out with the music industry.
Corporations learned that it is a waste of time to prosecute each individual who obtains pirated material. Instead they will attack the current popular destinations for acquiring 3D printing files like Shapeways, Thingiverse, etc. and bury them in lawsuits. As we have seen elsewhere, even if these websites are innocent, they may still crumble under the weight of legal fees, etc.
Why Personal 3D Printing Needs Apple
Due to piracy, the music industry saw its profits shrink. Then, Apple dragged the record labels, kicking and screaming, through an industry transformation to a new, profitable business model. Apple, using the example of the music industry and its own reputation as leverage, can convince companies to sell their designs/digital rights management [DRM] files in Apple's Online Store … or lose money to piracy and waste their time with a bunch of lawsuits.
While Apple's online store would sell DRM files that work with any 3D printer, a strategic move that Apple may want to make is to create and sell a printer that only prints files purchased from their store. This not only provides Apple with an additional bargaining tool to encourage companies to list their designs, it would also allow Apple to stay away from the bad press that comes from the printing and the manufacturing of dangerous or potentially harmful products/objects.
In case you missed the coverage, Forbes recently chronicled the ultimately successful attempts of a group called Defense Distributed to create a 3D printed gun. They then shared the file from their website. 3D printers are also expected to soon be used in the printing of illegal drugs. By choosing to keep their 3D printing ecosystem closed, Apple disassociates itself with the darker side of 3D printing but still profits from the rapidly growing market.
I understand that current users will scoff at the idea of imprisoning themselves in Apple's "walled garden." However, as mentioned above, some of their favorite destinations for sharing may be closed down due to lawsuits. Don't get me wrong, the Pirate Bay is an example that piracy/file sharing will always exist. However, Apple can bring 3D printing to the mainstream consumer.
3D Printing Fits with Apple's Business
When new, revolutionary technology as magical as 3D printing arrives, consumers will be a little uncertain of it. However, they are comfortable with Apple's products and can go to a local Apple store and see the printer in action. They also have the comfort of knowing that a "Genius" will teach them how to use it, or help them with any issues that arise.
They can then obtain files to print from Apple's online store. People are already used to buying movies, music, and apps from Apple; this will be the same type of transaction. When iTunes first came out, I laughed at the idea and said no one would want to pay $.99 for something they can get for free. Oops, I guess I was just a little incorrect: Apple received $2.4 billion in revenue from iTunes last quarter. Now, even I choose to pay for files from Apple because of ease of use, quality and lack of malware. I believe the same could be true for 3D printing.
As I stated in my previous article:
"Apple has been the agent of change, causing the recent wave of advances in personal creativity and productivity. Apple computers and iLife (iMovie, Garage Band, etc.) make it possible for the average person to create professional music, movies, etc. in a simple way. The iPhone has made everyone a photographer and director. 3-D printing should be the next generation in creativity for the Mac ecosystem."
Apple already creates platforms/devices (iPhone and iPad) that use iTunes and the App Store to continually add value to their products. They can do the same for 3-D printers; all they have to do is set up a new arm of their online store to sell 3D files.
Why Would Apple Decide to move into 3D Printing?
Apple is involved in a multifaceted competition with Google Inc. (NASDAQ:GOOG), Samsung Electronics Ltd. (OTC:SSNHY), and Microsoft Corp (NASDAQ:MSFT). However, Apple is expected to lose ground in mobile; Android already has over-whelming market share and its app sales have been growing at a much faster rate than Apple's. Don't get me wrong; Apple's last quarter wasn't awful. However, in the coming quarters, Apple's device sales are expected to slow and profits decrease as margins shrink. Also, the fear you are seeing reflected in the stock price over the last nine months has to do with uncertainty for the future, that the company has no vision without Steve Jobs.
Recently, Apple hosted its yearly WWDC event. While it featured exciting software updates, their new music streaming service, and refreshes of the Macbook Air and Mac Pro. None of these are products that will return the company to the growth caused by the release of the iPhone and iPad.
Even now, some of Apple's rumored, more exciting, products include a smart watch, a television, or even a more advanced Siri upgrade. The problem here is that Google, Samsung and Microsoft are already planning their own smart watches. There are also plenty of other competitors making televisions including Samsung. Even if Apple's version has an exciting new feature or two, as we have seen in mobile, it will take a very short amount of time before the others catch up.
Apple has always been said to seize opportunities where they can innovate and exploit a clear advantage. With a move into 3D printing, Apple (market cap of $415 billion) steps away from the race to the bottom, a race of cannibalization and commoditization, a race to lower prices and lower margins, and becomes the juggernaut in personal 3D printing. 3D Systems Corp. and Stratasys Ltd. have markets caps of $3.5 and $3.2 billion respectively.
I refer you to the previous chart of what the growth rate of personal 3D printer has looked like over the last few years. Yes, the growth rate has slowed, but I think that demonstrates a need for Apple to step in and bring the product towards mass adoption.
There is some debate as to the future growth rate of personal 3D printers, whether it will mimic that of the PC or tablet, etc. I have provided the chart below for some historical context of past growth rates.
It is my belief that personal 3D printers will eventually become as ubiquitous as tablets, and I think they provide a tremendous opportunity for Apple to return to its growth rate of the past few years
Investment takeaway:
As I mentioned previously, I think personal 3D printing companies are over-valued and will face additional challenges as the courts begin to sift through the piracy issues. I do not intend to buy, barring major developments.
Don't get me wrong; I happily own Apple and think the stock is a buy based on a number of reasons:
Apple is still the heavy-hitter in their current markets with a very strong brand and ecosystem, which continues to create a halo effect.
They currently pay a dividend of 2.8% and shareholders just got a 15% raise from the previous year.
I also like the $60 billion (Yes, billion) share repurchase program and think it has put a floor under the stock.
They are also a lottery ticket to explosive growth if they do decide to get involved in the personal 3D printing industry.
Apple choosing to enter the personal 3D printing market kills two birds with one stone: It helps Apple return to rapid growth and restores faith that the company has vision beyond Steve Jobs. It also allows Apple to guide the personal 3D printing industry through the oncoming maelstrom of piracy lawsuits, etc. and bring them to a profitable business model the way it did for the music industry.
Disclosure: I am long AAPL, GOOG. I wrote this article myself, and it expresses my own opinions. I am not receiving compensation for it (other than from Seeking Alpha). I have no business relationship with any company whose stock is mentioned in this article.