In discussing their sales to the Electronics and Electric Drive Vehicle segment, Polypore International (NYSE:PPO) reports in their last annual report,
Net sales declined by 7.2% due to changes in customer mix, as our larger, lower-priced customers represented a larger percentage of total sales. Pricing for lithium battery separators is volume based, with higher volume customers receiving lower sales prices. Net sales declined by 2.2% due to price/product mix.
Overall sales declined 16.7%, with volume going down only 7.3%. With lower overall volumes, and lower pricing because of mix, it can only mean a very serious decline in sales to smaller customers, with perhaps stagnant or slightly lower sales to the larger, high priced customers.
So the bad news is that Polypore sales declined by 9.4% due to overall price declines in 2012, mostly due to a significant loss in sales to smaller customers.
So here are some additional facts to consider:
Avicenne reports that the volume of the lithium ion market increased by 21.4%, from 28 MWh to 34 MWh from 2011 to 2012.
During the same time period, Avicenne reports that the automotive lithium ion market increased by 100%, from 1.5 MWh to 3 MWh.
Two Chinese battery separator companies have been in operation since 2011, including Better Success Ind. Ltd. and Shenzen Senior Technology Material Co. Ltd.
It is unclear whether the trend continues, with a 5.2% decline due to price/product mix in the first quarter of 2013 compared to the same quarter in 2012, but no reported change due to customer mix. During that time, they also experienced a 37.3% decline in volume. This appears to indicate that the trends are for acceleration in both the price and volume declines into the first quarter of 2013.
All of this information leads to a few very clear conclusions:
In a market that is increasing in volume by 21.4% annually, Polypore lost 7.3% volume, indicating a significant loss in market share.
In the automotive segment, the market increased ~100%, indicating that any concentration in the automotive segment by Polypore is not working. Somebody's sales have been increasing significantly.
During this time of decreasing volume, Polypore has also experienced a significant decline in price due to customer mix, indicating a major decline in sales to smaller customers, likely due to significant competition from new, low priced competitors in China.
Last, I'll leave you with a somewhat disturbing chart, which is the segment results for the last five quarters.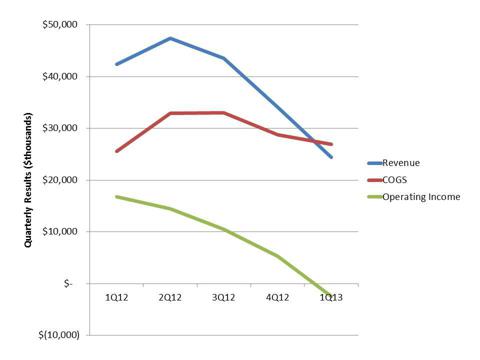 Disclosure: I have no positions in any stocks mentioned, and no plans to initiate any positions within the next 72 hours. I wrote this article myself, and it expresses my own opinions. I am not receiving compensation for it (other than from Seeking Alpha). I have no business relationship with any company whose stock is mentioned in this article.