Back in March, I postulated the idea that several REITs on the market were potentially screaming buys. Here in July, most of the REITs have seen significant appreciations in price as the market seems to slowly being realizing it overreacted just a tad.
Despite the run-up, I still believe many REITs are strong buys and offer opportunities for "multi-bag" returns.
Over the past few months, I have examined nine particular REITs in detail. The list, complete with links, is below:
Part I: Winthrop Realty Trust (NYSE:FUR)
Part II: Colonial Properties Trust (NYSE:CLP)
Now it is time for Part X of my "Quest for REIT Value" and for this little ditty, I am examining small-cap REIT, DCT Industrial Trust (NYSE:DCT).
Overview
DCT Industrial Trust operates and develops bulk distribution and light industrial properties in the US and Mexico. It initially formed as a corporation in April 2002. At the end of 2008, DCT owned and/or managed over 450 industrial real estate properties. The company has a diversified tenant base, with no single customer accounting for more than 2.7% of annualized base rent.
DCT's largest holdings appear to be in Atlanta (10.5%), Northern California (8.5%), Dallas (8.3%), Columbus (6.7%), and Houston (6.6%). The chart below lists all of DCT's operating markets with estimates on total percentage of their holdings in each market based on gross carrying value of the properties: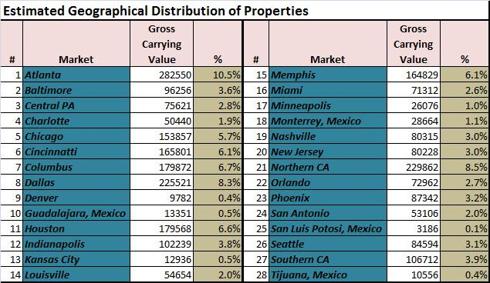 While there are some minor flaws in this methodology, it should at least give on a rough idea the geographical distribution of DCT's properties.
Management and Earnings Call Takeaways
I cannot locate a full copy of DCT's 1st Quarter earnings call (only a summary), so I read over their 4th Quarter '08 earnings call instead. Amazingly, it appears that their occupancy rate increased to 93.2% in Q4 '08, up from 91.9% in Q3 '08. However, DCT's website shows that occupancy at the end of the 1st Quarter was 89.8%, so it has gone back down a bit. DCT's average occupancy rate for FY '08 was 92.5%, compared to 93.1% in 2007.
After reading over DCT's earnings call and browsing over their website, I am extremely impressed with management's ability to articulate a vision and effectively detail their plans to investors. I often read earnings calls without ever feeling like management really gave investors much information on how they plan to deal with and attack the current crisis, but DCT's management was very forthright and proactive on these issues.
DCT's website is likewise chocked full of useful information about the company, which is refreshing. Some REITs have a good amount of info, while some are minimalist, but DCT appears to be one of the most investor-friendly REITs I have encountered
FFO Guidance and Dilution

DCT's FFO guidance for 2009 was between $0.50 to $0.54 per share, plus $0.00 to $0.04 per share of gains from land sales at SCLA. This might have changed since then due to recent developments. In early June, DCT did a public offering for 22.5 million shares of stock. This should, at least in the short-run, have a dilutive effect on their FFOs.
The Balance Sheet and Real Estate Properties
The balance sheet is the backbone of all financial reporting. It might not tell you whether a company can be win a marathon, but it will probably tell if the company is capable of standing up straight to begin with. DCT's balance sheet is very strong compared to most other companies in the REIT sector. The Long-Term Debt to Equity ratio for DCT is around 0.86. It's rare for a REIT to have more equity than debt. Total Liability to Value ratio is an amazingly low 47.6%!
DCT has a $2.59 billion net investment in real estate and its RE holdings make up 96.7% of its total assets. Hence, coming up with an approximate underlying valuation for their property portfolio is critical. Depreciation and amortization charges make up about 15% of DCT's gross investment in real estate, so we can look at that as their "book value cushion." The question for valuation purposes is how much can that "cushion" help shield property value declines.
After a glance at DCT's markets, acquisition dates, depreciation, and property portfolio, I'm not completely convinced that the balance sheet value of the properties will hold up with a continued market downturn. However, DCT is helped by many factors:
Their property portfolio appears to be very high quality and even in a disastrous, worst-case scenario, these properties could potentially be converted to another use.
DCT is diversified and mostly concentrated in markets where they should have reasonable access to potential tenants moving forward.
DCT's exposure to "bubble markets" is limited.

Certainly their West Coast properties are reason for concern, but their concentration in those markets is manageable.
The "book value cushion" should be enough to limit most of the potential damage on their balance sheet.
The impairment chart below shows how a price decline would affect DCT's underlying equity and book value: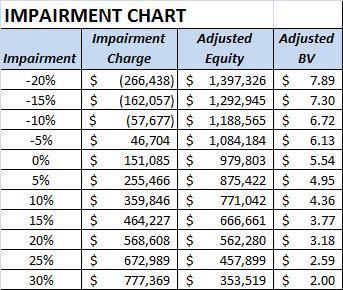 For purposes of this impairment chart, I wrote down DCT's intangible assets to $0. This is not to suggest that they have no value. Rather, if the value exists, it should be reflected in future cash flows. Notice that I have also included "negative impairment" charges in the event that DCT's properties are undervalued relative to book values, which is a definite possibility, even as the market continues to erode over the next few years.
Also, compare the above chart with some of my past charts for more levered REITs like CBL & Associates. Notice that the "Adjusted Book Value" column does not move all that much for DCT, while it shifts dramatically for CBL. That's the difference leverage can make.
There is a major shortcoming with this chart, however, in that it does not take into account the recent secondary offering. My information on that offering is limited; however, here is my attempt to create a chart which factors in the dilution: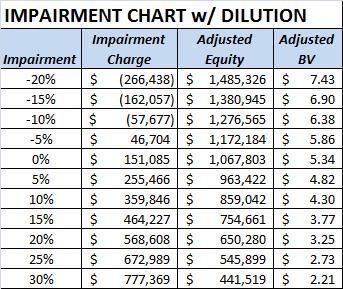 This chart doesn't differ radically from the above chart, but I'll use it for my projections. However, the recent dilution does provide a little bit more cushion the downside. It also potentially limits some of the upside, but not by much, and the bigger question is whether management can generate a good return for shareholders on the new infusion of cash.
Earnings and Cash Flows
Here's a chart laying out raw earnings, cash flow, and 'added value' measurements over the past six years: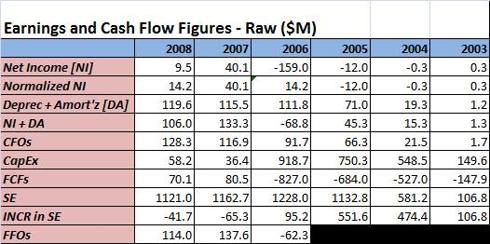 CFOs = Cash Flows from Operations; FCFs = Free Cash Flows; SE = Stockholders' Equity; INCR in SE = Increase in Stockholders' Equity; FFOs = Funds from Operations
Below is my attempt to convert those numbers to "per share numbers" based on the current number of shares outstanding, while taking into account recent dilution and a minority interest. Keep in mind, that is a large number of things to "factor in", so take these numbers for what you will. Also note that the "[Est]" means I had to estimate the minority interest and factor it out, so these numbers are probably more susceptible to error:

I highlighted the last row in this chart ("Dividends plus Increase in Stockholders' Equity"), because it provides some insightful information. While I have examined numerous REITs, I don't think I've encountered one yet that has always had a positive value for this measure. My belief that is, over a long-period of time, this figure could potentially be the best measure of true profitability for a REIT, so I'm impressed by DCT's record on this, even if it's only over a short time frame.
There is one major flaw with this measure, however, and that's dilution. The selling of equity would raise stockholders' equity and hence, distort the figure's value as an important measurement; but it's interesting to look at if nothing else.
Revenues and FFOs
Due to the deteriorating economic environment and widespread predictions about devastation in the commercial real estate market, I think it's important to look at the revenue picture and visualize how declines in DCT's revenue base might affect the company's overall profitability via FFOs.
Both of the below charts assume dilution from the recent offering. The first chart is a raw "Revenue Stress Test" in that it assumes that DCT would lose revenues, but not be able to cut expenses to limit the damage. This is somewhat unrealistic over the long-term, but it does give some insight into worst-case scenarios: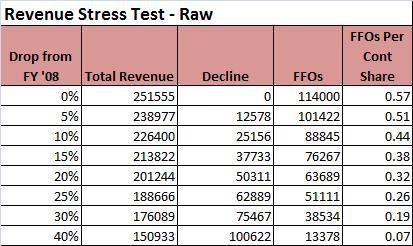 The second chart is my attempt to account for a decline in expenses that would likely occur alongside a reduction in DCT's revenue base: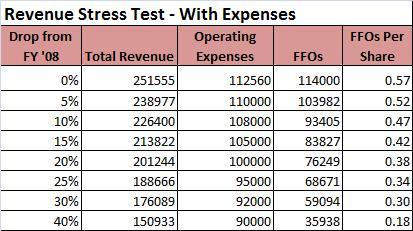 Valuations
The next step in my process is to create a valuation "Table of Possibilities" and make some approximations as to what DCT's underlying value could be under various different scenarios.
For the below table, I assumed that DCT would have a cost of capital of 9%, which might be a slight bit high, or a slight bit low. I based this off of an analysis of the interest rate on their notes coupled with an expected rate of return for equity and some forward expectations about the real estate market and the macroeconomic environment:

The yellow area is my "most likely range" and the orange area is simply a more specific "most probable range". Note that I try to veer a bit on the conservative side without going overboard. I always want to find deep value stocks so I oftentimes discount stocks' valuation based on events that I might not believe will happen.
I come up with a most probable valuation of $12 for DCT. My low-end probable estimate is $10 and my high-end probable is $15.
While it's important to note that you should always be prepared for the worst when investing in stocks (i.e. a fall to $0), my downside risk is $2 (which I believe would substantially undervalue DCT's assets and would only occur due to market fluctuations). Upside potential is $20, which could occur in a more bullish market and in the event that DCT continues to grow its operations and FFOs over time.
A Note on the Macro Environment
While my investing approach is centered upon finding deep value stocks, I also take careful note of macroeconomic factors and trends. It might sound odd, but I believe American manufacturing has the potential to rebound over the next few decades. As our economy has shifted to being very service-oriented, it might be time for a move back to the basics of manufacturing.
Also, a potentially weaker Dollar should give manufacturing a little bit of a boost. I would not say that I have total faith in this view, but I believe that at the very least, it's possible that we've seen a bottom in American manufacturing. DCT might actually be poised to take advantage if that is the case.
Conclusions
DCT looks like a very solid buy under $8 - $9 and a very strong buy under $6 in my view. The company appears to be very well managed, with low leverage, high-quality properties, and potential for strong growth. Given the long-term promise of DCT, it looks like an absolute steal around $4.
Given the risk-reward balance, I would consider this to quite possibly be the #1 REIT I have researched thus far. While I believe there are other REITs that may offer a potential heftier payday (e.g. LXP, PEI, CBL), DCT's low leverage creates a much larger margin for safety; yet it's still being discounted as if it's a run-of-the-mill highly overleveraged REIT. An investor-friendly management team with a solid track record and strong vision also gives me more confidence in DCT than many of their peers.
I have established a 2% position in DCT for my $10 simulated general portfolio. I also recently launched a REIT-only $10 million simulated portfolio and hold an 8% position in DCT there. As I am in survival mode right now due to the currently poor economic environment, I unfortunately have no real funds to allocate to this at the present time and own no position.
However, if I did have the cash to invest, I guarantee you this would be the first stock I would put it in.
Disclosure: No position in DCT. Long on FUR, LXP, and BDN.