The last article has introduced the Carbonate Triangle of the renowned Canadian oil sands. The region is the world's third largest oil reserve with its rich carbonate-hosted bitumen deposit located in the Northern Alberta's deep underground. Precisely, the Carbonate Triangle is situated between three major bitumen areas, Athabasca, Cold Lake and Peace River. The second article examined the Peace River area and discussed the involvement of a small-cap producer in the area, PennWest Exploration (NYSE:PWE).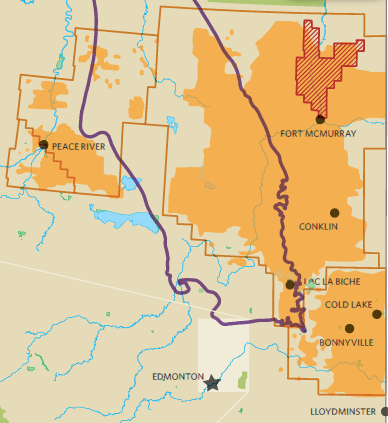 In today's investment guide on the Carbonate Triangle, I will present a quick recap of the main characteristics of the Peace River area to have a better assessment of its potential. Then, I will introduce one of the first oil producers on the site, currently extracting this carbonate bitumen in the area.
An analysis of the current operations of the company will be examined with the objective to give the most complete information available to the potential investors before deciding to seize the opportunity that the 54,132 square miles of the Carbonate Triangle has to offer. Let's start by introducing Peace River, the Northern's door to the vast wilderness of Alberta.
The Peace River Region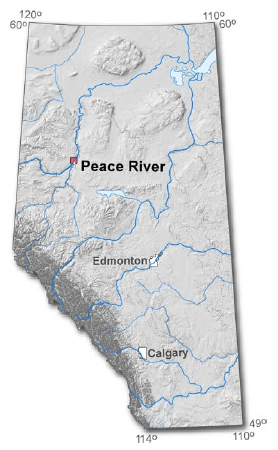 Source: ERCB
Discovered in the 1950s, the Peace River oil sands deposit is located exclusively within the subsurface, the total area of the deposit spanning about 11,052 sections or 2.37 million hectares. Notably, the Red Earth Highlands effectively separates the Peace River and Wabasca oil sands deposits. Pilot projects were initiated by Shell Canada (NYSE:RDS.A) in the 1970s.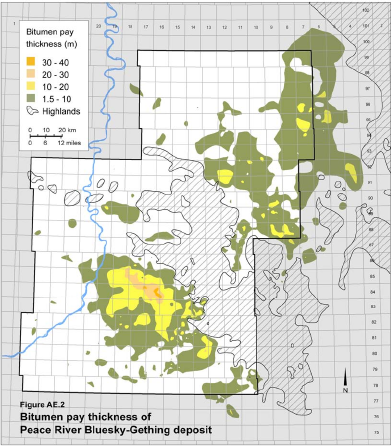 Source: ERCB ST-98-2012
Heavy oil total reserve in-place is estimated at more than 90 billion barrels, with the potential to gather more than 7 billion barrels of oil with today's technology. According to the Final Oil and Gas Services Business Case Report of Abiocon Strategies, only 0.3% of the oil sands area, or 0.1% of the total land area of Alberta was commercially exploited.
Notably, as of January 2011, the operating capacity amongst current existing and proposed bitumen producers, Peace River produced 13,500 barrels per day out of a total of 1,787,300 barrels per day, which accounted for less than 1% of current operations at the time. Now that we have briefly explored Peace River, let me introduce Royal Dutch Shell, the only international oil company with production and interests in all three of Canada's oil sands deposits of the Carbonate Triangle.
Royal Dutch Shell
Shell began producing bitumen from its Peace River oil sands leases back in 1979 with PRISP, its "Peace River In Situ Pilot Project". The Peace River Complex, which began commercial operations in 1986, produces bitumen using thermal recovery methods. In thermal or enhanced oil recovery, steam-generated heat and pressure warm the bitumen to allow it to be pumped to the surface.
The Peace River Complex is located about 25 miles northeast of Peace River and is currently licensed to produce 12,500 barrels of bitumen per day in annual average at Cadotte Lake. Shell continues to progress plans to expand its production in the Peace River area using vertical steam drive wells. A regulatory application for a two-phase 40,000Bls/d expansion project called Carmon Creek was submitted in January 2010. Start-up of phase one is expected for 2015 while phase two should commence production in 2018 for a total capacity of 80,000Bls/d.
Aerial Map Of Carmon Creek Area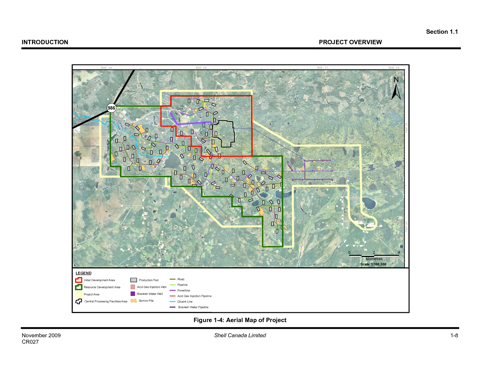 Click to enlarge
(Click to enlarge)
Source: Shell Canada
Shell has operated an IUP (In situ Upgrading Process) field test on a small portion of its Peace River leases since 2004. IUP is a Shell-patented technology that heats the reservoir with electrical heaters to convert the heavy oil into lighter crude oil and gas while still underground. To date, the IUP pilot has produced more than 100,000 barrels of light oil. The purpose of this pilot is to test the recovery efficiency of the technology in an oil sands reservoir. The technology is still under development and Shell is currently evaluating next steps.
At the end of 2010, Shell began its largest cold production drilling program to date. Spanning 15 months of continuous drilling, the program involved drilling 67 wells on eight pads (six new well pads and upgrading two existing pads) and the construction of an associated gas gathering pipeline system to tie the gas produced with the bitumen into its existing Cliffdale battery.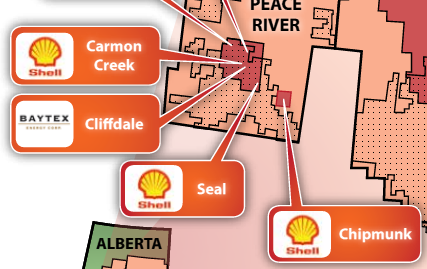 Source: Contingent & Prospective Resources
In 2011, Shell produced around 17,000 barrels per day (gross production) from its in situ operations. The Peace River Complex produced bitumen using thermal and cold recovery methods. Shell's other cold production facilities include the Seal Battery and the Chipmunk field. The remainder of Shell's in situ assets use thermal recovery methods to produce bitumen.
Financial Highlights
The giant producer has strong financials. The company, for its Q1 2013 release, reported earnings of $7,951 million, 4% higher than for the same quarter a year ago. Earnings per share increased by 2% year-on-year as well. By excluding working capital movements, cash flow from operating activities decreased slightly to $11.5 billion compared with $12.7 billion in the same quarter last year. Furthermore, as part of its share buyback program, some 16.1 million B shares were bought back for cancellation, for a consideration of some $0.5 billion.
Regarding its overall production, Shell reported 3,559Mboe/d compared with 3,552Mboe/d a year ago. Liquids production decreased by 2% and natural gas production increased by 3% compared with Q1 of 2012. Finally, the oil products' sales volumes increased by 1% compared with the same period last year.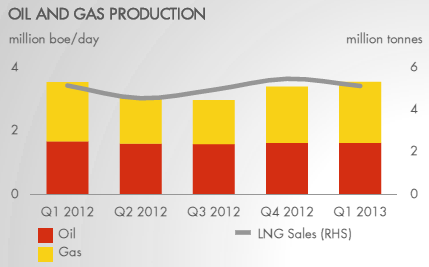 Source: Shell's Q1 2013 Results Presentation
The company has a long-term debt to equity ratio of 15.20, suggesting a fair use of its available financing while its return on equity ratio is at 15.79% on 5-year average, better than its industry average of 12.79%, reflecting the management effectiveness.
Shell's stock is trading at approximately $65 a share. According to Morningstar, the stock price has a fair value of $79 per share, suggesting that the shares are at a significant lower value, which offer a good opportunity for an entry point and get the stock at a discounted price. Shell's dividend's yield approximately 5.49% currently, higher than its industry's average of 4.55%.
Bottom Line
In conclusion, I believe Shell represents a good investment opportunity:
An experienced oil producer well established since 1979 in Peace River
The potential of Carmon Creek will add value by contributing significantly to the overall production in the oil sands area
A patented technology in progress with high potential of efficiency
Strong presence in the oil sands with assets in the three areas of the Carbonate Triangle
A well-managed worldwide producer of oil and gas
A strong balance sheet and its share buyback program
The current discount price of the shares compared to its fair price
Disclosure: I have no positions in any stocks mentioned, and no plans to initiate any positions within the next 72 hours. I wrote this article myself, and it expresses my own opinions. I am not receiving compensation for it (other than from Seeking Alpha). I have no business relationship with any company whose stock is mentioned in this article.