Kroger (NYSE:KR) is scheduled to release its 1st-quarter 2013 earnings on Thursday, June 20. Below I have highlighted this quarter's earnings expectations as well as provided a fundamental look at the company's financial position and valuation.
Profile and Estimates
Kroger has a market cap of $17.97 billion. Last year the company earned $1.497 billion (EPS of $2.77) on $96.75 billion in sales. Shares trade near their 52-week high of $35.44 and are up 34.11% YTD. Analysts have a mean price target of $33.61 and a median price target of $35.00 on the shares.
This quarter, the company is expected to earn $0.89 per share (a 14% increase YOY) on sales of $30.17 billion. Full-year expectations are an EPS of $2.76 on revenues of $99.36 billion. The company has beat the street's estimates in all of the last four quarters.
As you can see below, Kroger has outperformed the S&P 500 by 37.67% this year.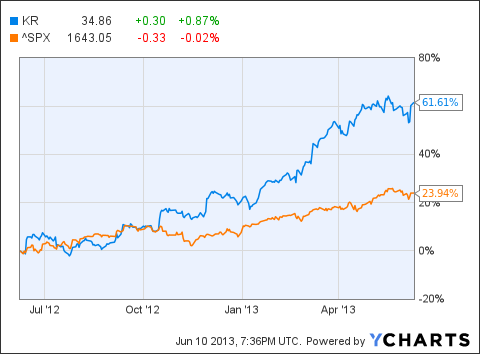 KR data by YCharts
Analysis (Data sourced from MorningStar.com)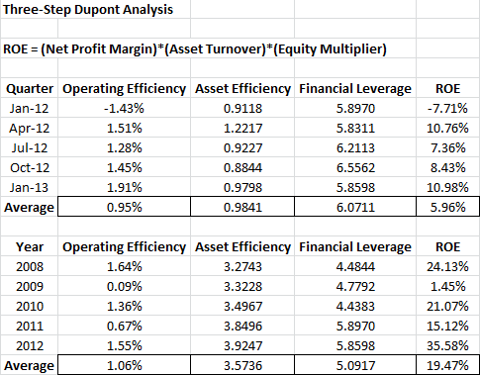 From the Dupont analysis above, we see that Kroger has been able to improve net returns over the past five quarters with last quarter's net 2X's the five-month average and 83% higher than the five-year average. Kroger asset efficiency did not change much over the last five quarters but, if the company is able to maintain its current rate, it should be able to improve on or at least register the same rate that helped bring in an ROE of 35.58% in 2012. Part of this higher return has been made possible by a steadily rising debt load. Over the last five quarters, total liabilities have risen 5% to $24.652 billion. Kroger's current D/E ratio is 1.5 compared with the industry's average of 1.0.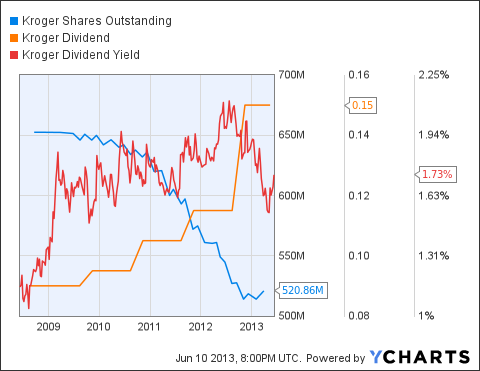 KR Shares Outstanding data by YChart
Over the past five years Kroger has repurchased approximately 18.5% of its shares outstanding and increased its dividend by 87.5%, to $0.60 per year. The company's current valuation gives it a dividend yield of 1.73%.
Bottom Line
Kroger has been improving its ROE by increasing its operating and asset efficiencies as well as by taking on more debt. For now, the debt growth is sustainable but the company's D/E ratio is 50% higher than its peers (collectively). Shareholders have certainly benefited from the share repurchases and dividends but now may be the time to tackle the debt load. The stock price has overshot analysts consensus 2013 estimate but it's hard to say the stock is overpriced when its P/E and P/S are under both of their respective industry averages. Keep an eye out for earnings on Thursday, to see how these dynamics have changed in the first quarter of 2013.
Disclosure: I have no positions in any stocks mentioned, and no plans to initiate any positions within the next 72 hours. I wrote this article myself, and it expresses my own opinions. I am not receiving compensation for it (other than from Seeking Alpha). I have no business relationship with any company whose stock is mentioned in this article.