Steve Saville has a very nice piece this morning on the M3 money supply and its 'false signal' juxtaposed against the story being told by the more accurate True Money Supply [TMS].
The chart (courtesy of nowandfutures.com) shows the alarming drop off in year over year M3. Can you say 'deflation scare, here we come'?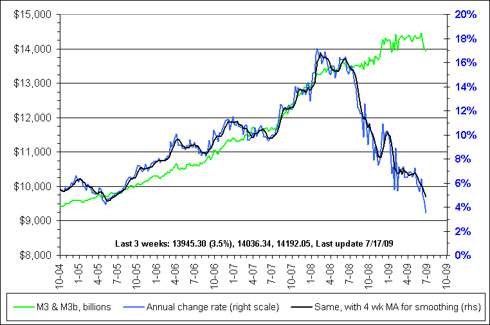 M3 and TMS usually trend in the same direction, but on those occasions when they diverge in a big way -- as they did during 2006-2008 and also during the early 1990s -- we can safely assume that TMS is providing the more correct information about what's happening on the monetary inflation front. The reason is that M3 contains Money Market Funds (MMFs) and Time Deposits (TDs), neither of which are money*.

We are re-visiting this issue now because another big divergence between M3 and TMS is currently brewing, but whereas last year's divergence encompassed rapid M3 growth in parallel with slow TMS growth the latest divergence encompasses the opposite.
Key word: Scare. Now of course, first we will need to work our way through the summer party and some of the targets that have been dialed in (by NFTRH at least) since April or so. Yes, I have had to abandon the bullish view of a short term decline to a major inverted head & shoulders on the SPX (and its ultimate target above 1200) in favor of something more dangerous, a bull party summer blow off.
But there is a good chance that people taking the market higher now care not a whit about M3, TMS or anything other than a good play in which to offload the latest trade. I notice an increasing volume of come-lately contrarians out there now, bullish now that the market has given them permission to take such a daring stance, nearly 300 SPX points higher than when it was appropriate.
The world keeps turning, herds become compelled to look that way [M3] when they should be looking this way [TMS] and the few will profit from this through clarity and patience. It's the way markets work.
Separately, Saville also states the following about Japan's 'bridges to nowhere' policies that the US is now following. As I have been saying, massive spending into non-productive ends will only prolong the problems. Sad but true. Beyond Japan, take a look at our own sad history of the 1930's.
Rather than attempting to 'solve' its problems by promoting rapid monetary inflation, Japan's Government has relentlessly tried to generate sustainable growth via massive debt-financed spending on public works. This strategy has drained much-needed capital from the private sector and consumed it in non-productive ways, such as in the building of bridges to nowhere. As a consequence, what would probably have been a severe 2-3 year contraction has been transformed into a seemingly endless slump that is now into its 19th year.