In this article, I will be discussing the steps taken by Marissa Mayer to "refocus" Yahoo (NASDAQ:YHOO). Before Mayer was appointed as CEO, Yahoo's homepage had features such as movie listings, stock quotes, photo sharing, a news hub, and a search engine. The problem faced by Yahoo was a dearth of "passion and entrepreneurial zeal."
The C-level positions in the company did witness quite a few changes in the past, and each of them had their own style of leadership. Most of the earlier CEOs focused on cutting costs and introducing innovative products, but they were in vain. Neither of the previous CEOs was successful in reforming the company. Mayer did not adopt this strategy; instead, she focused on acquiring small startup companies to grow inorganically in order to boost the offerings of the company in the cell-phone segment. Where her predecessors failed to reconstruct the company, Mayer succeeded.
Click to enlarge images.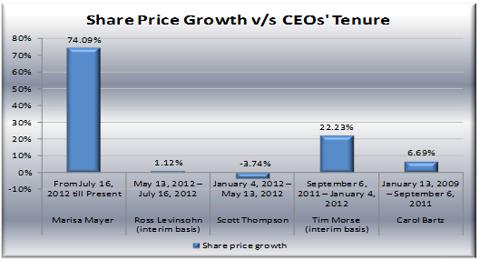 Carol Bartz's strategy was to cut costs by reducing the global workforce by approximately 4%, or 600 jobs, in order to thicken the bottom line. Under the leadership of Bartz, the company recorded weak quarterly earnings. Tim Morse, who served for an interim period, could do little to help the company grow. Scott Thompson tried to reduce costs by laying off 14% of the workforce, or 2,000 employees. Ross Levinsohn acquired MySpace for a total value of $500 million, but he failed to do much due to stockholder in-fighting with Dan Loeb, the founder of Third Point.
Marissa Ann Mayer was appointed as CEO and president of Yahoo on July 16, 2012. She is a member of the board of Yahoo. Before joining Yahoo, Mayer served as an executive and a key spokesperson for Google (NASDAQ:GOOG), where she served for 13 years. At present she also serves on the board of Wal-Mart (NYSE:WMT) and on the boards of several other non-profits, including the San Francisco Museum of Modern Art, the New York City Ballet, and the San Francisco Ballet, among others.
Mayer was strongly criticized when she made major changes in personnel policy, wherein she discarded the policy of working from home. She mandated that employees needed to work in the office, and if they failed to adhere they could resign. She prohibited telecommuting, which was perceived as an anti-family approach. On other occasions, she has been criticized for failing to maintain a healthy balance between her professional and personal life. The fundamental grounds for such criticism were heightened when her leadership as CEO of YHOO and the news of her being pregnant came in almost at the same time. Mayer did not get deterred by such criticism; rather, she became all the more focused on her goal to restructure and reconstruct the company she was heading.
At the beginning of her stint, Mayer laid out her plan of acquiring small companies that was in sync with the overall vision of the organization. She had acquired over 20 companies during her leadership at Google, and in her tenure at Yahoo she has already acquired 12 companies. Her pace of acquisition has attracted the attention of many people. She has been criticized on acquiring many non-related businesses, yet the overall acquisitions remain impressive.
Mayer stated her intentions of acquiring small companies when she said that she would acquire "double-digit millions and low hundreds of millions," rather than acquiring bigger companies, in order to integrate the teams of these small companies with that of Yahoo's large workforce. Mayer intends to acquire more talented and entrepreneurial engineers and product managers. Mayer's primary intention of acquiring these small companies was to acquire their talent coupled with their technology. The mega giants in the field of social networking and social apps also follow the same strategy of acquiring startups to add both to their product portfolio and their skilled labor force.
Mayer has been criticized for acquiring companies that were into unrelated businesses, and also on the grounds that the strategy would rather blow up the morale of the existing employees. Mayer expects that the acquisitions would help provide the company with priceless data. The small companies she has added to Yahoo's portfolio have also helped it diversify and advance into the fields of apps, smartphones and tablets -- areas where Yahoo had virtually no presence until now. Her modus operandi is mobile-first; she wants to capitalize on mobile usage by transferring the massive amount of content the company produces to smartphones and tablets in a user-friendly manner. On the other hand, like other CEOs of web companies, Mayer is also focused on increasing the traffic on her websites, which would directly boost the revenue of the company.
Mayer updated Flickr in her tenure, which did not receive any attention earlier. Flickr is a photo-sharing social network that provides better photo services. People are finding Flickr more attractive a social platform, catering to their needs compared to rivals like Google+ and 500px. When Flickr redesigned its iOS app, it attracted an increasing number of visitors; the app's usage has increased by 25%.
As her first step, Mayer sold Yahoo's stake in Alibaba for $7.6 billion. She later made several acquisitions that helped her add 22 entrepreneurs from these companies to her existing workforce. Stamped, a mobile-review app maker, was the first acquisition under Mayer that was then followed by a long string of acquisitions. Stamped was acquired in October 2012, with the intention of getting an access to the human capital of the company. Stamped developed a mobile app for finding and recommending users favorite things to listen to, read, and eat. The followers of Stamped included celebrities, and the application tracked books, movies, restaurants and other things of users' interests.
Mayer's next acquisition was OnTheAir to boost its mobile offerings, which allowed users to host online talk shows. The audience participating in those shows are featured through split-screen chats so that all the participants could see each other. Five executives of OnTheAir joined Yahoo's mobile division.
Yahoo then acquired Snip.it, a social news startup, in January 2013; it allowed sharing and clipping new articles in a Pinterest-like format. The services of Snip.it were terminated on Feb. 21, 2013, and the 10-member team of Snip.it joined Yahoo's workforce. Mayer acquired Alike in February 2013, the mobile app that guides users to find venues and places to visit in their vicinity.
Jybe, a social recommendation site, was acquired in March 2013. It makes personalized recommendations for movies, books, places to visit, things to eat, and restaurants based on data collected from social networking sites. Yahoo stopped the services offered by Jybe, but the technology of Jype was integrated into Yahoo's other products. Following the acquisition, the five brains behind Jybe joined Yahoo's workforce.
In July 2013, Mayer acquired Summly, a news-condenser app maker, with the intention of bolstering the web portal's mobile services. The technology used in Summly helped it to reinvent the delivery of information such as weather, stocks, news, and finance for mobile devices. Yahoo closed the Summly App but integrated the company's machine-learning and natural language processing technology across Yahoo's various online services, especially Yahoo's lineup of mobile services. The three-team member of Summly joined Yahoo's workforce.
In May 2013, Yahoo acquired the Astrid task-management app, which helped create reminders and lists and share them with others; integrating with Siri on iOS also allowed to add voice-based reminders. The app continued for 90 days and closed thereafter. In May 2013, Yahoo acquired GoPollGo and MileWise, a social polling app. Both services were shut down, and the teams of the companies joined Yahoo. GoPollGo was a tool that allowed media and brands properties to collect and analyze data. Yahoo also acquired Loki Studios, a mobile gaming company, acquired with an intention of gaining experience on "community and location-based mobile services."
On May 20, 2013, Mayer acquired blogging platform Tumblr, her 11th acquisition, for a total value of $1.1 billion in cash -- the first acquisition to cross the $1 billion mark. To foster her goal of making Yahoo a mobile-first company, Mayer announced that David Karp, the founder of Tumblr, would work independently.
The Tumblr acquisition is being compared to Facebook's (NASDAQ:FB) acquisition of Instagram for $1 billion and Google's acquisition of YouTube for $1.65 billion. Both Instagram and YouTube were virtually generating no revenue at the time of the acquisitions. Like YouTube, Tumblr offers users a way to create simple blogs and share pictures, words, and video. However, unlike YouTube, videos are not the only focus of Tumblr.
Tumblr has a huge user base, with more than 117 million unique visitors per month globally, which would increase the user base of Yahoo by 50% to more than 1 billion users per month. A striking 120,000 new blogs were created every day and had overwhelming traffic, which would increase Yahoo's traffic by 20%. The average age of Tumblr's audience is between 18 and 34, and there is not much overlap between the audience of Tumblr and Yahoo's older audience. Also, the content posted on Tumblr -- from fashion and art to food and travel -- does not overlap with Yahoo's content, which concentrates mainly on categories like finance, sports, and news.
Around 90 software engineers from Tumblr joined Yahoo's workforce. Tumblr managed to generate revenue of $13 million last year. Mayer did not intend to buy Tumblr's revenue, but rather she intended to buy Tumblr's demographic, audience, and social and mobile expertise.
Yahoo also acquired Payscale, a gaming infrastructure startup, which had 150 million users. This is was the 12th acquisition under Mayer's tenure, and Yahoo continued running the Player.IO platform. Player.IO is a new operating platform that aides the mobility of more than 2,600 game developers from one port to different social networking sites, mobiles, and other web platforms. This provided additional traffic of 400,000 gamers per day. The acquisition will help Yahoo to add to its mobile portfolio. The data from PlayerScale can be used to target viewers of Yahoo's online content. Yahoo has also bid for Hulu, a steaming video site, for $800 million. Six other bidders include DirectTV (DTV) bidding $1 billion, the private equity firm KKR & Co., and Time Warner Cable, among others.
Yahoo bought six-year-old GhostBird Software, an Apple iOS photo app creator, in order to add more features to Flickr. The employees of GhostBird will be joining the Flickr team and the app will be discontinued after the deal is completed. GhostBird makes two photo-editing apps named KitCam and PhotoForge. GhostBird will stop offering these applications to Apple Inc. (NASDAQ:AAPL), and will not develop future versions that work on the iPhone.
Mayer has been trying to widen the scope of Yahoo's operations from just being an Internet portal to a lot of other activities by acquiring these small companies. Yahoo's exhaustive assortment of services offers the world on smartphones, which would help the company enhance profitability and provide a great deal of value to its end users. Mayer is trying to revamp the image of Yahoo, which had lost its innovation edge.
Mayer followed a strategy of acquisition as a series of "sprints," wherein she gets great people, then great products, and thereafter more users and more advertising dollars. She intends to grow the company by putting the right minds in the right positions. She expects these "sprints" will help the company to prosper, and she expects to see continued stability for the company in future. It is difficult to calculate how many companies Mayer has targeted to acquire; however, she seems to be on an acquisition spree.
Yahoo's Operational Performance During Mayer's Leadership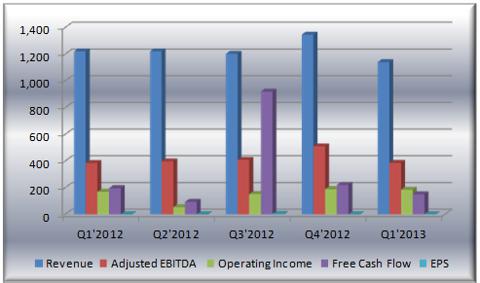 The chart above is a comparison of the periods before and after Mayer joined and became the CEO. It is obvious from the figures above that it has not being a completely smooth journey so far for Mayer, yet the company has picked up decently in some areas.
The quarterly earnings show marginal improvements under Mayer's leadership. Though Q1 2013 did not show any improvement, it could not be termed as a disappointing quarter as per the company's standards since it posted positive numbers. The company announced that the active mobile users increased from 200 million in January to 300 million in April.
Mayer has been successful in reviving the company, which is also reflected in the optimism and sentiments of investors - the stock has surged more than 74% since Mayer took charge. The other positives Mayer's leadership brought in were the increase in the number of job applicants, the trust regained with employees, and an emphasis on creativity.
A peculiar trend was observed in Yahoo's increased workforce -- 14% of the increased workforce who joined the company after Mayer became CEO was constituted of ex-employees of Yahoo. She managed to gain employees' trust by boosting their morale and also giving an opportunity to her employees to test novel products. Mayer has taken risks larger than the appetite of Yahoo; however, if the bets turn favorable, the payoff would be huge. For now, it could be said that Mayer has successfully turned around a company that was on the verge of bankruptcy.
Disclosure: I have no positions in any stocks mentioned, and no plans to initiate any positions within the next 72 hours. I wrote this article myself, and it expresses my own opinions. I am not receiving compensation for it (other than from Seeking Alpha). I have no business relationship with any company whose stock is mentioned in this article.