Oracle (NASDAQ:ORCL) is scheduled to release its 4th-quarter 2013 earnings on Thursday, June 20th. Below I have highlighted this quarter's earnings estimates as well as provided a fundamental look at the company's financial position and valuation.
Profile and Estimates
Oracle has a market cap of $157.9 billion and had annual sales last year of $37.1 billion. Shares currently trade for $34.24 and are only up 0.60% YTD but trade 29.89% above their 52-week low of $26.25.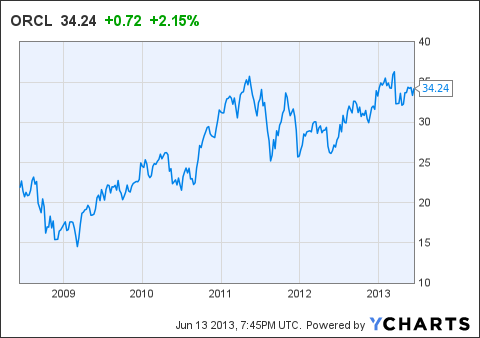 Analysts have a mean target price of $37.65 and a median price target of $37.75 per share. This quarter, analysts on average are expecting EPS of $0.87 on revenues of $11.12 billion.
Below is a valuation estimate I have compiled that is based on Oracle's full-year EPS estimates.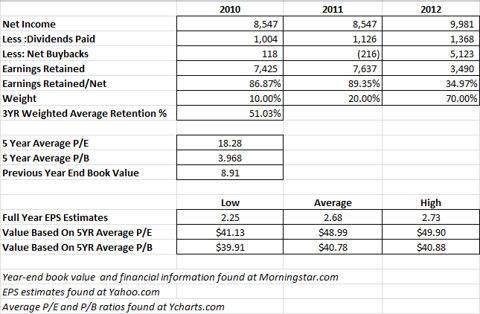 Click to enlarge
The calculation for 2013 year ending book value was made by multiplying the 3YR weighted average retention % by the EPS estimate and then adding that value to the prior year ending book value.
As you can see, based on both the 5-year average P/E and P/B ratios, analysts' current price target of $37.75 appears to either be on the conservative side, or reflect a market and/or fundamental change that would warrant a lower-than-average valuation ratio.
Fundamental Analysis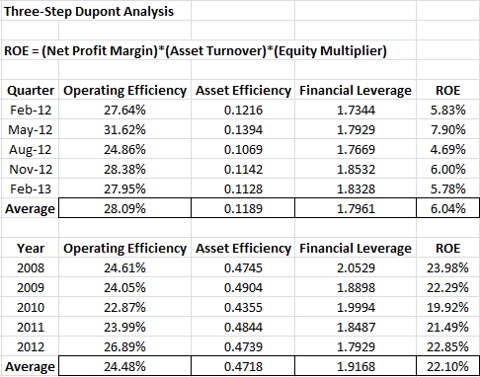 Click to enlarge
From the DuPont Analysis above, Oracle's net profit margin has been higher than its five-year average in each of the previous five quarters. Return on equity has however not increased substantially due to a slowly deteriorating asset turnover. While the company's debt/equity has been rising over the past five quarters, equity growth has outpaced liability growth significantly over the past five years.
This DuPont analysis yields a ROE for 2012 of 22.85 compared to Morningstar's 25.3, both of which are under the industry average of 30.4.
Bottom Line
Oracle's favorable margins and revenue growth make the company's current valuation appear compelling and, in-line with this thought process, all estimates point for a higher future valuation. Keep an eye out for new developments and updates on Thursday.
Disclosure: I have no positions in any stocks mentioned, and no plans to initiate any positions within the next 72 hours. I wrote this article myself, and it expresses my own opinions. I am not receiving compensation for it (other than from Seeking Alpha). I have no business relationship with any company whose stock is mentioned in this article.