The electric vehicle (EV) paradigm shift has been validated as the industry craze is well ahead of the "fad" phase and settling into a revolutionary reality. Much of the hype is credited to one of the most talked about companies over the last quarter, Tesla Motors (NASDAQ:TSLA). Since March, the company shares have catapulted 170% as investors buy into the bright future of a breakthrough in the automotive industry. The buzz has been spilled over to other pioneering companies who continue their strong efforts to develop the industry from the ground up. Car Charging Group (OTCPK:CCGI) and ECOtality (ECTY), leading providers of EV charging services, look to support the exponentially growing outlook of EVs by developing sustainable network of stations using the most advanced technology. For investors, these EV infrastructure companies provide an indirect investment into the fast growing industry without the risks of conventional automotive companies.
Industry Outlook
The Electric Vehicle Initiative (EVI) published a report, Global EV Outlook, from 15 of the world's major economies to give a better understanding of the global EV landscape through 2020. According to the study, by the end of 2012, there were approximately 180,000 EVs globally, which represent 0.02% of total passenger cars. By 2020, the global deployment of EVs is expected to increase by over 100 fold to 20 million passenger cars (as seen below).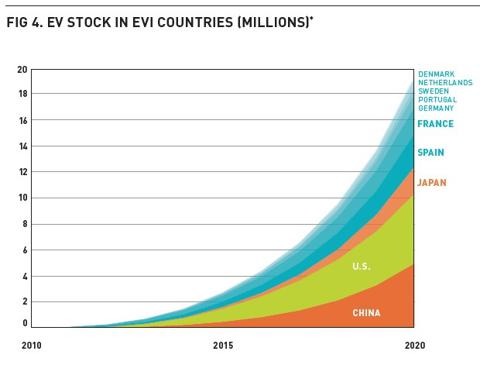 Click to enlarge
Published studies outlining the potential of the industry, like the one above, have influenced automotive manufacturers to begin mass production of their own EV modules in order to not risk missing out on this new phenomenon. Forthcoming automakers like BMW, Smart and VW will be joining the recognized Chevy Volt, Nissan Leaf and Tesla Model S in the electric car pool. Gone is the EV psychological threshold as the majority of automakers have either released an electric model or have a concept developed for future launch. To further validate industry momentum, sales of the original EVs, Chevy Volt and Nissan Leaf are up 3% and 160%, respectively, YOY for the first four months.
Analysis of EVI data show that to reach the projected 2020 figures, the EV market would need to grow by 80% compounded each year until 2020. Such extraordinary development requires an immense infrastructure network to scale the industry and bring convenience to EV drivers when making the switch to an electric car. This is where CCGI, a leading provider of EV charging services, comes into play.
The Car Charging Group is the operator of 1,100 charging stations across the US located in various suitable scenes where everyday people live, work, shop and play. Unlike competitors, CCGI outsources the manufacturing of these charging stations by purchasing them from privately-owned producer ChargePoint. This ensures CCGI flexibility to harness advancements in the technology (such as faster DC charger or even wireless integrated models) without any constraints to suppliers. Property owners are interested in CCGI's business model due to the fact that they face no out-of-pocket cost for the installation or use of charging stations on their property. Consequently, property owners are able to attract greater range of consumers to their location with added features (think WiFi in coffee shops) while having options to share earned revenue.
CCGI's First Mover Advantage
In a recent interview with Bloomberg, CCGI CEO Michael Farkas declared that the lack of infrastructure for the growing EV market was its "biggest hole". With soaring projections, shown above, the network of electric vehicle supply equipment (EVSE) will need to simultaneously grow with EV sales to build "range confidence". This is an issue surrounding the emerging market as the lithium-ion battery is not advanced enough to keep cars running as long as traditional vehicles. Therefore, to develop the industry and make consumers feel comfortable with the range of their electric vehicle, providers of charging services must prepare nationwide expansions capable of sustaining the imminent market. Indirectly, with greater infrastructure and more charging stations, consumers will build better "range confidence" and reduce "range anxiety".
As part of its nationwide demonstration project, the US is targeting the deployment of over 22,000 chargers by 2014, as per the EVI study linked above. This ambitious objective would result in a 57% increase in the number of electric chargers nationwide from 2012. Government initiative policies to jump start the EV industry would be particularly beneficial for The Car Charging Group, a regular recipient of government infrastructure investment. Having been in the market for almost four years, CCGI has established working relationships with government entities, which in turn lead to greater policy opportunities for the company. Surely, this first mover advantage the company has achieved will pose to be a prospect of great top line growth as a large number of future CCGI installations will be reimbursed by government grants during EV market rapid expansion.
CCGI's pioneering status as a leading provider of EV charging services has fostered relationships with property owners across the nation. By signing the relationships with over 60 strategic partners, the company has secured long-term exclusive contracts with these property owners. In other words, when a station is installed, that location becomes exclusive to CCGI for almost 21 years. This way, CCGI marks its territory early so the company can derive greater revenue when the market gains further traction in the near future.
Revenue Forecast

Click to enlarge
Above is an annual revenue projection sensitivity table for CCGI with made assumptions. The market share is calculated using the projected 22,000 chargers in the US market by 2014. Being the operator of a current flock of 1,100, the market share of CCGI is presently at 5%. A charge rate of $2.50/hr was used, which is what The Car Charging Group quotes on their website. The average hours each station is used/day was determined using a conservative range of 0.25-1.5. Being a national average, some locations will undoubtedly be busier than others and vice versa. Hence, assuming CCGI has a market share of 9% in 2014 (or 1980 charging stations) that are used, on average, an hour a day; its annual revenue would be approximately $1.8 million. It should be noted that this figure does not take into account the revenue sharing CCGI offers property owners, making the number fractionally smaller depending on the percentage split.
Acquiring to grow
The Car Charging Group has been actively acquiring competitors so far in 2013, having completed three strategic deals to expand its reach in the market. CCGI obtained additional charging stations and contracts with potential suitable properties through its acquisitions of Beam Charging, EVPass and, most recently, 350Green.
The first two purchases were strategically planned on the East Coast, specifically Central NY and NYC. When Mayor Bloomberg promised to "make New York City a national leader in electric vehicles" by announcing the creation of 10,000 parking spaces for electric cars, CCGI responded by purchasing NYC's largest EV charging provider, Beam Charging. Establishing itself in one of America's premier cities for EV growth will prove to be financially beneficial for CCGI as more than half of NYC drivers have assigned parking which could mitigate the difficulties of home charging for multi-unit structures.
With the latest acquisition of 350Green, CarCharging became the largest independent public EV charging station network in the US and the world. The company continued consolidating the market by increasing its presence for the upcoming materialization in electric vehicles. This way, CCGI grows when the demand is present or soon approaching, instead of unsustainably expanding without the proper need of their product/service.
Though not an acquisition by definition, the joint initiative between Nissan (OTCPK:NSANY) and CCGI to deploy 48 quick chargers in developing US regions validates two points. The first is the importance of CarCharging Group to the development of EV market in the US. The US government and Nissan have portrayed how crucial it is for CCGI to expand consumer awareness of the electric car market by making more charging stations available. Secondly, the growth of the Leaf and overall EV sales are for real. With more than 25,000 Leafs already on US roads and 48 Nissan-branded quick chargers, Nissan expects its triple digit annual growth figures to continue into the remainder of 2013 and onto 2014. The company's installed quick chargers are located in the two regions where most Leafs are sold, California and East Coast, with intention of being utilized by Nissan drivers.
Consolidated Payment System
One of the biggest roadblocks facing EV infrastructure is the lack of a universal payment system. Each network, such as ChargePoint's stations or ECOtality's blink network EVSE, requires their own card to pay, making it inconvenient for consumers who are members of only one service. Similar to bank ATMs, this closed system for each commercial station is an unnecessary hassle that is restricting the industry. However, unlike ATMs which charge a transaction fee if using another bank, a CCGI customer (using ChargePoint) is unable to use the ECTY blink network. As the fragmented system consolidates, a universal payment system will need to emerge in order for the industry to reach its full potential.
A collaboration between the industry's two leaders, ChargePoint and ECOtality, was announced to initiate a new venture, Collaboratev. Collaboratev will allow drivers of both networks to access each other's charging stations. This agreement, which is expected to complete integration by early 2014, will cover 90% of the US public car charging. Both companies are urging other charging services to join the effort to make a nationwide payment system.
Though the end goal has yet to be reached, Collaboratev is definitely a step in the right direction for the providers of charging services. A consolidated system would allow industry players to leverage their investment to benefit customer and simplify the development of the EV market. There have been other efforts to consolidate the EV charging service network such as the OCPP in Europe and PEP Stations, a Detroit based EV charging company that is credit card capable. However, neither has had the impact or coverage that Collaboratev will have.
Conclusion
The growth in the electric vehicle market is real with exponential expansion underway. Investors looking for a pure play in the industry must look no further than an already validated pioneer in The Car Charging Group. As with any company that has not yet turned profits, there are present risks that need to be studied. However, those willing to wait until the EV market materializes will find CCGI's strategic business model an interesting, yet potentially lucrative play.
Disclosure: I have no positions in any stocks mentioned, and no plans to initiate any positions within the next 72 hours. I wrote this article myself, and it expresses my own opinions. I am not receiving compensation for it. I have no business relationship with any company whose stock is mentioned in this article.