click to enlarge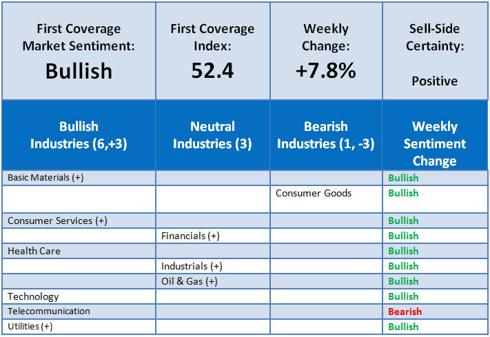 Click to enlarge
Sell-Side Gets Burned Going Bearish Too Soon
Ouch, that one hurt!
Sixteen weeks we waited for the sell-side to decide the market rally was ready to turn.
Sixteen weeks we wondered what it would take to make them reconsider their long bias and what that would mean for a market that seemingly was running based on the notion that the market simply wanted it to keep running higher.
Sixteen weeks we marvelled at the resolve of the sell-side to maintain their composure and be consistent with their "stay long" advice to their client base.
Sixteen weeks we waited… and it only took two weeks for the sell-side to conclude that they had moved too soon.
Welcome back folks! According to the sell-side, this rally isn't over yet and when they realized their mistake, the sell-side couldn't find a fast enough way to jump back on the bullish bandwagon that they had left a mere 14 days ago!
Last week saw sentiment climb 7.8%, the largest single week-over-week climb since we've been tracking this data. However, it probably speaks more to the amount of sell-side professionals who got caught offside than it does to any fundamental shift in the economic or corporate picture.
Now, we're not going to take a stab at trying to figure out what made the sell-side turn bearish two weeks ago. In truth, it could have been anything from macro data to just being nervous that the market had come too far too fast. And, we're not going to try and understand what drove them to do a one hundred and eighty degree turn on that feeling this past week. But where we can add value is in trying to understand how often we've been in this type of "flip-flop" environment when sentiment has turned this rapidly and what did that means for the upcoming months.
So, What Certainty Comes from Uncertainty?
Let's put things in context. Over the past 30 months, there have been sixteen distinct sentiment shifts including the two that most recently occurred. The average sentiment trend has lasted eight weeks with the longest being 26 weeks back in 2007 and the shortest being a few occasions of just one week.
During those thirty months, there have only been three occasions since we started tracking sell-side sentiment when their "feel" for the market has shifted back and forth over such a short duration.
The first was between December 2007 and January 2008. The sell-side had been in a pronounced bearish trend for 10 weeks before they went bullish for a week, reverted back for a couple of weeks, went bullish again for a single week, reverted back for a month and then finally settled into a sustained 17-week bullish period that ran from February to March of 2008. The final bullish period generated a 9% benchmark return even though it took a couple months of uncertainty to establish a new direction for the market.
In May of 2008, at the end of the above mentioned trend, the sell-side went bearish for two weeks, reverted back to being bullish for a single week and then finally turned bearish for good in mid-June, 2008. The perma-bears ruled for 18 weeks during which the sentiment benchmark posted a greater than 30% return.
Finally, there was one other time in which the sell-side jumped to the other side of the sentiment equation (i.e., from being bulls to bears) for a single week in November of 2008. They managed to capture a generous 15% return in that single week and then went back to being bulls again until the beginning of 2009.
In hindsight, it shouldn't be surprising that meaningful shifts aren't pretty or clean. They do tend to take a couple tries to finally move the sell-side from one side of the market to the other for good and knowing that it's the upcoming weeks that will be the decisive ones to watch. If the sell-side shows continued volatility and moves bearish again in the next week or two, then history would indicate we've entered another sustained bearish trend. While the transition wouldn't have been pretty or even profitable, at that time the sell-side would be suggesting that your money should be off the table and out of the market for at least a couple of months and probably even longer.
So, as we wait and watch, here are the five tickers that have undergone the biggest bullish and bearish sentiment shifts over the last week:
Top 5 Bullish Sentiment Shifts:
Top 5 Bearish Sentiment Shifts:
Until next week…