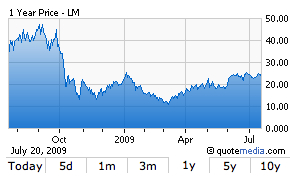 On Monday, 7/20/2009, Legg Mason reported +$.35/share earnings versus an expectation of +$.22/share. LM also beat on revenue slightly with $613.1M versus and expected $612.34M. This seems good at first glance. However, when you look further things don't seem so rosy.
First the revenue slumped 42% year over year. Operating margin slumped from 21.7% to 9.5%, although pre-tax profit margin increased to 13.2% from a loss in the previous quarter. Investors pulled a net of $34B from the company this quarter. Plus Fitch last week cut LM's credit rating on its senior debt from A- to BBB+. It is getting closer to junk status.
Legg Mason's assets under management were up 4% during the quarter to $656.9B from $632.4B on Mar. 31, 2009. Still net outflows were $34B. The average AUM (assets under management) was $647.2B in Q1 2010 (Apr-Jun) versus an average AUM of $657.4B in Q4 of 2009 (Jan-Mar 2009). This does not bode well for the future, especially given that the S&P500 gained almost 18% during the quarter. Next to that, the 9% market appreciation claimed by LM seems poor. Still they claim most of their mutual funds were rated four or five stars.
Overall, the performance was questionable at best. There were substantial net outflows of AUM of $34B (i.e. LM is losing customers). The Operating Margin is still too low. The general downtrend of the company has not been corrected. The AUM were 29% lower year over year. However, they were still lower on average this quarter versus last quarter, even though there was huge appreciation in the markets this quarter. LM has a non-existent P/E. It has an FPE of 19+. Its prospects are uncertain at best. They may be dismal at worst. Even GS has an FPE of only 15+, and its prospects are great. This stock is still a sell. It definitely does not deserve to sell at a premium to GS.
Disclosure: I took a small short position in LM Monday.