Fast food goliath McDonald's (NYSE:MCD) recently confirmed that it is experimenting with an "after midnight" breakfast menu. Let's emphasize the after midnight aspect, which specifically means that the firm won't be serving all-day breakfast. Such a move to all-day breakfast would be expensive, and, in our view, a sure sign the firm was out of ideas.
The moves to bolster its product offering in the late night segment has logic behind it - look no further than the popularity of breakfast diners at 2-5 am on Saturday and Sunday mornings. For years, Taco Bell (NYSE:YUM) has been perceived as the go-to fast food destination after midnight, at least in part due to its successful "Fourth Meal" marketing campaign. Prior to Taco Bell, few places had been open past midnight, let alone until the morning. Wendy's (NYSE:WEN) was among the pioneers in the space, with its "eat great, even late" campaign, which started in the late 1990s and featured restaurants remaining open until 12am or 1am.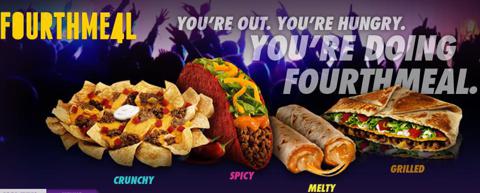 Click to enlarge
Image Source: Taco Bell
During the past few years, McDonald's has made several of its locations operate 24 hours, so an expanded menu (overnight breakfast) could help drive decent sales growth and market share gains. We think breakfast is one of the company's strongest offerings, but we caution that the lure of it may decline as availability increases. For younger consumers, there can be a weekend thrill of "racing the clock" to get to McDonald's while it still serves breakfast, but this could change if the products are readily available. Often scarcity can drive traffic at McDonald's (see the McRib and Shamrock Shake), so increasing the availability could actually hurt demand.
Still, we think the benefits outweigh the risks in this situation. McDonald's has a huge store base, and in many markets, we think it can become the only game in town serving breakfast at certain hours. Even in larger metro markets such as New York, Chicago and Los Angeles, we think the firm can become a serious competitor to both Taco Bell and breakfast diners - especially if it competes on price.
The Valuentum Take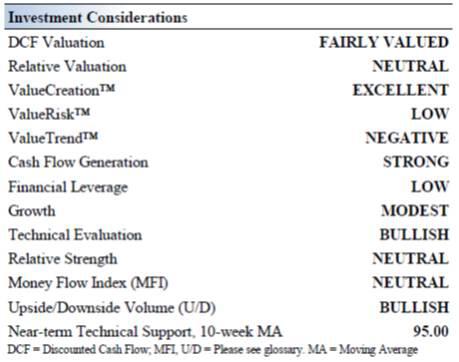 Ultimately, we're happy to see the company pursuing the late night market, but we caution that expanding breakfast hours is one of the few weapons left in the company's arsenal. Though management claims it would be too costly to fit restaurants to serve breakfast all day, we think the firm is saving all-day breakfast for when it is completely devoid of new ideas.
Given the mediocre results we've seen thus far under CEO Don Thompson, we believe all-day breakfast could be coming in the not-so-distant future. At the least, we think the company could expand hours for the core breakfast items such as the Egg McMuffin, hot cakes and hash browns. At this time, we believe shares look fairly valued, and we aren't interested in adding the company to either of our actively managed portfolios at this time. Our valuation page that we make available in our 16-page stock reports can be found below: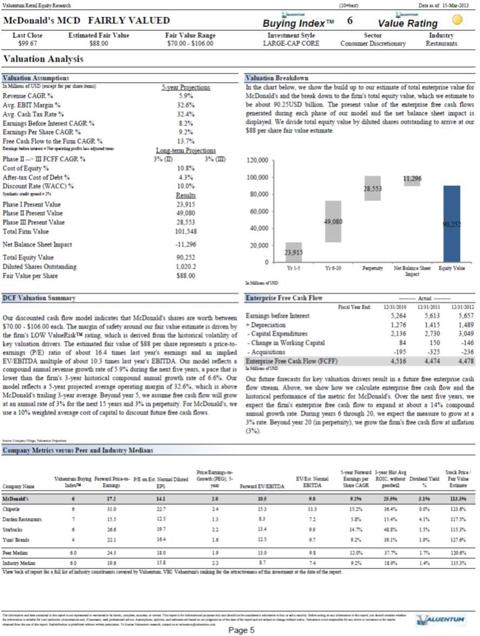 Click to enlarge
Disclosure: I have no positions in any stocks mentioned, and no plans to initiate any positions within the next 72 hours. I wrote this article myself, and it expresses my own opinions. I am not receiving compensation for it (other than from Seeking Alpha). I have no business relationship with any company whose stock is mentioned in this article.