The EUR/AUD broke out of a recent level and jumped to 1.41, the highest it's been since March 2011. Has the pair peaked or will it continue to appreciate? There are some structural factors that make us wary about the reality of such a rapid, sharp appreciation.

Click to enlarge
The real rates spread (10Y) is also suggesting that the breakout is unwarranted and that the EUR/AUD should be lower. This is confirmed by the 2Y nominal generic government bond spread;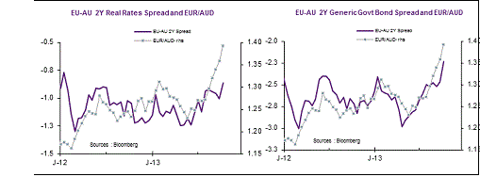 Click to enlarge
The relative news flow has not always worked perfectly, as can be seen in the chart below (left), but it has been fairly consistent in 2012-2013. The recent reading highlights and it suggests the EUR/AUD changes are well above the news flow-implied level;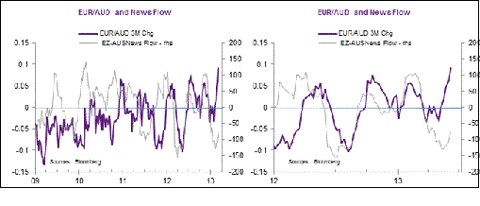 Click to enlarge
Commodities have taken a beating in 2013, which is part of the reason that EUR/AUD was able to pop as it did. However, the 1m changes in copper prices indicate the EUR/AUD should fall dramatically. I am expecting a pickup in copper prices by year end so this may mitigate the recent gap somewhat, but not enough to suggest that EUR/AUD is fairly priced;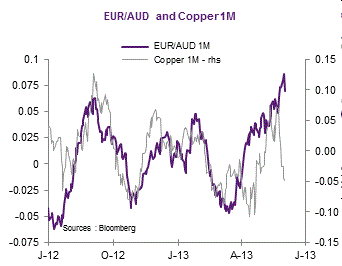 The chart below shows the link between the pair and the relative trends of the respective current accounts of the Eurozone and Australia. Since 2009, the current account of the Eurozone has improved and turned positive while that of Australia worsened. Contrary to what could have been expected in theory, the EUR/AUD fell. It suggests that the move was not driven by the relative evolutions of their external accounts, but by the buoyancy of their respective domestic demands. If the lackluster economic situation eases in Europe in the second half of 2013 and Australia continues to falter, the uptick in the current account ratio may continue and drive the pair slightly upward, but for domestic demand reasons, not relative demand or supply of foreign capital.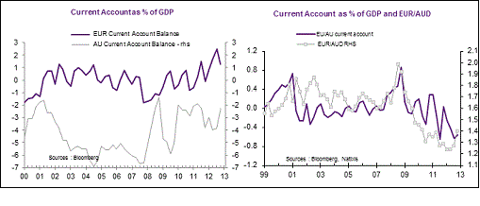 Click to enlarge
To sum up: The sharp selloff in risky assets recorded over the last few days (in Asia, in particular), is impacting the pair. All of the above suggests the EUR/AUD is too expensive. In addition, the pair is so far ahead of the VIX that even the current increase in risk aversion may not be enough to lift the EUR/AUD upward.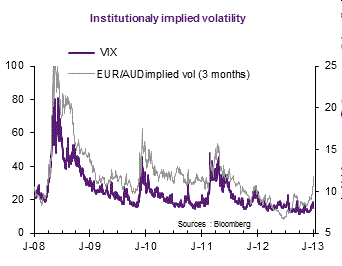 The relative stock performance is signaling the EUR/AUD is overpriced (the 3-month change confirms this view). It may suggests that European stocks have further way to under-perform, but the gap is clearly too high by historical standards.
Disclosure: I have no positions in any stocks mentioned, and no plans to initiate any positions within the next 72 hours. I wrote this article myself, and it expresses my own opinions. I am not receiving compensation for it (other than from Seeking Alpha). I have no business relationship with any company whose stock is mentioned in this article.