Encana Corporation (NYSE:ECA) is a Canadian major integrated oil and gas company. In the past it has been most famous for its natural gas assets and production; but that is changing. In FY2012 it had average liquids production of 31,000 barrels/day. Its FY2013 forecast is for average liquids production of 50,000 to 60,000 barrels/day. It is well on its way to meeting this goal with Q1 2013 liquids production of 43,500 barrels/day. This was up 48.5% year over year. Liquids production in US assets was up 93.1% year over year. The 43,500 barrels/day in Q1 2013 was also up 20%+ from the Q4 2012 average production of 36,200 barrels/day.
Since the winter months are normally slow development months due to harsh weather, ECA seems a shoe in to reach 50,000+ barrels/day in average liquids production by the end of Q2 2013. This should ensure that the FY2013 average will exceed the lower limit of the projected range. It means the middle of the range to the upper limit of the forecast (or higher) is well within reach. In fact ECA expects the 2013 end of year exit liquids production rate to be in the range of 70,000 to 75,000 barrels/day. This more lucrative liquids production should bolster ECA's bottom line in 2013 and in subsequent years of good liquids growth.
ECA's FY2013 natural gas production is expected to remain virtually unchanged at about 3 Bcf/day. ECA is focusing its development energies on the more lucrative liquids development. However, ECA should see write-ups on its natural gas reserves in FY2013. Reserves are calculated in large part based on the price of natural gas. Other factors such as the cost to develop and produce it are factored in too.
When natural gas prices took a nose dive in 2012 to a nadir in the spring of approximately $1.90/MMBtu, ECA had to take write-downs on its natural gas reserves. The laws governing such write-downs are different for different countries. For instance under Canadian protocols, ECA saw a FY2012 fall in proved reserves of approximately 8% (to 13.1 Tcfe). Under US protocols ECA's proved natural gas reserves decreased 32% to 8.8Tcfe. This was due primarily to price related revisions of negative 4,589 Bcf. Natural gas technical revisions were actually positive 1,391 Bcf in FY2012. In the US a rolling twelve month average of Nymex natural gas prices is used to calculate the proved reserves.
Thus far in 2013, natural gas prices have been much higher than in 2012. This is good news. For FY2012 Nymex natural gas prices averaged $2.79/MMBtu. In Q1 2012 Nymex natural gas prices averaged $2.74/MMBtu versus the Q1 2013 Nymex average of $3.34/MMBtu. ECA may be realizing less due to lower hedge prices, but the value of ECA's reserves should go up dramatically.
Nymex natural gas prices hit their low of 2013 so far on January 2, 2013 at $3.05/MMBtu. They remained relatively low through February 2013. Then they rose rapidly to a high of $4.44/MMBtu on May 1, 2013. They have since fluctuated greatly, but the average price for Q2 will probably be $4/MMBtu or more. The recent nadir for natural gas prices of about $1.90/MMBtu was in Q2 2012. This means the Q2 2013 Nymex natural gas prices should average at least $1/MMBtu more than the Q2 2012 Nymex natural gas prices. This should result in huge write-ups on ECA's natural gas proved reserves, especially using US protocols.
Amazingly, most investors don't seem to pay attention to where the increases or decreases in reserves are coming from. They only pay attention to the overall increases and decreases. The increases in proved reserves will be welcome news to the knowledgeable. The same increases in proved reserves will be fantastically good news to the less knowledgeable, and they will likely bid ECA's stock price up in response. The chart below shows that Nymex natural gas prices have been making a series of higher highs and higher lows since the nadir in the spring of 2012. This is a good technical uptrend, which shows no sign of weakening.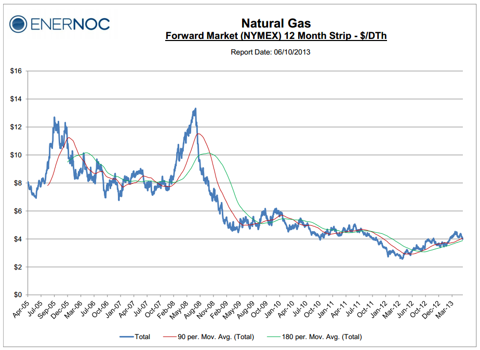 Click to enlarge
The chart below shows estimates for the Nymex natural gas price forecasts for future years. The upward bias is decisive, and it means that ECA's natural gas production should slowly glean more profits over time.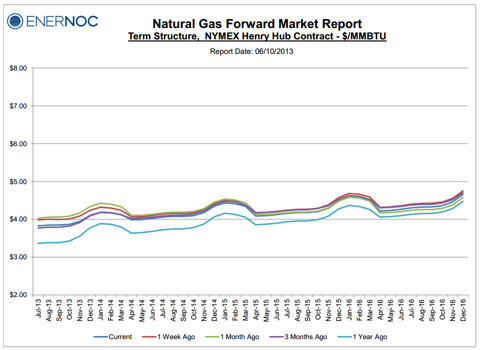 Click to enlarge
Not only will ECA glean more profits from its natural gas holdings over time, but it should reap substantial profits from its new oil/liquids developments. Further, it is not going grossly into debt to finance the development of these resources. Instead it is taking on joint venture partners. These partners are bearing the brunt of the development costs for a minority stake in the production. For instance, a Mitsubishi (OTCPK:MSBHY) subsidiary JV partner has agreed to contribute $380 million for the Cutbank Ridge development, while ECA will contribute only $160 million for ECA's 60% interest. In the Duvernay play, Phoenix Duvernay Gas, a subsidiary of PetroChina (NYSE:PTR), will contribute $450 million in development costs, while ECA will contribute only $150 million over the next four years for its 50.1% working interest. The point is that ECA is being fiscally prudent in its spending on development. In significant cases the JV partners are shouldering more risk, while ECA is gleaning more working interest.
To add to all of this good news, ECA has finally found a new President and CEO, Doug Suttles, after an extended search. He appears to be a good one. He is a past COO of BP Exploration & Production and a past President of BP Alaska. He should be able to guide ECA smoothly into a profitable future.
Analysts only give ECA an average recommendation of 3.1 (a hold). However, it has a four star CAPS rating. It pays a 4.5% annual dividend. It has an FPE of 14.31. Plus it has an EPS growth estimate for FY2014 of 45.90% and a next five year EPS growth estimate per annum of 14.00%. It has good development growth. It has substantial write-ups on its proved reserves coming in FY2013. It has a program in place to cut natural gas development expenses (a goal of making ECA the cheapest natural gas producer in the US). Its average future development costs associated with its PUDs (proved undeveloped reserves) is approximately $1.60/Mcf versus $1.94/Mcf in 2011. It has great potential reserves with 10.9 million acres of total land to explore and develop. Having a good CEO should help it too. With all of this I see a lot of upside for ECA. It is a buy.
The two year chart of ECA provides some technical direction for the trade.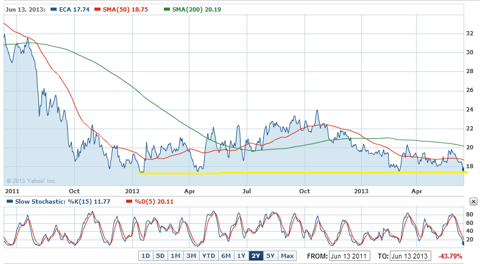 Click to enlarge
The slow stochastic sub chart shows that ECA is oversold. The main chart shows that ECA has been in a downtrend recently. However, there doesn't seem to be a good reason for this given the above mentioned fundamentals. Instead ECA seems likely to bounce off its relative strong technical support in the $17-$18 per share range (the yellow line in the chart). It may have already done so. ECA's future seems likely to be upward, and investors will get to collect its substantial dividend as it makes that journey. The $24 to $26 share price area is the first area of overhead resistance. It should reach that area in the next year or two. It is a technical and fundamental buy.
The only worry may be a US double dip recession and/or a world wide recession such as Bill Gross of PIMCO has recently called for. For this reason, conservative investors may wish to average in. Others may wish to wait until ECA is closer to its Q2 report date. That news is virtually certain to be overall good news. Still, ECA is currently a buy, and long term investors will not likely go too far wrong by buying it now.
NOTE: Some of the fundamental financial information above is from Yahoo Finance.
Good Luck Trading.
Disclosure: I have no positions in any stocks mentioned, but may initiate a long position in ECA over the next 72 hours. I wrote this article myself, and it expresses my own opinions. I am not receiving compensation for it (other than from Seeking Alpha). I have no business relationship with any company whose stock is mentioned in this article.