Autodesk (NASDAQ:ADSK), the multinational software company that makes drafting, manufacturing, civil engineering, 3D, and animation design software, has experienced a recent pullback. Part of that is due to the general market correction, but the other part is due to its recent quarterly results. It has pulled back roughly 13% from its high of $41.42 in May. Can it be bought now? Or is there more downside in the stock?
The stock decline began after Q1 earnings fell 30%. Autodesk reported a profit of 24 cents per share, down from 34 cents a share a year earlier. Revenue decreased 3.1% to $570.4 million. Operating margins also fell to 14.3% from 16% YoY. The company cited currency fluctuations as one reason for the disappointment. Over the course of their conference call, management mentioned several factors but I don't know if anyone has pinpointed a clear factor.
Chief Executive Carl Bass said the following:
A mixed global economy weighed heavily on our first quarter results... There were positive areas in the quarter but overall, a weak April led to a disappointing finish to the quarter."
The company is facing headwinds in the broader economy. This can be seen in declining sales in many areas of their business. Regionally, the U.S was flat; Northern Europe was up; Southern Europe was down; and emerging markets were down. Autodesk also lowered quarterly and yearly revenue expectations. This lowering of guidance by Autodesk also matches the same guidance changes made by competitors Parametric Technology (PMTC) and ANSYS (NASDAQ:ANSS), so it is not necessarily losing out to its rivals in this case.
The CFO noted two important things in their conference call. First, he noted that a portion of earnings ($24M) were reported in Q4 last year, which subtracted that amount from this Q1. That accentuated the miss. Second, he noted that last year's Q1 was great, making the comparison very hard. Taken together, this quarter may not have been as bad as it seemed.
So there could be a variety of reasons for the quarterly miss, but I believe that it was mainly due to: 1) a global economic slowdown taking place, 2) Autodesk customers spending less on IT, and 3) Year-over-Year comps, and 4) the financial engineering that took some income into Q4.
Metrics
The company has really solid free cash flows, evidenced by its price to free cash flow ratio of 13.70. It also has a low debt-to-equity ratio of .36. The company has a forward P/E ratio of 15.3, which seems reasonable given the uncertainty in much of the world economy.
And despite its trouble this past quarter, Autodesk has gross margins of 89% and operating margins of 13%. The operating margins are what they will continue to focus on improving. The CEO stated that they continue to reach for 30% operating margins. This will be the real test for management in my opinion. Revenue growth is more related to the economy at this point, but the margins are more in management's control.
Future Revenue
If the decline in sales is due to a larger economic slowdown, especially abroad, then that isn't necessarily a fundamental flaw with the company. An economic slowdown is something that has to be fought through, cutting costs where available, and squeezing out profits via efficiency.
Global recessions aside, Autodesk has made acquisitions over the past few years to beef up its product line. That should help with providing additional revenue streams. Autodesk bought Vela Systems last year for $76 million in an effort to add to its mobile device applications business. The purchase was a wise move because, as is noted in this article, a portion of design and drafting software is now being used on mobile devices. In addition to the Vela purchase, Autodesk made 16 other acquisitions over the past two years. This is a potential reason for the margins trouble, after all it can prove challenging to integrate that many companies together.
The company is also positioned well in the Cloud applications segment with its Autodesk 360. Additionally, the company seems to be effectively growing its subscription business (which is already very large). Both of those factors will play critical roles in the company's future revenue and earnings.
Chart
The chart for Autodesk is basically a classic Head and Shoulders pattern. A Head and Shoulders pattern is a bearish reversal chart pattern. In the chart below, I noted the head and each shoulder, and then the broken neckline. I also added Quadrant Lines. Quadrant lines basically divide the price from high to low, into four sections, and add lines denoting the Low/25%/50%/75%/High prices. [I don't usually use Quadrant Lines, but it seems to work well showing that the distance from neck to top of the head is also the same as from the neck to the previous lows.]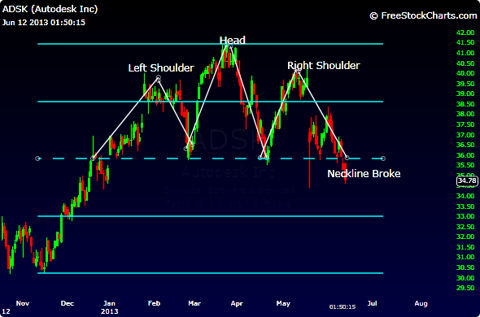 Click to enlarge
Price Target & Strategy
Strategically speaking, the paragraphs above may provide a mixed message. Earnings going down and margins down; solid free cash flow and low debt; a macroeconomic slowdown; and strong sales to automotive makers.
I believe that in the long run, the stock is a solid winner and will continue to grow earnings. In the short and mid term, I am not as certain. I believe that it is worth waiting to see if the global economy gets worse, before jumping into Autodesk at these levels. Additionally, I would prefer to see margins heading back up, indicating that the acquisitions from the past two years are being integrated well.
I like to use technical analysis to help choose entry and exit positions. To obtain the downside target on the break of a Head and Shoulders "neckline," you measure from the neckline to the top of the head. That is the amount of decline you can reasonably project the price to fall to below the neckline. Again, this just happens to match up with previous lows -- which would act as a level of support on its own. You can expect that a number of technicians will buy that level, which is why that's my target for this slide. And that is how I come up with the target and projection of 14% further downside.
Therefore, I would not look to buy this until the stock shows strength, presumably near the $31-30 level.
Disclosure: I have no positions in any stocks mentioned, and no plans to initiate any positions within the next 72 hours. I wrote this article myself, and it expresses my own opinions. I am not receiving compensation for it (other than from Seeking Alpha). I have no business relationship with any company whose stock is mentioned in this article.