The dynamism and profitability of the tobacco industry is outstanding, and one of the best companies within the industry is Philip Morris International (NYSE:PM). The company is the lucrative owner of seven of the top 15 cigarette brands in the world, including the top cigarette brand Marlboro. Philip Morris is the second-largest tobacco company in the world, after government-controlled China National Tobacco.
The company was part of Altria (NYSE:MO) a few years ago, which was a conglomerate that had several divisions. Altria sold off its beer unit, spun off the Kraft (KRFT) division as a standalone company, and split the cigarette business in two companies: Philip Morris USA, which retained the name Altria, and Philip Morris International. Altria controls the U.S. market, while Philip Morris does 100% of its business abroad. This is a positive factor in favor of Philip Morris compared to Altria, as the U.S. tobacco industry has been dogged by litigation for years. However, the rest of the world does not have the same issues for tobacco companies and Philip Morris simply doesn't have the same litigation costs eating its profits that Altria does.
In 2012, the company held an estimated 16.3% share of the total international cigarette market outside of the U.S. with more than $77 billion in revenues. The company has a good geographical diversification, generating about 35.7% of its sales in Asia, 27.2% in the European Union, 26,5% in Eastern Europe, Middle East and Africa, and 10.6% in Latin America and Canada. Its profitability is good with earnings before income taxes of almost $13 billion, or a 16.8% pre-tax profit margin. Philip Morris's net income was $8.8 billion, an increase of 2.4% from the previous year.
Although Philips Morris's growth has slowed in the last year, these results are good taking into account the global slowdown. This happens because the tobacco business is largely unaffected by economic slowdowns or rising prices. This means that demand is relatively stable throughout business cycles, making companies like Philip Morris defensive and possibly a good opportunity for dividend investors.
Regarding its dividend policy, Philip Morris has a very good track record since its spin-off in 2008. The company has raised its dividend every year, and now pays $3.40 per share related to its 2012 earnings. This represents a dividend yield above 3.5%, which is much higher than the market's average. The dividend is paid quarterly, which is good because it provides a regular income stream. The next payment of $0.85 will be payable on July 12, 2013 to shareholders of record as of June 27, 2013.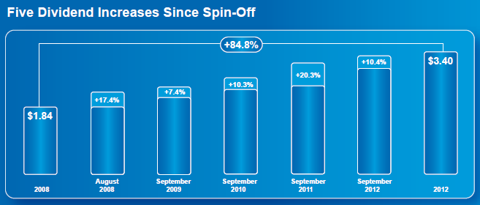 Philip Morris's dividend payout ratio was 62% in 2012, which is reasonable given the company's stable business in the long-term. It generated about $8.4 billion in free cash flow during the past year, more than covering its dividend payments. It is also buying back stock, which leads to a lower number of shares outstanding and is supportive for dividend growth. Since its inception in 2008, Philip Morris has bought back more than 400 million shares which is about 20% of its initial stock.
Even though Philip Morris is a quality company, with a stable business and offers a good yield, it still faces some risks. One of the major risks the company faces is currency risk. Philip Morris is an American company but, as stated before, it earns 100% of its revenues from outside the U.S. which exposes heavily the company to the greenback movements. If the US dollar falls, it would enjoy a boost in international sales, but the opposite happens if it rises. Nevertheless, the company uses derivatives as hedging instruments to offset this risk, so its dividend should not be seriously threatened due to currency losses.
Disclosure: I have no positions in any stocks mentioned, and no plans to initiate any positions within the next 72 hours. I wrote this article myself, and it expresses my own opinions. I am not receiving compensation for it (other than from Seeking Alpha). I have no business relationship with any company whose stock is mentioned in this article.