When I was in school, I went on a Spring Break road-trip to Florida with a group of friends. Being on a tight budget, we opted for a motel on the beach. The proprietor said she had a deluxe room with three views: one of the parking lot, the other of the beach and the third from the patio of a magically clear sky. It looks like short-sellers and the longs have two differing views on NII Holdings (NASDAQ:NIHD) judging by the outstanding short position and days to cover ratio: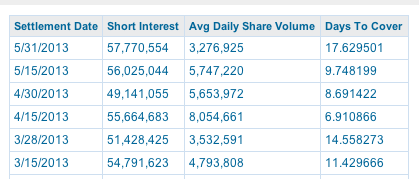 And juxtaposing the above to the stock performance this quarter:
Although most wireless operators in Latin America have traditionally focused on the fast-growing prepaid retail segment, NII has directed its operations toward postpaid corporate customers demanding instant connectivity. Motorola-based iDEN push-to-talk service and superior customer service have allowed NII to grow rapidly among corporate users. The company provides services in Mexico, Brazil, Argentina, and Peru as well as Chile on a limited basis. Although NII only has about 3% market share in these countries combined, its blended monthly ARPU of roughly $40 is by far the highest in the region as a result of its extremely valuable business clientele. Strong revenue generation has enabled the company to consistently deliver attractive operating margins and returns on investment
OUR TAKE
From the longs' "beach view" perspective there's tremendous value that remains in the company's radio spectrum in licensed operating territories and its cell tower assets. We are anticipating an announcement, which management has expressed openly, on a sale transaction before the end of this month. From the shorts "parking lot" perspective in the near-term, NIHD will continue to have operating losses.
Many on Seeking Alpha have referred to the stock market rally as a Bernanke/Fed driven phenomena. This fact cannot be denied and with QE3 in full force and effect, short sellers of equities have time and again been burned, i.e. Tesla Motors (NASDAQ:TSLA). Short sellers have a $7.40 potential gain if NIHD goes to zero versus longs having an upside of at least $15.59 if broker Stifel's analyst target of $23 comes to fruition. This could happen if NIHD's stock reacts to our anticipated good news from additional asset sales and customer revenue growth coming in at or above expectations.
The third "sky" perspective comes from special situation investors who look for buyout potentials. This could easily be the case for NIHD because it is a U.S. based publicly held which can easily be purchased by another U.S. or G7 based company without the lengthy change of control issues normally associated with foreign purchasers as NIHD is already foreigner-held. A compelling buyout bid from a larger multinational telecom player like the unsuccessful suitor in the DISH (NASDAQ:DISH) vs. Softfbank (OTCPK:SFTBF) quest over Sprint Nextel (NYSE:S). This asset seeking player could and should view NIHD as a spectrum rich key strategic operating entity in the growth oriented market segment in Latin America. We have written here on SA before that we think a buyout of NIHD would also make sense for Google (NASDAQ:GOOG) on many fronts.
Investors are left with the three views we outline above. Going back to the road-trip from our school days, those of us that focused on the "beach view" and the "sky view" enjoyed the trip the most. We think these two alternatives present the best possible outcome at Nextel Latin America aka NII Holdings and NIHD.
Disclosure: I am long NIHD, TSLA. I wrote this article myself, and it expresses my own opinions. I am not receiving compensation for it. I have no business relationship with any company whose stock is mentioned in this article.