Gilead Sciences, Inc. (NASDAQ:GILD) is a research-based biopharmaceutical company that discovers, develops and commercializes innovative medicines in areas of unmet medical need. This is a short article outlining 3 very attractive traits of this company and discussing the lofty valuation of the stock.
Atripla - The 1 Pill HIV Treatment
Gilead's Atripla, which contains Truvada and Bristol-Myers Squibb's (NYSE:BMY) Sustiva, has been approved by the FDA as a one pill HIV treatment. It's the first pharmaceutical capable of treating HIV in this way. Patients' compliance with instructions about their medicines is a big problem in healthcare.
Professionals will prefer to prescribe a simpler regimen, and patients' health will improve by improved adherance to their medication. Non-adherence accounts for 30-50% of treatment failures in healthcare.
Solid R&D Department
Gilead is not under heavy pressure of patent expirations. The first expiration that will cause any trouble is Viread's patent, which expires in 2018. The company has recently made a few acquisitions, which will help it develop new patents and extend existing patents.
Meanwhile, Gilead takes its R&D seriously, as evidenced by the company rewarding its executives based on R&D milestones, instead of earnings, and its substantial R&D budgets.
The next five years should give the company ample time to come up with new blockbuster drugs. Speaking at the UBS global healthcare conference, SVP and CFO Robin L. Washington said the company also has the largest number of phase III trials in its history going on right now.
Diversification with Sofusbuvir and Cancer Treatments
It is quite possible the company's latest big acquisition, Pharmasset, turns out to be a smart tactical move. This buy diversifies it into the hepatitis C market.
One of the big things the company is working on is the drug sofosbuvir, which is supposed to be the first all-oral treatment for Hepatitis C. Patients and doctors might prefer this treatment, because it's more convenient. Going by the recent outperformance of the stock price vs. the S&P 500, it would appear investors did put a lot of value on this acquisition.
Fellow Seeking Alpha contributor Peter Geschek also wrote an interesting piece that shows Gilead is diversifying into leukemia and blood cancer treatments through acquisitions.
Risks
One of the biggest risks accompanying an investment in Gilead is the firm's heavy reliance on its HIV franchise. Its single greatest asset is also its Achilles' heel. Close to 80% of the company's revenue is derived from HIV products. It's not hard to see why management is actively buying to diversify.
Like all pharmaceutical companies, the company is vulnerable to variance in the payoff of its pipeline. Although the company puts a lot of emphasis on R&D, and it did a great job so far, that is no guarantee for future success.
Do take into account that the company has a record number of phase III trials going on. According to Jim Mellon, who wrote Cracking the Code: Understand and Profit from the Biotech Revolution That Will Transform Our Lives and Generate Fortunes, most phase III biotech drugs get through this phase.
The risk of the pipeline not yielding the desired results is not immediate. The most important drugs the company owns are still protected until 2021. Certainly it is something to be aware of when investing in the space.
Valuation
Gilead doesn't come cheap. The stock trades at a P/E of 29. If we compare that to the forward P/E of 18, it is clear analysts are convinced the HIV franchise is on a tear and are putting a high probability on the Hepatitis C drug making a splash.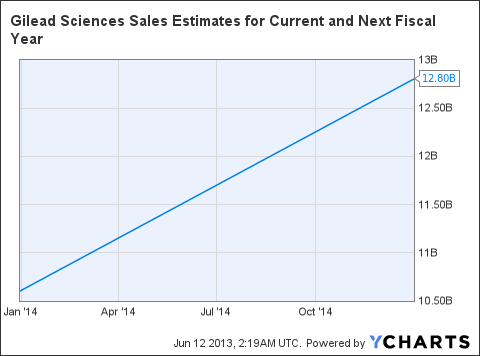 GILD Sales Estimates for Current and Next Fiscal Year data by YCharts
Gilead's stock price has been running up fast, yet at $52, I think the stock is still undervalued, mostly because the speed with which earnings can grow potentially. The HIV drug and the Hepatitis C drug both have substantial markets to serve.
Although I'm hopeful about the prospects of these drugs, I repressed my enthusiasm while performing a DCF calculation. Given the first major patent pressure mounting around 2021, this calculation leads me to believe the company is at present time 15% undervalued.
The market seems to have realized the mispricing of the stock, resulting in the stock price advancing much faster than the S&P 500. Unfortunate as that is, at least the stock price is already moving. No need to wait for a catalyst.
Disclosure: I have no positions in any stocks mentioned, and no plans to initiate any positions within the next 72 hours. I wrote this article myself, and it expresses my own opinions. I am not receiving compensation for it (other than from Seeking Alpha). I have no business relationship with any company whose stock is mentioned in this article.