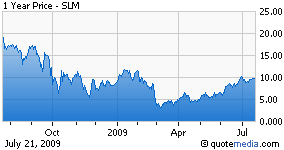 SLM Corp. (NYSE:SLM), aka Sallie Mae, is expected to report Q2 earnings after the market close Tuesday, July 21, with a conference call scheduled for Wednesday, July 22 at 8:00 am.
Guidance
Analysts are looking for EPS of 6c on revenue of $746.20M. The consensus range for EPS is (7c) to 17c, while the consensus range for revenue is $681M to $819M, according to First Call.
Analyst Views
President Obama's fiscal 2010 budget would end the government's practice of subsidizing student lenders such as SLM and guaranteeing the student loans they make. House Education Committee Chairman George Miller introduced legislation last week to implement the president's plan, under which the federal government would directly make all student loans. The Congressional Budget Office has said the plan would save the government $87B. SLM, along with several other companies that currently offer student loans, have introduced an alternative proposal which they say would save more than 30,000 jobs as well as $87B over 10 years. There is some support among Democrats in Congress for the companies' plan.
SLM investors will want to know whether the company believes that its direct student loan business can be saved and how much the company's bottom line would be reduced if Congress passes Miller's bill. On a positive note, the Department of Education last month announced that SLM had received a contract to service a portion of the Department's federal student loan portfolio.
JP Morgan responded to the news by upgrading SLM to Overweight from Neutral. Meanwhile, FBR Capital predicted that the deal would enable SLM to accelerate its growth in coming years. The firm raised its target on the stock to $16 from $13.