Recent Events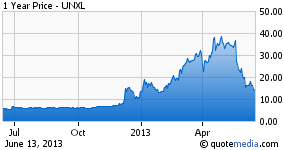 After the last earnings call on April 30, it was fairly clear that we were entering at least a two-month period where information flow from Uni-Pixel (NASDAQ:UNXL) will be minimal as the Company focuses on setting up and optimizing its printing and plating lines in-house, working with its supply-chain partners downstream, and setting up operations in Rochester with its manufacturing partner Eastman Kodak (EKDKQ.PK). In addition, key results on limited product testing with a PC OEM customer were to be forthcoming sometime in late June/early July.
Concept stocks with disruptive technology potential like Uni-Pixel are highly news sensitive. If the company delivers the right news, it becomes an intoxicating mix and the stock propels higher. Uni-Pixel kept delivering the milestones which reinforced the compelling nature of the story - a PC OEM partner for $5 million; an ecosystem partner for another $5 million; and a manufacturing partner in Kodak. Incidentally, if you still are not aware, the PC OEM is most likely Dell (NASDAQ:DELL) and the ecosystem partner is Intel (NASDAQ:INTC), as has been widely reported unofficially, while an official clue was also dropped recently by the Company when it referred to these partners as Fortune 100 companies. Henceforth, for ease of writing and reading, I have mostly used the company names Dell and Intel to refer to the PC OEM partner and Ecosystem partner, respectively. Uni-Pixel was hitting the proverbial ball out of the park, and the valuation followed, reaching ~$500 million. That's about one-half billion dollars for a great concept that has been proven to work in a lab environment, but has not yet been approved in production prototypes, and had not yet faced the rigors of high scale manufacturing.
Once the stock entered a no-news period, it shifted from an upward to a downward bias. I exited the position in the days following the earnings call. I preferred to see the results of the PC OEM related supplier testing, and more importantly yield results on higher scale manufacturing before re-entering. I anticipated the stock to pull back into the high twenties as it awaited further news. In the absence of any game-changing news, the vicious correction that ensued over the past few weeks was unexpected. The only significant news to justify a decline was the push-back in orders from the PC OEM due to delay in release of Windows 8 update. It did not materially change the investment story, but it was disappointing to experience a revenue delay, howsoever small the amount would have been in the third quarter. The generation of product revenues will be the clearest confirmation of the beginning of a successful transition into high-scale production from a laboratory environment.
There was no other critical news that should have made an impact on the investment thesis. The Apple (NASDAQ:AAPL) patent was not relevant for it related to linear scaling of costs on larger screens - a typical ITO problem, but not a metal-mesh issue. Surprisingly, the informed response going around was that Apple can come to Uni-Pixel to get such a pattern done. But as far as I understand, the Apple patent is more applicable to resolving an issue that does not exist within the metal-mesh world. The broken-line accusation was sensational but appears to have relied on outdated information and perhaps even questionable pictures, as suggested and shown by a few graphically skilled investors on this forum.
Transformative Appeal of Additive Manufacturing
The core thesis or sizzle of Uni-Pixel resides in its ability to successfully print very fine line (~5/6 microns wide) touch sensor circuits at high yields on a transparent and flexible substrate film using an Additive Manufacturing technique in a highly efficient roll-to-roll manufacturing process. Additive Manufacturing is not a new concept and is used in many industries. The critical benefit of Additive Manufacturing is its significant cost advantage over the incumbent subtractive process. A genuine and complete Additive Manufacturing process once optimized can cost just a fraction, one-fifth to one-third, of the costs associated with a Subtractive Manufacturing process. That is a disruptive technology, and Uni-Pixel claims it can successfully produce metal-mesh touch sensors in high volume using the additive process in a roll-to-roll production. If this is true, Uni-Pixel and the metal-mesh technology can upend the existing ITO-based touch sensor market within certain form factors.
Metal-mesh technology offers cost-advantages over ITO, and is a compelling alternative with clear scaling advantages. However, an additive process in an efficient roll-to-roll manufacturing environment becomes so highly cost-effective that it has the potential to be the standard-bearer in certain form factors as the market transitions over the years from ITO to metal-mesh. Conductive ITO technology has been an incumbent for decades. Many technologies have been competing to displace ITO, but have thus far failed to deliver high-volume at a mass-market cost. Besides metal-mesh, silver nanowires is a highly promising technology as well. My judgment is that today, metal-mesh is closer to high volume production at an attractive cost/performance point, at least in certain form factors, to challenge the ITO industry than silver nanowires. If Uni-Pixel can deliver high-yields and volume, then it will ensure that metal-mesh technology combined with the Company's additive manufacturing process will drive the transition from ITO. Besides Uni-Pixel, there is Atmel (NASDAQ:ATML) that is ramping up capacity in metal mesh sensors, although it uses a different manufacturing process licensed from British firm Carclo (OTCPK:CCEGF), with whom Uni-Pixel is involved in litigation. Uni-Pixel is a pure play in the field of metal-mesh touch sensors.
It's About High Yields and Volume Manufacturing
The product undoubtedly works great in the lab environment. The videos and pictures on the Uni-Pixel's website illustrate the product performance, and the naked-eye invisibility of the mesh lines. In metal-mesh technology, the Moire effect exists and has to be managed, whether you're printing or using photolithography. It's not a secret. The answer is a custom solution where the mesh is customized to a device's display to minimize the Moire effect. The solution diminishes the manufacturing and design flexibility, as any changes would require reconfiguring the metal mesh and freezing the design before commencing volume production. An irritant, but not a show-stopper. Any pain related to such change management is significantly well-compensated in gains relating to cost/performance of metal-mesh. Uni-Pixel's close partnership with Dell and Intel addresses this potential optical repetition or Moire effect by working closely with the supply chain and crafting a customized solution. Dell and Intel were sufficiently convinced with the performance of UniBoss to put $5 million each in building out capacity at Uni-Pixel.
The Critical Success Factor for Uni-Pixel now is its ability to produce in high-volumes. Such high-yield efficient production will deliver the disruptive and sustainable cost advantage. The manufacturing environment should be Uni-Pixel's sole-focus this year, and the Company undoubtedly gets it. Will Uni-Pixel succeed in delivering high volume at high yields and negotiate the typical hiccups of a new manufacturing process, is an unknown at this time. But there is a body of evidence that suggests the probability is high.
Uni-Pixel has maintained that it is experiencing yields of 70+% in its low-volume controlled environment. As the company transitions to a high-scale manufacturing process, I expect the yields to vary widely, perhaps from 30% to 70% initially. Wide yield swings are fairly normal in a new manufacturing process. There is a very high degree of learning and process improvement that occurs in the initial stages, and a small set of key improvements can at times create sizable yield gains. Much of the chunkier yield gains are achieved in the first year itself, and then there is a continuous process of improvement for smaller incremental gains. What has struck me is the management suggesting the ~70% yield number fairly consistently over the past few months as well as the $20 pricing per unit. Their confidence reveals some measure of comfort that management team has with achieving a 70% yield level based on the work that has already gone into the production line at Lufkin. Note that without comfort with a certain minimum yield threshold, it would have been very hard to frequently suggest 50+% margin and $20 pricing per integrated unit.
Uni-Pixel has crafted a set of astute partnerships that serve it at both the sales and manufacturing ends. The Company first announced partnerships with Dell and Intel covering the sales-end, and then announced a manufacturing partnership with Eastman Kodak (Kodak). One can be dismissive about Kodak because of its bankruptcy, and even question its value to Uni-Pixel. However, one has to note that functional printing is a key growth area that Kodak has identified as it emerges from bankruptcy. Kodak has the expertise and institutional knowledge around functional printing, which further magnifies Uni-Pixel's own expertise. In addition, Kodak would not blindly walk into a manufacturing relationship with Uni-Pixel and commit substantial facility, expertise and support resources amongst its first acts as it emerges from bankruptcy. One has to believe in the expertise and due diligence of Kodak, Dell and Intel on both the market-readiness and market-worthiness of Uni-Pixel's technology.
Finally, not only is achieving ~70% average yields quite a meaningful milestone, but what's equally important is that the Company's management already sees a path of continuous improvements to even higher yields perhaps nearing 90% eventually. In other words, we're no longer dealing with show-stopper issues here, which would have gated the yields to sub-50%. Also, in late-April the Company hired a seasoned manufacturing executive Robert Rusenko. For Mr. Rusenko to join Uni-Pixel, one has to believe he would have performed his due diligence and believed that Uni-Pixel manufacturing technology was ready to make the transition from a lab to a high-volume production environment. Between the two Roberts (Rusenko and Petcavich), Dan Ostrand and critically Kodak, I feel that Uni-Pixel is well-equipped to resolve manufacturing related issues that will naturally arise as the shift to high-volume production occurs. As Uni-Pixel shifts to a high-volume manufacturer, there is a possibility it may encounter patent infringement claims, simply because additive manufacturing and flexible electronics have a long research and production history. Uni-Pixel does not yet possess a proven IP estate, which is patents granted and challenged, like an Immersion (NASDAQ:IMMR), VirnetX (NYSEMKT:VHC) or Universal Display (NASDAQ:PANL). However, Uni-Pixel is engaged in something unique within the specific touch sensor industry. So most likely such cross-industry infringement claims, if they appear and are valid, will at worst lead to a licensing expense. The Carclo lawsuit is winding through the judiciary. At this time, the lawsuit does not appear to have the weight of judicially relevant evidence to be a show-stopper.
Management, Anticipated Events & the Shorts
Management has been criticized often on this forum for their lack of achievements, high salaries, years of unmet expectations, etc. Defending the management here will not change minds, neither do I have the complete and detailed information to engage in it, and nor is it relevant at this point. What is important is that in spite of all this baggage, justified or unjustified, one has to give credit to Reed Killion, CEO, for guiding the company to the threshold of what can be an enormous earnings story of 2014, and a great additive manufacturing play. Mr. Killion and team need to maintain their focus on successful high-volume additive manufacturing. Only shipments and revenues can best speak for the company.
As I see it, if Uni-Pixel can manufacture the product, the buyers will be there. The Company already has announced expected purchase indications for 2 million square feet (units)/month, and perhaps more, from Dell and Intel once the capacity ramps up. Next month in July, we should expect test results from the initial prototype shipment to Dell's supply chain. If there are issues, I anticipate they will be related to supply chain integration with UniBoss or design issues and will be resolvable ones, instead of being fatal manufacturing related product issues. Once we're past this milestone the product road map becomes a lot clearer. Concerns relating to Moire effect, light transmission, circuit line width and continuity, lamination, supply chain integration, etc., are diminished. It then comes down to the key question - can Uni-Pixel ramp to high-volume with high-yields, over a million units a month. We will start receiving early data points on the production success of newly installed plating lines in Lufkin and Rochester sometime towards July-end (during the second quarter earnings call) & in August. By end of Q3, there should be enough data to determine if Uni-Pixel can be successful in being a disruptive force in the touch sensor market. If the Company is successful, the earnings momentum will be incredible. Even if one models a 65% to 70% yield in 2014, the earnings power can be $5 to $8 per share, based on assumptions for capacity ramp, utilization, sales, and price erosion. This may prove to be conservative. The model has significant leverage. But first, we have to see if the Company can get the product out the door in volume.
The shorts are highly committed. Besides potential product issues, it appears the shorts are also betting that the management team is mediocre and will flub this, perhaps once again. At this point, a valid definitive reason has to be present to change minds forcefully. That's what happened with short squeezes in Tesla (NASDAQ:TSLA), Netflix (NASDAQ:NFLX), and SolarCity (NASDAQ:SCTY), to cite a few. The product issues can be significantly addressed with a successful product test report from the Dell supply chain. Then it comes down to ramp-up of volume production. The management flubbing notion can only be settled with strong shipments and rapidly growing revenues.
Conclusion & Disclosure
Additive manufacturing is an area with transformative appeal. The much-talked about 3-D printing is also a play in additive manufacturing, where companies like 3D Systems (NYSE:DDD), Stratasys (NASDAQ:SSYS) and ExOne (NASDAQ:XONE) are transforming industries, and in the process unleashing strong revenue growth and earnings power.
Uni-Pixel can have a similar transformative appeal within the touch sensor industry. If you decide to invest, do your own due diligence and note that a critical success factor for Uni-Pixel is high manufacturing yields and high volume. There has been no compelling thesis published thus far that shows it can't be done. On the other hand, the ongoing investment being made in printing and plating lines suggest that the Company continues to believe it can be done.
At a share price of $14.19 and a market cap of ~$180 million, Uni-Pixel trades at the same level as in January 2013, when there was only the Dell partnership and no inkling of potential partnerships with Intel and Kodak, which were consummated in April. There was no ~$45 to $50 million in the bank, after accounting for potential second quarter (June) burn and near-term capex. The stock is being priced for a significant product delay and a failure of metal-mesh, additive manufacturing. For all the reasons cited above, it is my opinion that the stock is a compelling speculative Buy. As I see this investment, from the $14 level I feel in a product-catastrophe situation we have a further $10 downside, down to mid-single digits reflecting the cash-levels, but potentially a $90 upside from here and perhaps higher if the high-yield volume manufacturing comes through. I have once again become a buyer of Uni-Pixel shares in my personal account. I maintain a reasonable stop-loss. I may add or exit at any time without notification. Uni-Pixel has been held in our recommended model portfolios a few times in the past, but as of now is not part of the portfolio.
Uni-Pixel now has the binary appeal of a biotech, and the potential for sharp gains like those recently experienced by Acadia Pharmaceuticals (NASDAQ:ACAD), Aegerion Pharmaceuticals (AEGR) and Clovis Oncology (NASDAQ:CLVS). At the same time, if the product testing reveals core issues with metal-mesh and additive manufacturing, then we can experience the typical biotech disaster response and a single-digit future. Albert Podell had contributed an article on this forum characterizing an investment in Uni-Pixel as an All or Nothing Powerball lottery. That was an apt characterization of the potential, and Judgment Dates are approaching in the days and short months ahead.
Now I do note that everything above is simply a compendium based on mosaic theory. Hopefully it clarifies the key issues in this muddy mix. I appreciate meaningful short articles, for it makes me chase down issues which may not have occurred to me earlier or not studied in-depth. However, that was much more true earlier in the year and less so recently.
All the yield references above are to plated yields - which is the final product - and not to printer yields.
Disclosure: I am long UNXL. I wrote this article myself, and it expresses my own opinions. I am not receiving compensation for it (other than from Seeking Alpha). I have no business relationship with any company whose stock is mentioned in this article.