Lumber Liquidator Holdings (NYSE:LL) is the largest specialty retailer of hardwood flooring and related products in North America, operating 290 retail locations. The company markets its products to homeowners or contractors under several proprietary brands including its flagship brand, Bellawood. Lumber Liquidators was founded in 1994, by now Chairman Tom Sullivan, and its is headquarters is in Toano, Virginia.
Like many other home product retailers and manufacturers, Lumber Liquidators has benefited from the rebound in the housing market, as rising prices have encouraged homeowners to once again tackle home remodeling projects. According to a recent survey by Piper Jaffray, homeowners are taking on more and larger discretionary projects such as putting in hardwood flooring. Helped by this trend, Lumber Liquidators posted strong quarterly same-store sales increases and impressive Q1 earnings results.
Quarterly Same Store Sales Growth
Q1-13: +15.2%
Q4-12: +13.2%
Q3-12: +12.0%
Q2-12: +12.4%
Lumber Liquidators Q1 earnings results released on April 24, increased 97% to $0.57 per share, beating Wall Street estimates by a whopping $0.15. Revenues grew 22.5% to $230.4 million versus the $215.4 million estimate. The company also raised its full year outlook. But drilling down on the company's earnings call, there is evidence that Lumber Liquidators is benefiting not just from favorable market trends, but also a shift in its marketing strategy.
Change in Advertising Strategy
The company is expanding its advertising reach to the more casual customers in addition to the traditional DIY (do-it-yourself) customer. This is being done through a national advertising campaign strategy, which has been successfully driving traffic to the stores. Advertising expense was up 29.7% y/y in Q1 as the company aggressively sought to grow market share. But the company's aggressive marketing strategy was not at the expense of gross margins, as the company posted record margins of 40.4% in Q1.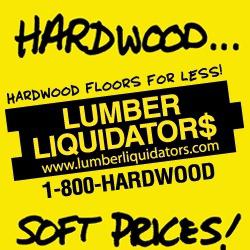 Sourcing Strategy
Also discussed on the earnings call was lumber pricing. While some competitors have been hurt by increasing prices, Lumber Liquidators has been served by its superior sourcing strategy, buying directly from mills with no middleman. The company has also been actively expanding its supply base. It is expanding beyond China to other parts of Asia and beyond Brazil to other countries in Latin America. In addition, the company has also recently started sourcing from Europe. As a result, Lumber Liquidators has not been materially impacted by domestic price increases as it comprises a smaller component of its sourcing mix.
Competitive Landscape
The wood flooring market is a highly fragmented industry. Lumber Liquidator's market share is still small, estimated at the Raymond James Conference to be around 10-11% with plenty of room for growth.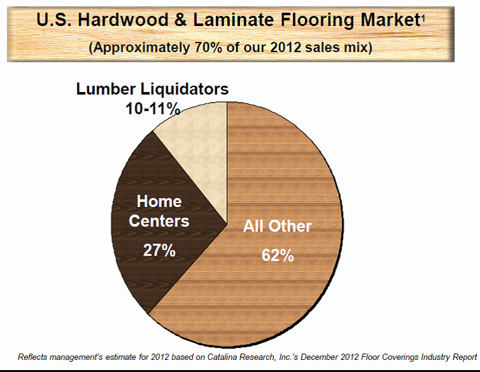 Obviously, specialty retailers such as Lumber Liquidators must compete with the big DIY retailers such as Home Depot (NYSE:HD) and Lowe's (NYSE:LOW). But there are distinctive advantages to being a smaller niche retailer. By focusing on one building segment, Lumber Liquidators seeks to offer the following differentiated value proposition: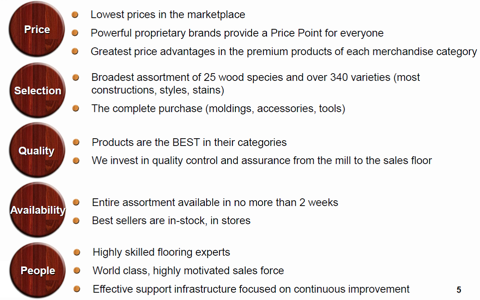 The company has also built a university to train its people. At Lumber Liquidators University, managers learn about training strategy, product knowledge, and sales techniques.
Store of the Future Concept
According to Credit Suisse analyst Gary Balter, who rates Lumber Liquidators as an Outperform, the company's "Store of the Future" concept also offers strong upward growth potential. Nearly every aspect of the company is being refined or enhanced ranging from how product sits in the store to complicated logistical and supply chain elements. Lumber Liquidator's in-store experience has been revitalized and inventory management has improved at the local level. This has helped avoid discounting and is driving higher margins. Credit Suisse expects the concept to be a "meaningful driver of new store productivity" and thinks the real estate portfolio will also benefit through remodels and relocations as a result of the concept. As of the Q1 earnings call, the company had opened 5 new stores in the enhanced format with larger showrooms and an expanded assortment of merchandise. The company plans to open 25-35 new stores in 2013 and plans to convert 20-25 stores to the new Store of the Future format.
Valuation Concerns
Lumber Liquidators' compelling growth story has not gone unnoticed by investors. The stock price has risen more than 60% year-to-date. The company's PE (ttm) is a lofty 43X, as compared to only 24X for Home Depot and 23X for Lowe's. But those companies do not have the growth rates or potential for growth that Lumber Liquidators exhibits. That being said, according to Barron's, from May 6 through 28, seven insiders in the company, including the company's founder sold shares near the stock's all-time high. Executives sold 355,909 shares at an average of $85.02 each.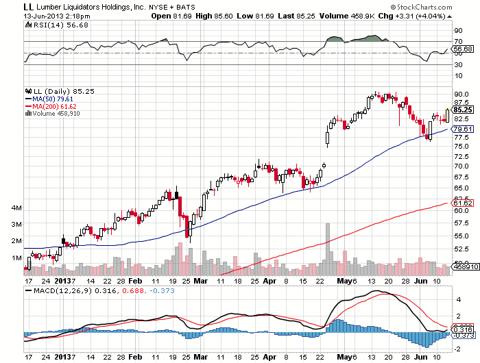 Is Lumber Liquidators still a buy at these levels? The housing recovery is still is in its early stages and Lumber Liquidator's growth story is still very much intact. Drilling down, the stock still represents a great long-term growth opportunity.
Disclosure: I am long LL. I wrote this article myself, and it expresses my own opinions. I am not receiving compensation for it (other than from Seeking Alpha). I have no business relationship with any company whose stock is mentioned in this article.
Disclaimer: The opinions expressed above should not be construed as investment advice. This article is not tailored to specific investment objectives. Reliance on this information for the purpose of buying the securities to which this information relates may expose a person to significant risk. The information contained in this article is not intended to make any offer, inducement, invitation or commitment to purchase, subscribe to, provide or sell any securities, service or product or to provide any recommendations on which one should rely for financial, securities, investment or other advice or to take any decision. Readers are encouraged to seek individual advice from their personal, financial, legal and other advisers before making any investment or financial decisions or purchasing any financial, securities or investment related service or product.
Information provided, whether charts or any other statements regarding market, real estate or other financial information, is obtained from sources, which we and our suppliers believe reliable, but we do not warrant or guarantee the timeliness or accuracy of this information. Nothing in this article should be interpreted to state or imply that past results are an indication of future performance.