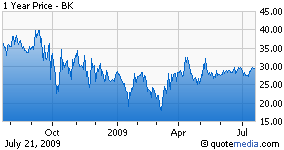 The Bank of New York Mellon Corp. (NYSE:BK) is expected to report Q2 earnings before the market open on Wednesday, July 22 with a conference call scheduled for 8 am.
Guidance
Analysts are looking for EPS of 53c on revenue of $3.28B. The consensus range for EPS is 45c to 59c, while the consensus range for revenue is $3.21B to $3.32B, according to First Call.
Analyst Views
Citigroup last week predicted that Bank of New York Mellon would report Q2 EPS of 50c. The firm thinks the bank's revenue trends will stabilize and it maintained a Buy rating on the shares.
Bank of New York Mellon's stock has rallied along with much of the financial sector in recent days. From just over $27 on July 10, the shares reached almost $30 on July 16 before slipping just below $30 today in mid-afternoon trading. On June 29 bank CEO Robert Kelly announced that the company would be profitable in 2009. However, Kelly did warn that the bank would have additional write-downs due to the securitized mortgages it still has on its books. The mortgages amounts to about 2% of its balance sheet, or about $3B-$4B.
In May the bank issued 42M new shares and sold them for $28.75 per share, before paying back its TARP loan in June.