Yesterday was a very strong day in the market and even stronger when one considers how poorly markets were set to open early in the morning. Remember Japan was under serious pressure and Europe was red too, but North American markets opened and never looked back and that is leading to strength in Asia and Europe today, with the UK facing some headwinds - but those are due to a different set of issues; specific to the UK only.
This is strength which should give the bears caution and provide further confidence to the bulls. Any time a chart moves from the lower left to the upper right you have to like it...unless of course you are bearish, which we are not. We do remain cautious here though.
Chart of the Day:
Yesterday's chart of the Dow Jones Industrial Average.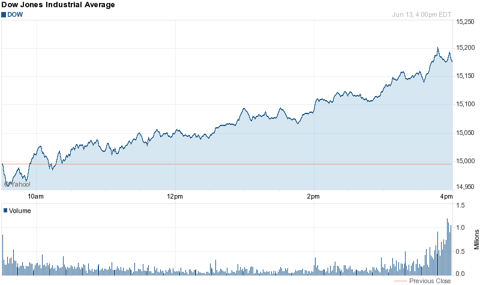 Chart courtesy of Yahoo Finance.
We have economic news due out today, and it is as follows:
PPI (8:30 a.m. ET): 0.1%
Core PPI (8:30 a.m. ET): 0.1%
Current Account Balance (8:30 a.m. ET): -$111.5 Billion
Industrial Production (9:15 a.m. ET): 0.1%
Capacity Utilization (9:15 a.m. ET): 77.8%
Michigan Sentiment (9:55 a.m. ET): 83.0
Asian markets finished higher today:
All Ordinaries -- up 1.93%
Shanghai Composite -- up 0.64%
Nikkei 225 -- up 1.94%
NZSE 50 -- up 0.43%
Seoul Composite -- up 0.35%
In Europe, markets are higher this morning:
CAC 40 -- up 0.12%
DAX -- up 0.22%
FTSE 100 -- down 0.17%
OSE -- up 0.42%
Yesterday we were surprised by the exceptionally warm reception Gannett (NYSE:GCI) shareholders gave to the Belo (NYSE:BLC) acquisition, as Gannet was the purchaser and saw its shares pop just over 34% as they rose $6.75 to close at $26.60/share. Volume spiked to 36.1 million shares as well. Belo saw shares rise over 28% to close at $13.77/share on even higher volume of 71.1 million shares.
The move over the past few years in Gannett shares has been impressive, and the past year has been another strong one. The tail end of this chart shows just how enthused shareholders are for this further exposure to local TV.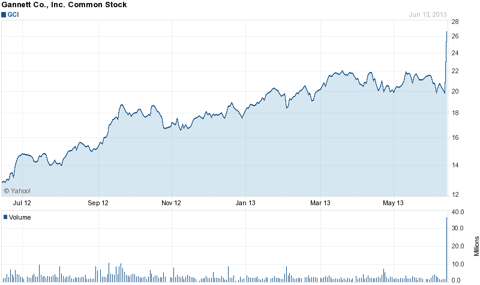 Chart courtesy of Yahoo Finance.
The deal essentially doubles the size of Gannett's local television division and should give them additional scale in the industry to negotiate better terms with the content distributors for retransmission fees. The good news for shareholders is the $1.5 billion deal also further pushes Gannett into the digital and television business which are higher growth than their core print business. All-in-all it was a great deal, as the price action in both stocks showed with both the acquirer and acquiree rising smartly.
Whereas there is a deal to be had with Gannett and Belo, it seems that Elan (NYSE:ELN) shall remain independent from Royalty Pharma and simply proceed with its own deals as this battle heats up. There have been countless press releases issued in the last day or two and it is obvious that Royalty Pharma wants to close a deal but the price may not be rich enough, especially with Elan looking to return cash to shareholders and royalty payments set to start soon enough.
We are also watching Goodyear Tire & Rubber (NYSE:GT) in the realm of M&A, not because they have a deal announced or expected but due to the fact that Cooper Tire & Rubber (NYSE:CTB) recently agreed to a takeover at a fairly large premium. Goodyear has risen in conjunction with that announcement and what has really happened here is that investors are more aware of the value in the industry. If you missed the initial pop, no worries, as these moves have a tendency to run out of steam and provide another entry point down the road.
It is an unsexy industry, but one which has seen M&A and a rebound in the auto business, pushing sales of tires higher as well. Sex sells, but in this case so does unsexy...especially when you look at Cooper Tires and their sale.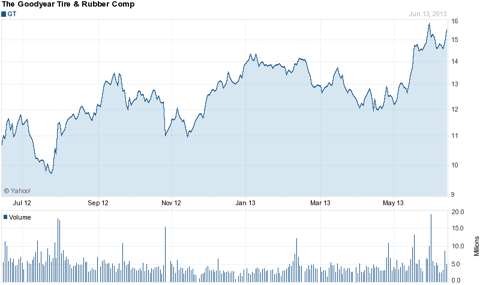 Chart courtesy of Yahoo Finance.
Disclosure: I have no positions in any stocks mentioned, and no plans to initiate any positions within the next 72 hours. I wrote this article myself, and it expresses my own opinions. I am not receiving compensation for it (other than from Seeking Alpha). I have no business relationship with any company whose stock is mentioned in this article.