I like this chart (and the whole presentation) from Barry Ritholtz's Fusion Analytics, which he was nice enough to share with us this morning. It gives us perspective on how this is one, big, weak bounce so far won't be a recovery until we retake 1,640. But anything red from here is nothing more than a weaker bounce than we had last week (to 1,645) and of course we're bouncing off a very strong line at 1,600 with the 8-month uptrend but that's the point - when those lines finally fail, they tend to fail spectacularly.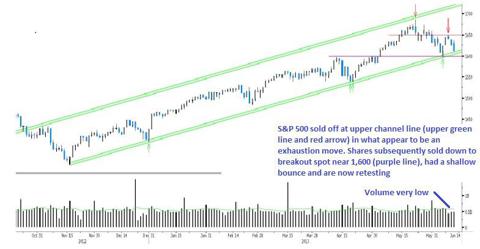 Click to enlarge If we're still going up over 1,645, we have another 50 points to play it up before resistance. Of course - the way this market moves, that might be one day, but we have all our nice short puts from last week and plenty of other ways to make big money if that big channel is holding - it's the downside you want to avoid, not failing to get 100% of the upside.
Check out (once again) 5 Inflation Fighters Set to Fly (and Part 2) as well as 5 Trade Ideas that can Make 500% in an Up Market - don't focus so much on the trades as the concepts, they can be applied to anything you feel bullish about (just ask in Member Chat, of course). Look what I picked back then - DBA, U.S. Steel (NYSE:X), Cliffs (NYSE:CLF), Barrick (NYSE:ABX), QQQ - the first four haven't really gone anywhere but we had terrific gains on the last spike up so no reason not to play them again.
Have a great weekend,
- Phil
Disclosure: I am short DIA, IWM, SPY, TSLA, SODA, USO. I wrote this article myself, and it expresses my own opinions. I am not receiving compensation for it. I have no business relationship with any company whose stock is mentioned in this article.
Additional disclosure: Positions as indicated but subject to change (fairly bearish mix of long and short positions - see previous posts for other trade ideas). Positions mentioned here have been previously discussed at philstockworld.com - a Membership site teaching winning stock, options & futures trading, portfolio management skills and income-producing strategies to investors like you.