Microsoft (NASDAQ:MSFT) is set to open 600 stores inside Best Buy (NYSE:BBY) locations and another 100 stores in Canadian electronics chain Future Shop. This is great for Microsoft and its partners, such as Nokia (NYSE:NOK), as it will increase exposure of Windows Phone products as well as other Microsoft products.
Until recently, Nokia's flagship phones Lumia 900 and Lumia 920 were exclusive to AT&T (NYSE:T). Apparently, the company's stores didn't do a good job of marketing these phones. There is anecdotal evidence showing that AT&T's sales people were pushing Android (NASDAQ:GOOG) or iOS phones and many of them weren't even aware of Nokia's Windows Phone devices. By opening its own stores, Microsoft will make sure that its sales people actually push Windows Phone devices to customers instead of phones of the competition. More importantly, the sales people in these stores will be specifically trained for and knowledgeable in Windows Phone devices, which is a big plus.
When customers come to check out a more popular Microsoft product (such as Xbox), these stores can always educate the customers about the less popular Microsoft products (such as Surface), which can effectively score some extra sales. Despite all the marketing efforts, many Americans are still unaware of the existence of Windows Phone. Furthermore, there are many other Americans who are aware of Windows Phone but do not possess any deeper knowledge of the operating system. Windows stores inside of Best Buy locations will ensure that as many people as possible gain exposure to Windows Phone devices.
Best Buy locations receive 600 million visitors every year (probably around 100 million unique visitors with multiple visits) and 40% of the visits result in a purchase. If 15% of these visitors are exposed to Windows Phone and 1% decided to buy the phone, this small percentage will be able to increase Windows Phone's American market share by 40-50%. We are looking at a tremendous opportunity for Windows Phone. Keep in mind that Best Buy has 1,150 locations including its subsidiaries. Basically, if successful, the number of Windows stores could potentially double over time.
While the most details are not announced, it is mentioned that these stores will be larger than the spots enjoyed by Samsung and Apple in a variety of Best Buy locations. These two companies usually enjoy store spaces between 1,500-2,500 square feet within Best Buy locations.
This week, Nokia announced that it would stop making Symbian phones for good, which means that the company is getting off the "burning platform." After selling only 500,000 of these phones last quarter, Nokia is pretty much done with the operating system, which means it can focus all its production capacity on Windows Phone devices. This should definitely help with some of the supply issues encountered by the company.
This is another case where Microsoft's deep pockets will come in handy for Nokia. In the last two years, Microsoft has helped Nokia with quarterly cash installments and the company has paid for almost all of the major Lumia commercials in the media including TVs, radios, newspapers, magazines and the Internet. Now, Nokia will enjoy 600 stores that will almost exclusively sell its products without spending a dollar out of its pocket. Initial investment of opening 600 stores and ongoing rents can be pretty costly and Nokia should be very thankful that Microsoft is paying the bill. Then again, Microsoft should be thankful to Nokia for producing 83% of all Windows Phones that are being sold today. As I mentioned many times already, Windows Phone project would have been dead by now without Nokia.
Microsoft was criticized for not advertising its products heavily enough. The company was also criticized for producing "boring" products. Now the company gets a chance to show the critics what it is made of. Microsoft will be really putting its hand under the stock and doing everything it can do to push as many Windows products as possible to as much of the population as possible. This is a new start in the Microsoft vs. Apple vs. Google war. Last year, when Microsoft's CEO Steve Ballmer declared "war" on Apple, he promised that Microsoft wouldn't leave any stone unturned and now he is attempting to make good on his promise.
Honestly, this is the first time since the 1990s that we see Microsoft being mentioned on the news this frequently. Back in the 1990s when Bill Gates was the CEO, Microsoft was on the news and in the front page of newspapers almost every week. After going silent for a long time, Microsoft is back in the front pages and it should definitely make good use of all this publicity. This is also the first time Microsoft releases this many products all at once (a gaming system, a tablet, operating system for tablets, PCs, smartphones, office products, automobile software…etc).
One last thing: perception is everything. In the last 10 years, Microsoft's stock price has been nearly flat, which makes some people believe that the company's revenues have also been flat during the period. The chart below shows Microsoft's revenue growth in the last 20 years. I certainly don't see any slowdown in the company's performance anytime soon. Microsoft is still solidly growing.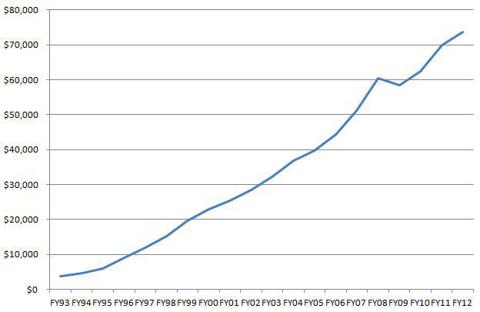 Disclosure: I am long NOK, MSFT. I wrote this article myself, and it expresses my own opinions. I am not receiving compensation for it (other than from Seeking Alpha). I have no business relationship with any company whose stock is mentioned in this article.